The Emmy-winning The Handmaid's Tale is returning to the small screen this April. Fans got their first look at the upcoming new episodes when a teaser trailer dropped a month ago. Today, we sit down with Joseph Fiennes (Commander Fred Waterford) to discuss the journey so far and to give us a taste of what's to come in The Handmaid's Tale Season 4.
The sypnosis for season 4:
The cultural phenomenon picks up where we left off, with June's fight for freedom against Gilead. But the risks she takes bring unexpected and dangerous new challenges, and her desire for justice and revenge threaten to consume her and destroy her most cherished relationships.
We caught with Joseph Fiennes to find out more about Season 4 of The Handmaid's Tale: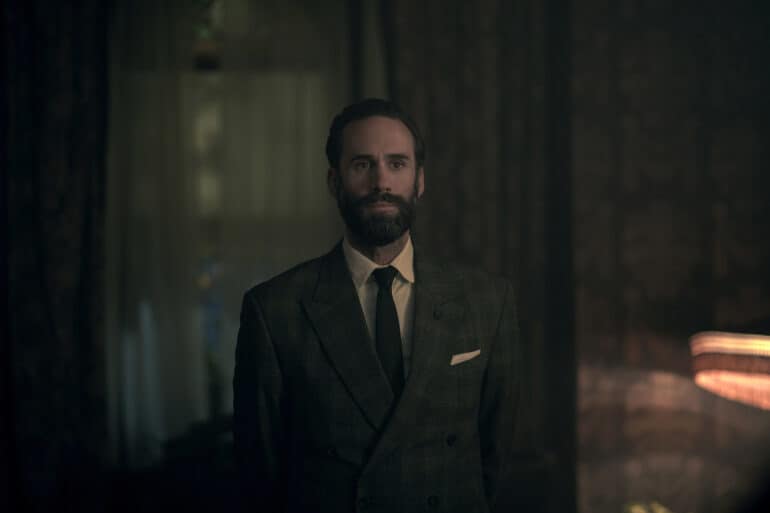 Tell me about how Fred ended up where he is now. How did he go from the man who basked in his wife's glory after she published her book, to the man who cut off her finger for reading?
Joseph Fiennes: Though we don't get a lot of airtime to examine this dynamic, we have seen a flashback in the early days of Serena in front of the crowds and Fred supporting her. I would love to see an episode where we delve back into the early days to examine the headiness and support that Fred provided Serena. Following how it went wrong would show the corrosive effects of power especially, when you have a weaker character like Fred, who hides beneath double-breasted jackets, political positions, and mahogany desks.
Once he got drunk on that, he figured he could live out the fantasies, and never be held accountable. He then swiftly entered the darker side. Fred is a complex character and he is always cognizant of that element within him. He is aware of the pain he might have caused others, but he knows that he won't be held accountable. Fred found an easy route in Gilead to fulfill his personal and political needs.
View this post on Instagram
Tell me about the love triangle between Serena, Fred, and Offred?
Joseph Fiennes: I am not sure if I would call it love. I do not believe that anyone in that relationship could call it love, but rather contact. Fred and Serena had little physical contact, and I believe that was something that Fred was yearning for.
It seems that Serena receded physically as her voice diminished. It seems that Fred wanted that sense of touch. He eventually wants more contact and aggressively so. It is important to remember that this population in the world does not have children and will go to extremes to keep the population going.
The proximity of Offred and the sense of ownership led Fred off the ritual, and he wanted it every week or weekend in Jezebel's. I wouldn't call it a love relationship but rather a dynamic where everyone needed something. Offred needed to survive and would use her instincts to save her life and her child's, and Fred needed something in terms of the relationship with Serena that he wasn't getting.
One of the most powerful scenes from season three is Fred's plea on the steps of the Lincoln Memorial for the return of Nicole. What do you see when you watch that scene?
Joseph Fiennes: My first thought about the steps where Martin Luther King stood was, "God, this could never happen." I could not believe that someone like Fred in this regime could possibly step on the sacred ground of what those steps stand for and the people that have stood there.
Suddenly I realized that, as Margaret Atwood clairvoyantly read, these things are cyclical. I remember the events that happened in January 2021, in terms of the Capitol storming and how swiftly a movement can derange the sense of democracy. I was haunted on the day we filmed it. It was powerful to be there and to reflect on our past and future and how fragile it is. I also remember the scene that Yvonne Strahovski and I shot in season two when we were in a movie theater discussing how our plan to storm Congress and take the White House had gone into effect. Margret Atwood and Bruce Miller had years ahead signified a horror that I thought was unimaginable.
This serves as a reminder that The Handmaid's Tale is a cautionary tale, which depicts how delicate and fragile democracies are and that we mustn't go to sleep because in a second, a movement can use scripture and God as a means to derail a stable democracy. I am most haunted by this.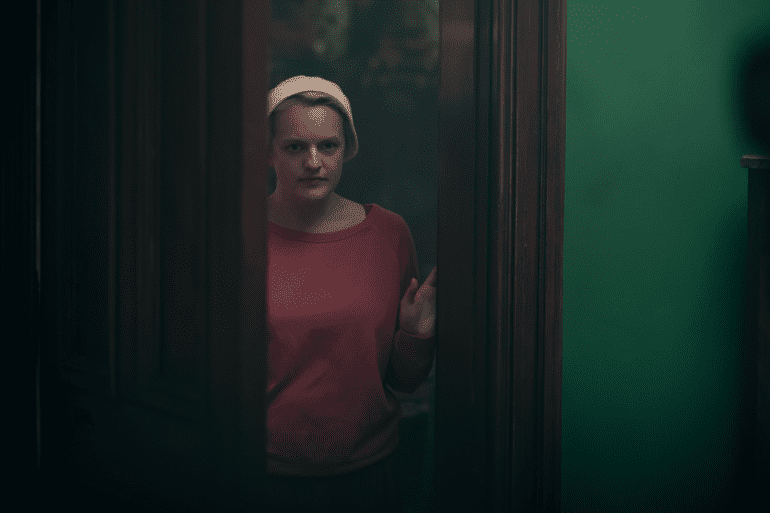 How is it having Elisabeth Moss as a director for this season?
Joseph Fiennes: Elisabeth Moss, if she wants, will become one of the great directors. Her ability to direct The Handmaid's Tale is extraordinary, because she is an extraordinary actress and her depth and knowledge of the story is unparalleled. Elisabeth's acute awareness, her instincts as an actor, her ability to communicate, her sense of truth, her love of actors, and her brilliant cinematic eye make her a dynamic, powerful, and exciting voice as a director.
I have genuinely loved it. I have had several filming days with Elisabeth, and she is absolute gold to be directed by. You feel like you are in safe hands because she knows everything inside and out, which elevates our game. We are very lucky.
Is it odd to have someone you've worked with for many years telling you to try something?
Joseph Fiennes: It was very natural, because since day one we've exchanged long emails. She is a collaborative spirit and she only wants the best. She is full of the most extraordinary positive energy, and it's all about building the best we can get, which is inherent in her spirit. To have that imbued from another angle, as a director, is wonderful.
Is Fred willing to give up Nicole if it means more power in Gilead?
Joseph Fiennes: Yes, Nicole was political. If Fred has one gift, it is that he has good PR. The optics of him as the ideal of Gilead in his relationship with Serena looks good to others. He is brilliant at framing things and reinventing a new truth. In his mind, Fred is a PR guru, and Nicole is just a pawn in that game.
Binge episodes 1-3 of The Handmaid's Tale Season 4 on 29 April on Showmax — new episodes to follow every Monday.