What happened to Hellboy 3? Why didn't Guillermo Del Toro and Ron Perlman get to complete their Hellboy movie trilogy? Was the studio to blame?
Hellboy (2004) and its sequel Hellboy II: The Golden Army (2008), are both a bit of a cult classic among comic book movie fans. The films, which are gory, violent and heavily stylised like the graphic novels on which they are based, were hits with both audiences and critics, and one of the main reasons for this was the work of lead actor Ron Perlman (the original Hellboy actor) and celebrated director Guillermo del Toro (Nightmare Alley).
So what happened to Hellboy 3?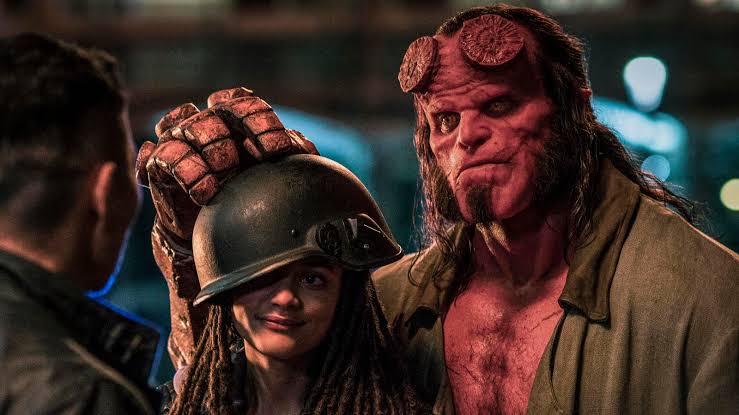 The Hellboy Movie Reboot
In 2019, British director Neil Marshall rebooted the franchise, this time with Stranger Things actor David Harbour in the leading role. Fans were disappointed in the new version, to say the least — they did not live up to the previous comic book movies or the Mike Mignola comics. The film (certified rotten on Rotten Tomatoes with 18%), which features lazy writing and startlingly poor special effects, was a complete failure (a box office bomb), losing money and facing harsh criticism on almost every level.
Some critics described Neil Marshall's film adaptation as "dull", "incoherent" and even "an utter stinker." One publication even went as far as to say it's "one of the very worst movies you will see all year." Ouch!
"I think it failed before we began shooting because I think that people didn't want us to make the movie," Harbour said on social media last year. "Guillermo del Toro and Ron Perlman created this iconic thing that we thought could be reinvented. But people were just very very against it, and that's people's right."
And so, the reboot (which starred Milla Jovovich as Nimue, Ian McShane as Professor Broom, Daniel Dae Kim as Ben Daimio, Sasha Lane as Alice Monaghan, Mark Stanley as Arthur, and Brian Gleeson as Merlin) came and went with little fanfare. However, dedicated Hellboy fans may still hold onto some hope — Perlman hasn't written off the character just yet and he still seems very interested in Hellboy 3.
Ron Perlman Still Wants Hellboy 3, Maybe
In an interview with CBM a few years ago, the Beauty and the Beast actor gave his thoughts on the reboot, and clarified why he wasn't involved in the first place. He also hinted at the fact that he's not quite ready to give up on the character.
"The reboot was something I had the opportunity to participate in and decided that the only version of Hellboy I'm interested in is the one I do with Guillermo," Perlman said. "So in walking away from it, I truly walked away from it, and haven't seen it or heard much about it. I wished them well, but it was not in my bailiwick."
However, Perlman emphasised that the only reason he hasn't done more Hellboy is out of loyalty to del Toro, and, furthermore, the only thing that could get him back in the red makeup for a third movie is a good movie script and if del Toro was in the director's chair once again.
"If there was a chance to finish the trilogy with Guillermo [with Hellboy 3]," Perlman said in a different interview with comicbook.com late last year, "in the image of what he had in mind in terms of closing all of the circles, that is something that I would, to this day, consider doing."
Ron Perlman went on to say that the only reason it may never happen is that del Toro is one of the busiest men in Hollywood, and that getting him to sign on to another Hellboy 3 more than 15 years after the last one may just be too difficult.
However, there is a chance. In a 2022 interview with Variety, Perlman was again asked about Hellboy 3, to which the actor responded: "Am I eager to do Hellboy 3? No, I'm 71 f*cking years old. [But] we owe this to the fans, and we should give it to them because it would be an epic conclusion."
You have to admit, at 71, it's not going to be very easy for Ron to pull off all the stunts and requirements for the character. It's a superhero movie after all. Still, with a stunt double and a ton of make-up (which the character already requires), it's very possible. But time is certainly against the production. Not only would they need to pull it together quickly, but they would also need everyone available too.
Hellboy 3 Is Dead And Buried Says Director Guillermo Del Toro
In 2017, after a long hard fight to get Hellboy 3 off the ground, Guillermo Del Toro, the film's director, took to Twitter to confirm that the film would never happen:
Hellboy 3 Sorry to report: Spoke w all parties. Must report that 100% the sequel will not happen. And that is to be the final thing about it

— Guillermo del Toro (@RealGDT) February 21, 2017
Superhero seeks employment. Likes, pizza, cats, and the Marx bros. https://t.co/TnWaFlE3tx

— Ron Perlman (@perlmutations) February 21, 2017
Perlman's dreams of completing the Dark Horse Hellboy trilogy had gone up in smoke it seems. This came after he mentioned that he didn't care if it was an "an $8 million indie film". All he wanted was to "just finish the trilogy."
There are many fans that have secretly (or openly) hoped for a sequel to 2008's Hellboy II: The Golden Army. In 2017, Del Toro even took to Twitter to persuade fans to vote for Hellboy 3. The internet responded and the poll was finalised with 132,938 votes. Sadly, it seems that wasn't enough to convince those involved.
Jeremy Renner Said Hell No To Hellboy Before Ron Perlman Was Cast
Avengers actor Jeremy Renner revealed that he was considered for the lead in Guillermo del Toro's big screen adaptation of Hellboy. However, after reading the script, he turned down the role and the opportunity to play the half-demon, which ultimately went to Ron Perlman. Why? He just didn't understand it.
In a new interview, Renner confessed that he has no regrets about turning down the part. "I was just reading the script and [thinking] like, 'I don't get this…' I just couldn't connect to it. I said, 'I can't find a way in (to this character), I don't know what I'd be doing,' so I had to say no."
Unlike the 2019 release, which is R-rated, Guillermo del Toro's Hellboy movies were hits at the box office, even though fans of the comic books felt they were softened to appeal to the masses.
When Renner was asked if he regretted his decision to turn down the movie, he said no. "There's zero regrets, zero. Most of the time it's like, 'Oh, I'm glad I didn't do it,' and it made sense to me. Not just Hellboy or whatever it was, and I'm not saying that it's a good or bad movie, it's not about that… I just wouldn't have fit there."
Renner seems to like, or need, more realism when it comes to the characters that he plays on the big screen. Don't expect to see him in any Hellboy films anytime soon, especially after the lacklustre reboot.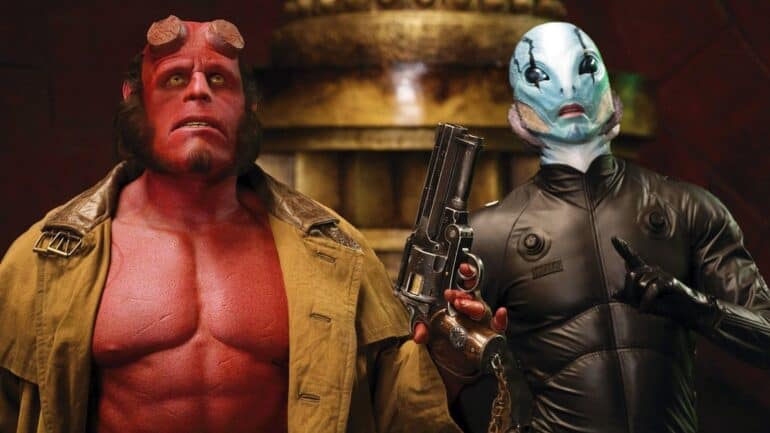 What We Know About Guillermo del Toro's Hellboy 3
Details about Hellboy 3 are very sparse. Not many knew what would have happened in the third and final film. There probably isn't even a script written yet. When del Toro revealed that he had 17 unused scripts that weren't turned into films, the third Hellboy movie wasn't one of them.
In the comics, Hellboy goes to hell. It's probably safe to assume the same thing would've happened in the third film. When you think about the possibilities and read the source material, it does seem like a shame. Imagine all the strange characters and creatures he would encounter down there. Now imagine all of them let loose on Earth. It's certainly an interesting premise. It sounds like the film would continue to draw from horror movies and carry the dark tone of del Toro's movies.
We also know that Hellboy was meant to become a dad soon. Liz was pregnant with twins. We can see how this would play a pivotal part in the plot of the dark fantasy superhero film. But would it end in tragedy for the former B.R.P.D. agent and his paranormal research team (which includes Doug Jones' Abe Sapien and Selma Blair's Liz Sherman)? The story seemed to hint at a sad ending. Maybe Hellboy dies. Maybe his family does. There are many different directions it could have gone.
Personally, we think Perlman can still pull this one off — even if he is in his 70s now.
Tell us, do you want a Hellboy 3 movie from Ron Perlman and del Toro?