The Final Fantasy series is a lot like Fast and the Furious – no one really remembers what happened in the previous instalments, but they will keep on showing up for more because they like it. That said, Final Fantasy 16 is a departure from what diehard fans may have expected, though the shake-up makes the game stronger in the long run. Square Enix has merged all the best bits from the past into arguably the most commercially accessible instalment yet.
RELATED: What A Live-Action Final Fantasy VII Movie Could Be
The story takes place over decades. Filled with magic, mystery, and kingdoms, the game introduces the player to the protagonist, Clive Rosfield. As a teenager, Clive has sworn to protect his brother, Joshua, who is the Dominant of Phoenix. After a horrendous betrayal, Clive is enslaved as a soldier. However, there's no keeping this hero down as he meets up with old and new friends in his quest for justice.
A beautiful story is shown – not told
The story is a beat-for-beat hero's journey plot, but it is elevated by its compelling supporting characters, such as Cid and Jill, and a sympathetic lead in Clive. In addition, as the player progresses through the game, deeper lore unfolds in an organic way that enriches the story. While multiple kingdoms, kings, and complex in-game terms may seem overwhelming to newcomers, Final Fantasy 16 has an excellent way of breaking it down in a cohesive and understandable manner across the 50-hour storyline. This is largely thanks to a phenomenally helpful feature called Active Time Lore, whereby a player can catch themselves up with information about the characters, story, and the world just in case they missed out on something.
The game is further aided by following the premise of show, not tell. It proves to be a wise choice because these locations are gorgeous, and a thousand words wouldn't do them justice. From an aesthetical point-of-view, it's easy to get lost in the minute details and grandeur of the splendidness. The developers put in a lot of effort to ensure that the different locations don't look the same, so each place is a new wonder to explore and merits multiple revisits. In terms of character designs, Final Fantasy 16 puts in the kind of effort that has become synonymous with the series – of course, everyone has criminally fabulous hair, and the anime style lends itself perfectly to the story.
RELATED" 15 Best Final Fantasy Characters & Games Ranked
Magic, swords, and patting dogs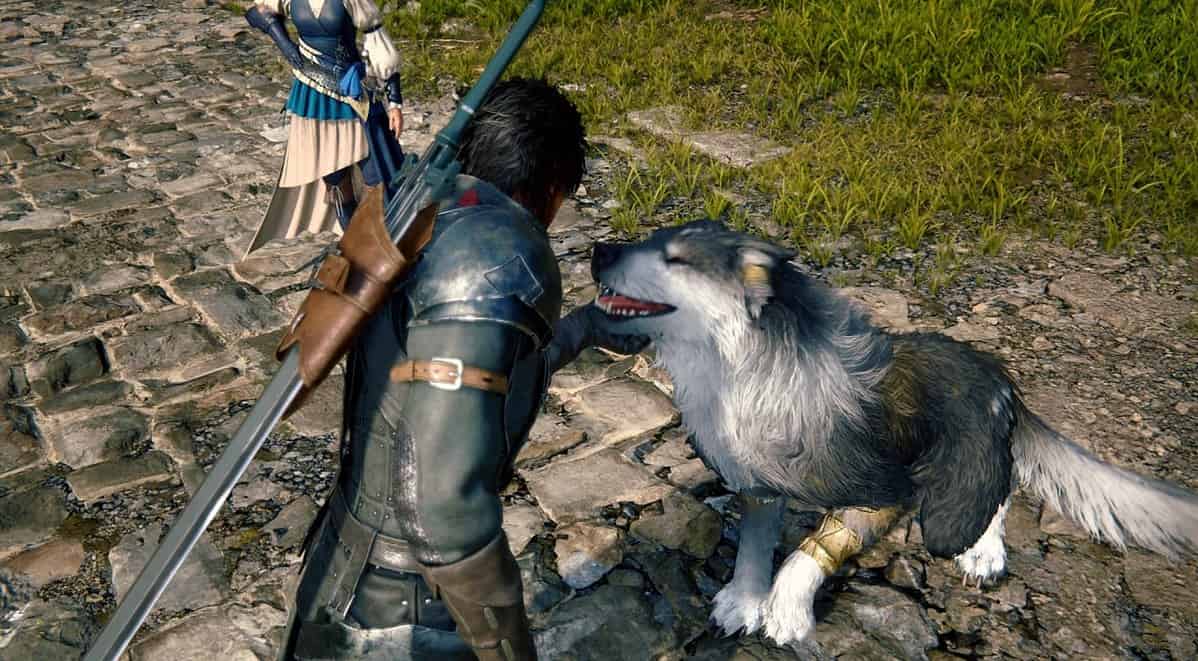 Gameplay-wise, much has been mentioned about how the RPG side of the series has been diminished in favour of a more action-orientated approach. There's no denying this, as this does feel a lot like the manic slash-and-blast style of Devil May Cry in places, but by the power of Grayskull, it's fun. Like most current games, Clive can develop new skills and abilities, as well as draw help from other characters, such as his dog Torgal. Speaking of which, forget about the slashing and magic – the best part of Final Fantasy 16 is how Clive can show love to Torgal by holding down the X button. It could be a quick rub of the dog's fur or throwing him a snack to eat. Whichever way, 50 hours should be spent on doing only this.
RELATED: Final Fantasy 7 Remake Is A Bold, Surprising Recreation Of One Of Gaming's Greats
Get in my ears
It'd be remiss to not mention the soundtrack of this game. Composer Masayoshi Soken has taken the music to another level with an epic, pulsating score that slays. From the tranquillity of the general exploration to the intensity of the Eikon battles, this might be one of the best video game scores of all time – certainly in the same league as what Mick Gordon has done with Doom.
Make no mistake about it; Final Fantasy 16 merits the hype and praise. It's easily one of the best games – and might end up being the best – of 2023. Xbox and PC gamers must be crying ugly tears right now, hoping and praying this timed PlayStation 5 exclusive finds its way onto their platform sooner rather than later.
The Review
Final Fantasy 16
Final Fantasy 16 is a triumphant and epic success.
PROS
Active Time Lore
A sensational story
A marvelous score
Review Breakdown
Gameplay

0%

Graphics

0%

Replay Value

0%

Sound and Music

0%

Story

0%