Multiverses? Intergenerational trauma? Bagels? The vast universe presented in Everything Everywhere All At Once is anything but easy to understand, and that's okay. Starring Michelle Yeoh and directed by the power duo of Daniel Kwan and Daniel Scheinert, the movie is on its course to become one of the most influential sci-fi flicks of the decade.
RELATED: Do The Characters Of The Menu Have A Secret and Dark Meaning?
As much as audiences loved the film, there might have been a few bits and pieces lost in translation here and there in the midst of all that multiversal chaos. If there's something you think you might have missed, or if you just want to relive some of the most meaningful moments of the movie, here's everything you need to know about Everything Everywhere All at Once.
Multiple Universes, One Michelle Yeoh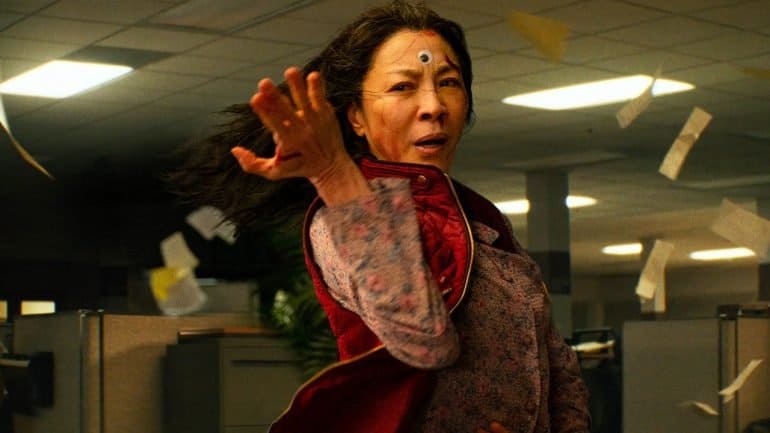 Yeoh plays Evelyn Quan, a Chinese-American immigrant who lives a mundane life with her husband, Waymond Wang. The couple has a daughter, Joy, who's constantly at odds with her mother. Evelyn and Waymond own a laundromat together, which just so happens to be the target of the IRS's latest investigation.
In the middle of all this legal drama, Evelyn's conservative father, Gong Gong, visits the dysfunctional family. Evelyn tries to hide the fact that her daughter has a girlfriend from Gong Gong, all while going through a rather unfortunate divorce with Waymond.
Suddenly, Evelyn's life is thrown into even more chaos when she's visited by an alternate-reality version of Waymond, who explains that he comes from something he calls the "Alphaverse." As it turns out, Alpha Evelyn created verse-jumping, a form of interdimensional travel.
Everything Everywhere All at Once establishes that every decision one makes creates a parallel universe. For better or for worse, this version of Evelyn (the one who runs a laundromat) is the least successful one in the entire multiverse. Fortunately, that's precisely what the Alphaverse needs, as the threat of one Jobu Tupaki threatens to end the universe.
RELATED: The Batman for Dummies, Explained
Jobu Tupaki and Joy
If you thought that the laundromat Evelyn and her daughter Joy had a rocky relationship, wait until you hear about the Alphaverse. In this reality, Alpha Evelyn's experiments in verse-jumping pushed Joy to her limits, eventually causing her to experience life in all universes, at all moments, and at all times – hence the film's title. However, this "power" came with a steep price.
As it turns out, experiencing everything all at once distorts one's perception of reality somewhat, which led Joy to adopt a nihilistic take on life. Knowing everything there's to know, and experiencing everything there's to experience, ultimately led her to conclude that nothing matters at all.
Joy also takes a new identity under the name Jobu Tupaki. Since she's unable to fully die under normal means, and since life as a whole means nothing to her anymore, she creates the dreaded Everything Bagel.
RELATED: The Shining Explained: Exploring the "Wendy is Hallucinating" Theory
The Bagel Paradox
If you make a bagel that contains everything, then surely there's nothing left for it to contain. In other words, there's nothing else other than the bagel, which is rather depressing, when you think about it. That's the essential idea behind the "everything bagel" Jobu Tupaki creates.
Thanks to her multiversal powers, Jobu created a bagel – yes, a literal bagel – that contains all sorts of experiences, thoughts, and memories from across the multiverse. At the center of the bagel, however, there's a void that calls to Jobu. Since she's unable to die a normal death, Jobu hopes that the bagel's void might be just the thing she needs to free herself from her mortal coil, as it would kill her in every conceivable universe.
However, the bagel's powers are enchanting, and they end up convincing even Evelyn that life is meaningless. In doing so, the bagel hurts Evelyn's relationships in every reality.
Luckily for her, Waymond's infectiously positive look on life is enough to pull her back to her senses. Evelyn decides to mend every relationship the bagel has destroyed, effectively debilitating Jobu's forces across the multiverse. However, the biggest challenge would be convincing her daughter that there's always something else to live for, as appetizing as the ominous bagel might look.
RELATED: Terrence Malick's The Tree of Life Explained
Nothing Matters
One of the reasons why Everything Everywhere All at Once might eventually become a timeless classic is that it deals with many of modern society's woes in a way that's easily relatable but never feels patronizing. The same applies to the concept of nihilism and Jobu's information overdose.
Since both Evelyn and Jobu have experienced life all over the multiverse, the mother feels as if there's some truth to her daughter's words. In the grand scheme of things, something as small and frail as human life seems like nothing to an uncaring universe. The sum of all of our experiences, memories, and even feelings, is no more than a speck of dust in the history of the universe, let alone the multiverse.
However, as Evelyn realizes, if nothing matters, then everything matters. We get to choose which things matter the most to us, which is, at the same time, a counterargument that proves Jobu wrong and right at the same time. In the end, the two conclude that sharing the bond between mother and daughter is worth living for, as Evelyn and Joy reconcile in their home universe.
At first glance, it might seem as if Everything Everywhere All at Once is yet another film advocating for nihilism – you know, appealing to the Rick & Morty generation. The truth, however, is the complete opposite: at the end of the day, it was the little things in life that saved the whole multiverse.
This conclusion echoes the same sentiment Alpha Waymond had regarding Evelyn at the beginning of the film: if you're bad at everything, that must mean you can be good at everything. It's all in the details, as they say.
Perhaps a prop that perfectly condenses the film's ideology – and has become a symbol for it in its own right – is Waymond's googly eyes. A simple thing that, under the right circumstances, could save the world. The googly eye on Michelle Yeoh's forehead serves as more than just another gag in this wonderful absurdist comedy: it's the Ying to the bagel's Yang, a summarization of Evelyn's role in the film.
RELATED: It's Morbin Time Explained – Understanding The Morbius Meme
Tell us, what do you think Everything Everywhere All at Once is actually about?