Even though fans are begging Disney for an Encanto 2, does the studio's latest animated hit really need a sequel?
The story of Disney's Encanto concluded in a nice and satisfying way, with the Casita rebuilt and the Madrigal family more united than ever thanks to Mirabel. Despite this lovely finale, fans are already clamouring for the film to turn into another of Disney's massively popular cinematic universes.
Though the similarities between Encanto and the Marvel Cinematic Universe are few and far between, the idea of an animated cinematic franchise at Disney is certainly nothing new. That might be the reason why the Walt Disney Company CEO, Bob Chapek, has expressed his interest in turning Encanto into a full-blown franchise.
Earlier in February, during the Walt Disney Company's first-quarter earnings call, Chapek spoke enthusiastically about Encanto's performance on Disney+ — even going as far as to attribute the streaming platform's increase in revenue to the animated film. Evidently, a sequel to a movie as successful as Encanto would be a guaranteed hit, which makes the chances of getting an Encanto 2 seem all the more likely.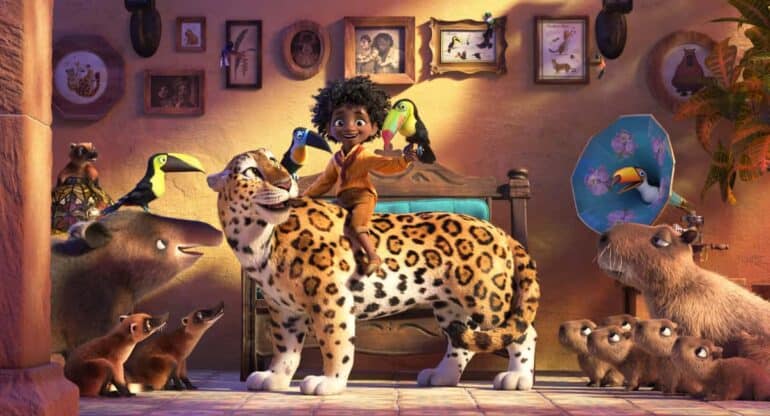 Encanto Sequels or Spin-Offs?
One thing we have to keep in mind when talking about the possibility of an Encanto sequel is that Chapek never mentioned plans for any future movies, only that the company had plans to turn the film into a franchise. Looking at how Disney has worked with his animated properties in the past, we have two very distinct possibilities on the horizon: we either get a proper sequel to Encanto, or we might be getting a sequel series on Disney+.
We've known for a while that Moana, another hugely popular Disney animated film, is getting a show sometime in 2024. That's a full eight years after the release of the movie. While this might look somewhat discouraging for fans who were hoping for a sequel to Encanto to arrive next year, we have to keep in mind that that's not the way Disney works with its animated franchises.
The massive popularity of Frozen pretty much guaranteed that the movie would be getting a sequel, but Frozen II wouldn't be released for another six years. It seems like Disney likes to take its time when working on sequels — as they should — and with no imminent plans for Encanto 2, it seems like it might be a while before fans get to see the Madrigal family again.
Diversifying the Franchise
Another possibility we have to consider when hearing about plans for a Disney franchise is that the studio might be planning to bring Encanto to new forms of entertainment. Considering how invested composer Lin-Manuel Miranda has been in the making of the catchy Encanto soundtrack — and the massive success of Miranda's Hamilton — a musical adaptation of the film could also be a potential project we could get some time in the future.
Frozen has also enjoyed some considerable popularity with its musical version, and Disney has been known for turning some of its more popular animated films into successful Broadway adaptations. An Encanto musical sounds like a neat event for fans, but it would still not amount to what an Encanto 2 should be.
For now, there's been no word on Disney's part about a sequel — but it would be safe to bet that there are some plans to bring the Madrigal family back together in the future. Depending on the success of the 2024 Moana series, we might see if Disney chooses to release an Encanto show or the massive box-office success that would most surely be Encanto 2.
Tell us, would you like an Encanto 2 movie or a TV series?