At the helm of The Walking Dead's wardrobe is South Africa's own Eulyn Womble, a talented costume designer who has turned monster apparel into an art form.
These days, you can't switch on a television, read a book or surf the internet without stumbling upon ABC's ever-popular The Walking Dead. Zombies are everywhere. Each and every clothing item, their colour, texture and look, is carefully chosen and tailored to fit a mood and develop the story a little further.
Ever notice the earthy tones of the zombie attire? Ever noticed the change of wardrobe in different locations? How about the way zombies blend into their environment? Pay attention and allow me to introduce The Walking Dead's costume designer, Eulyn Womble.
RELATED: The Walking Dead Franchise Really Needs To End
For those who do not know, Eulyn Womble was born in Cape Town, South Africa. So, her career was started locally. Which local films did you work on?
Eulyn Womble: I worked with Leon Schuster on Oh Shucks, I'm Gatvol. And many local and international commercials. My hometown, Cape Town, is a popular destination for film and television production. We have a well-trained and hard-working crew, a beautiful landscape and gorgeous models.
You went on to study for a Bachelor of Commerce degree. How did you end up coming to the conclusion that designing was your true passion?
Eulyn Womble: My natural talent for creating characters was undeniable. I've always loved film. My grandmother was a seamstress, and I attribute my natural affinity for costume-making to her. In my profession, you need to have a good understanding of the business as a whole, so my accounting studies are not in vain. I have to work within a budget.
Prior to working on The Walking Dead, you worked on titles such as The Joneses, Secret Life of the Bees and Welcome Home Roscoe Jenkins. How did you end up shifting from family titles to horror?
Eulyn Womble: I'm not sure (Ha!). I'm always open to new challenges when creating costumes. I love the characters on The Walking Dead. Greg Nicotero's zombie make-up inspires the zombie costumes. I try to enhance the make-up with the clothing. For example, with the prison jumpsuits, I made them blend into the prison so that the walkers would be camouflaged and seem to appear out of nowhere.
With a six-episode run, did you expect The Walking Dead Season 1 to be so well received?
Eulyn Womble: I honestly had no idea what to expect. We worked so hard on this project in the Georgia heat and in the elements. I was thrilled to learn that people liked the show … that people LOVED the show.
What is the most difficult aspect when creating a zombie?
Eulyn Womble: To make them as realistic as possible. Clowns, brides, etc., would be comical and distract from the story.
RELATED: Good Riddance to The Walking Dead
The zombie wardrobe and colouring seem to differ slightly each season. Is this done intentionally?
Eulyn Womble: In Season 1 of The Walking Dead, we were in the city. The colours were more vibrant, and people were dressed in suits and work attire. Season 2 was a transition from city to country, so I introduced farm-like attire and changed the colour palette. I drew inspiration from the covers of the graphic novels. By Season 3, we realised that the walkers form herds, so I started using a camouflaged earthy tone on all the walker clusters surrounding the prison. In Season 4 there are more 'survivor' type walkers. If a walker is in a suit and tie, it has been dead for a while and would be more tattered and mouldy.
Are you excited about the premiere of AMC's The Walking Dead Season 4?
Eulyn Womble: YES! This particular premier episode is directed by Greg Nicotero, one of our own. I am incredibly proud to be working alongside him.
What makes AMC's The Walking Dead Season 4 different from any other series, including previous seasons of the show?
Eulyn Womble: The Walking Dead challenges the audience to question what they would do in the event of an apocalypse. I think that often the audience is surprised by the choices that these ordinary people have to make in order to survive. I think that what shocks the audience even more is the fact they, too, would not always choose the path of less resistance, that they could become violent if it meant protecting their loved ones. We've become so invested in these characters. We watch them evolve with every season. We praise their evolution because they have to evolve in order to survive. There is no room for weakness or indecision.
I miss the days when the zombies were the main threat. Now, it seems as though The Governor is the main baddie. Can we look forward to more zombie violence in Season 4?
Eulyn Womble: The zombies are always a threat!
Any word of advice for fans of the TV Show as it heads into its 4th Season?
Eulyn Womble: Don't get too attached to anyone or anything!
Who was the best actor or actress you got to work with, and why?
Eulyn Womble: I love working with Andrew Lincoln. He is a true professional. He is so committed to his character, and we see eye to eye on all of my costume choices for Rick.
Who is the funniest member of The Walking Dead cast?
Eulyn Womble: Steven Yuen! He always has us in stitches. Sometimes on purpose and other times because he's just being Steven. He is hilarious!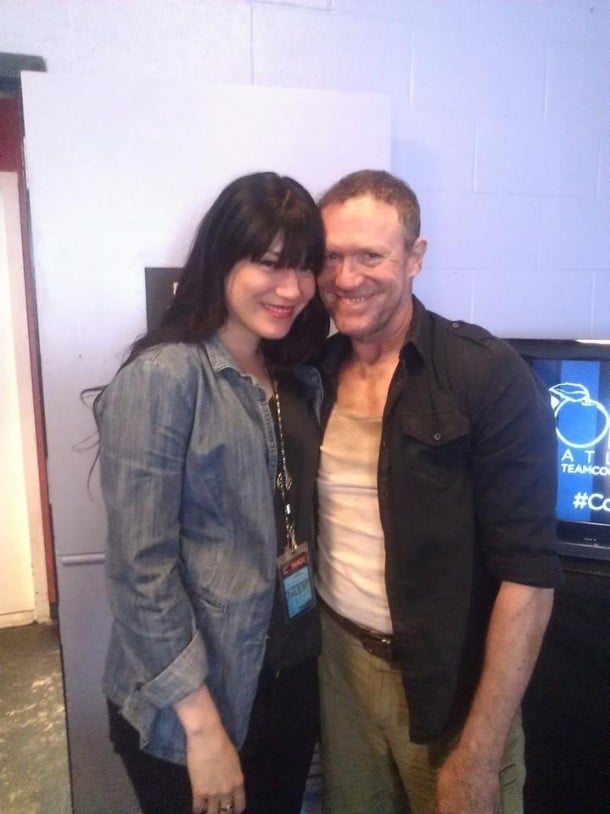 Of the characters that got killed off, whose presence on set do you miss the most?
Eulyn Womble: I miss them all. I'm still shocked by Andrea's death. If you've read the graphic novels, then you know that Lori and Shane had a limited time on the show …… but ANDREA and DALE went sooner than expected.
For more information on The Walking Dead costume designer, feel free to visit Eulyn Womble's personal website: eulyn.com