Remember Gargoyles? Isn't it time we had a film based on the popular Disney series? Let's imagine what a live-action Gargoyles movie would look like.
One of the darkest animated Disney franchises of the nineties is long overdue to get the live-action revival treatment. Gargoyles deviated from the classic cutesy formulas we've seen in so many Disney productions, opting instead for a more dark-fantasy-inspired theme and deep character development.
The show followed the Manhattan Clan: a group of gargoyles who devote themselves to be the protectors of New York when the sun goes down. The gargoyles' archnemesis is David Xanatos: a member of the Illuminati who brought the Gargoyles from their native Scotland to New York City, although his motives might be darker than they seem.
This cult classic might be just what Disney needs in its live-action movies repertoire to spice things up with fans of the original series.
Join us as we discuss which actors would be terrific as the live-action movie incarnations of the Gargoyles.
RELATED: Creator Greg Weisman Shares Plot Details On New Gargoyles Comic
1. Hudson – John Goodman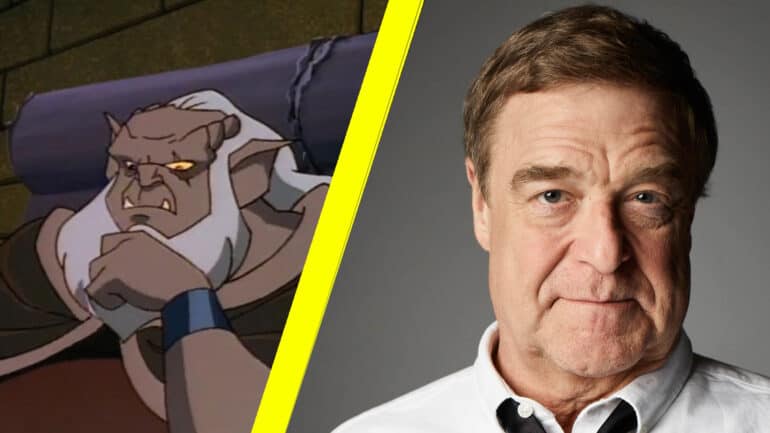 The former leader of the Manhattan Clan, and the de facto father figure of the bunch, Hudson is an old, wise, and undeniably cranky gargoyle warrior. Compared to the rest of his comrades, Hudson still has a hard time adjusting to life in The City That Never Sleeps.
When we talk of a "live-action" Gargoyles movie, we'd need to keep in mind that the movie's protagonists would have to be credible monsters that must interact with a cast of ordinary humans. That said, we think that a combination of CGI characters and motion-captured gargoyles would be the best way to do a film like this.
John Goodman has proved time and time again to be an incredibly versatile actor. His roles in films like The Big Lebowski have demonstrated that he has mastered the art of comedy. Even more importantly, his talents as a voice actor in Disney's Monsters Inc. show us that he is the right actor for the role of Hudson.
2. Broadway – John C. Reilly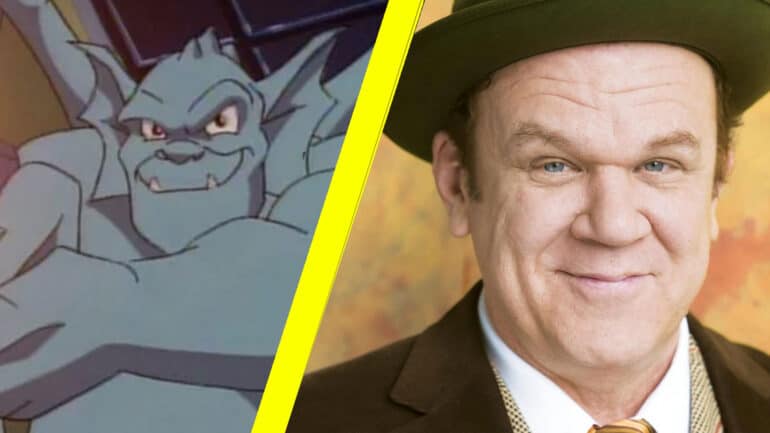 Even though he might look like a brute, the truth is that Broadway is simply the team's lovable oaf. He's learned to quickly adapt to life in New York, especially when it comes to his love for old detective films. Even though he idolizes the figure of rugged gumshoes, he can't stand guns at all.
A fan-favourite character and a founding member of the Manhattan Clan, Broadway could be considered one of the film's comic reliefs. As such, we'd need an actor that feels comfortable playing comedic roles, and John C. Reilly fits that description to a T.
Disney fans might recognise Reilly's name as the voice actor that gives life to Ralph in Wreck-It Ralph – a character that is similar in many aspects to the lovable Broadway.
3. Lexington – B. J. Novak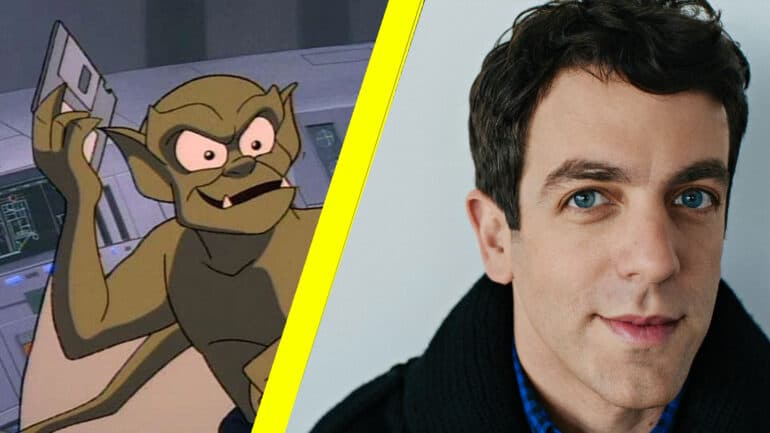 One of the youngest members of the Manhattan Clan, Lexington is a small and nimble gargoyle with a knack for human technology. His love for the modern world is second only to his passion for motorcycles, even though he tends to bite more than he can chew when he tries to build his own choppers.
As the team's technician, we'd need an actor who can convincingly play a "nerdy" character, but also he'd have to be skilled playing comedic characters. B. J. Novak is better known for his work in the US version of the classic sitcom The Office, playing the character of Ryan Howard.
Novak is also a skilled comedian, writer, and director. He'd be perfect in the role of Lexington, as he's had experience playing younger characters, like the one he played in Quentin Tarantino's Inglorious Basterds.
RELATED: Gargoyles is Returning for a New Season
4. Brooklyn – Jeremy Renner
At first glance, it might look like Brooklyn is a hopeless hot-head, but appearances can be deceiving. This gargoyle is one of the most skilled warriors of the Manhattan Clan, and with time, he proves to be an indispensable asset in the fight against the enemies of the Clan.
Die-hard fans of the show might know that Brooklyn eventually becomes the second-in-command of the Clan, proving to be Goliath's closest ally. His dedication to his duties sets him apart from his comrades, who seem interested in adapting to the modern world.
For Brooklyn, we think that Jeremy Renner would be an ideal fit; the actor is best known for his role as Hawkeye in the MCU, a character who undergoes a similar character arc to Brooklyn. Renner's experience in action flicks would also make her best suited for a character that's known for his combat ability. He seems like the perfect fit for a live-action Gargoyles movie.
5. Elisa Maza – Michelle Veintimilla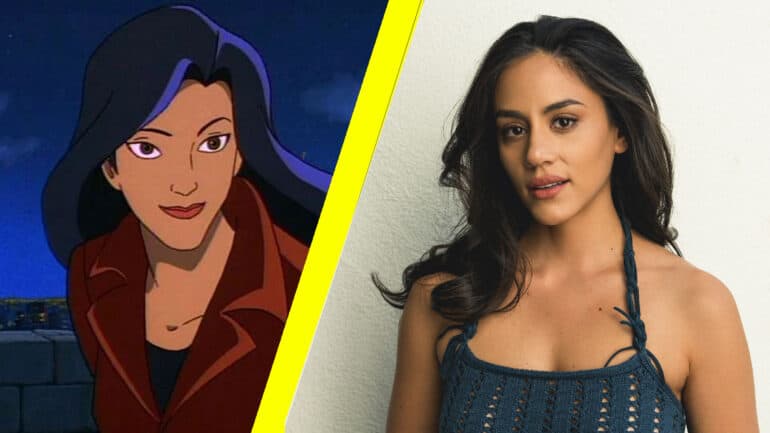 The only human member of the Manhattan Clan, Elisa Maza is a New York City detective that's all about protecting and serving those in need. Her dedication and commitment to fighting criminals have turned her into one of the gargoyle's biggest allies, and even more so with the clan's leader, Goliath.
It was thanks to Elisa that the gargoyles became the protectors of Manhattan, and she's the one that convinced the Manhattan Clan to move away from their original location in New York to above the police station where she works.
The decision to make her a half-African American and half-Native American woman in the animated series was made to emphasize the show's message about intolerance and racial tensions. We decided to go with the original plan for the character and cast a Hispanic actress, Michelle Veintimilla.
Veintimilla's age is close to that of Elisa, who is 29 years old in the show. Veintimilla is no stranger to live-action adaptations, as she played the villain Firefly in four seasons of the TV show, Gotham.
RELATED: Gargoyles Animated TV Series – A Great Show That Stills Holds Up Today
6. Demona – Gina Carano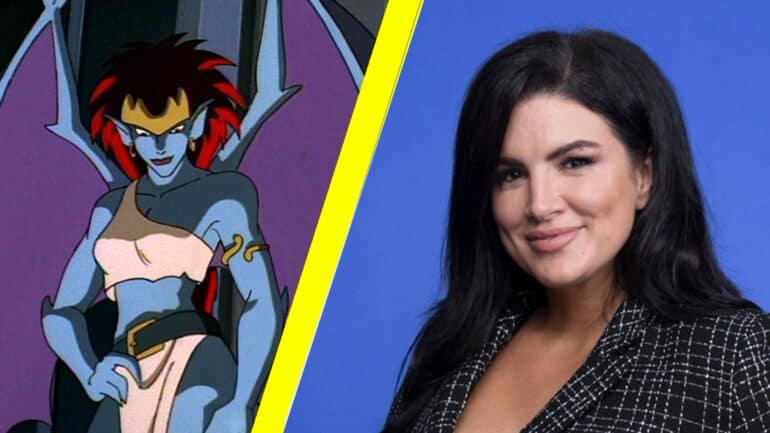 One of the main antagonists of the original animated show is Demona, a former love interest of Goliath and a formidable adversary of the Clan. Demona is a complex character that can stand physically against the strongest of the Manhattan Clan.
An actress who aces the role of a muscular badass is Gina Carano: she played a similar character in Disney's The Mandalorian, and we're sure her attitude fits the role of Demona perfectly. Again, she'd be a perfect fit in a live-action Gargoyles movie.
7. David Xanatos – Jonathan Frakes
One of the most compelling characters of the Gargoyles' animated series was David Xanatos, the CEO of Xanatos Enterprises. His role as the Manhattan Clan's archnemesis and his feud with Goliath is at the centre of the show's conflict, even if his character eventually became an ally to the gargoyles.
For Xanatos, we think the best would be to have an older version of the character appearing in the live-action version – and who better to play a live-action Xanatos than Jonathan Frakes. The Star Trek: The Next Generation veteran played the character in the animated show, and having him reprising his role in a live-action Gargoyles movie would be a great way to attract fans of the original cartoon.
RELATED: Cartoons That Deserve A Reboot
8. Jason Momoa as Goliath
The leader of the Manhattan Clan and one of the strongest gargoyles who's ever lived, Goliath is a formidable warrior and a brilliant tactician. Despite his short temper, his firm morals make him a strong ally in the battle against crime in New York City.
When it comes to casting someone to play Goliath, we'd need someone who could be as physically imposing as the Clan's leader – not to mention that he'd need to have a voice to rival that of the original Goliath's voice actor, Keith David.
Jason Momoa is known for playing Aquaman in the recent DC live-action films. His physique and deep voice are perfect for Goliath, and fans of DC comics would no doubt be interested in watching one of their favourite actors starring in a live-action Gargoyles movie.
RELATED: Old Cartoons – How Could We Forget These Classic Shows?
Are you ready for a live-action Gargoyles movie? Who would you cast?