Occasionally, we stumble upon a new brand that crosses our paths. Knowing a relatively new brand is tricky, especially finding helpful and relevant reviews to assist you with purchasing decisions. It is vital to have essential reviews on your favourite and trusted publications. The Burtone brand is, by comparison, relatively new to the South African market. As the brand continues gaining some traction in the market, we look at a few consumer offerings. First on the list is the Burtone Metal Series Wireless Earbuds.
RELATED: Tranya Nova Earbuds Review
Build and Design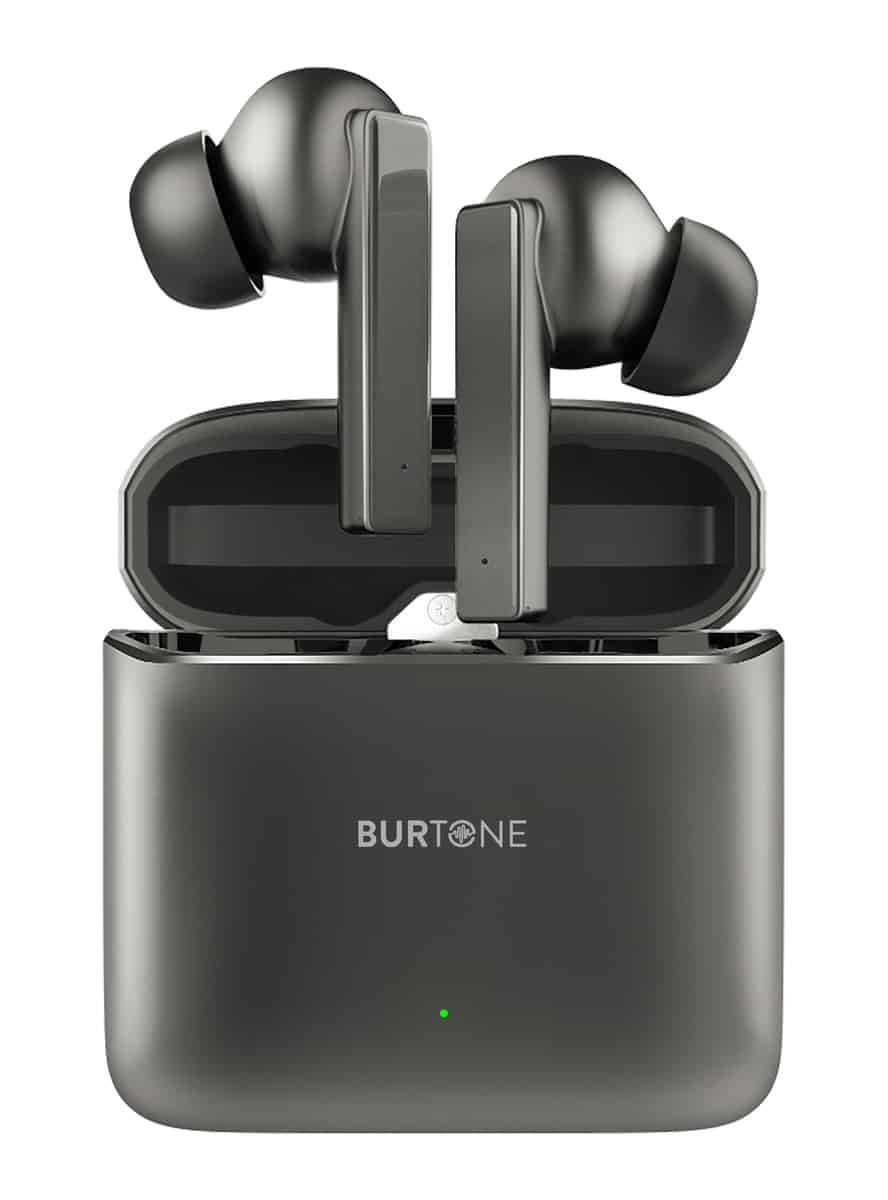 As the name suggests, the unit is crafted in metal. To be more specific, it's the case that it is made of a zinc alloy. It is completely covered with a metallic finish in a gunmetal grey with a matte finish. Its design is a throwback to the metal matchbox lighters of yesteryear that you'd flick open to cause a fire light on the top. The case opens backwards, not to the side, as with the metal matchbox lighters.
It's quite a solid build and can be tossed around without worrying about it taking damage. It's also very compact and lightweight and easily fits in your pocket. It also carries an IPX4 rating, which can be used in rain and while exercising. However, it's not fully protected and should not be submerged in water.
Moving over to the earbuds themselves, they have a more plastic finish. That being said, they're also solid in their own right while keeping the same colour theme. The combination looks premium, even while rated as a mid-tier pair of earbuds.
Each earbud has a skinny stem, an indicator LED light, and a microphone. The indicator lights sit near the top of each earbud and are visible even when docked in the case. When you open the case, the indicator lights will flicker and indicate their current charge. Blue indicates it's fully charged, and red indicates the battery is low but not charging, and a pulsating red indicates it is currently in charging mode. Opening and closing the case also indicates a red or blue light on charging.
In addition to the gunmetal grey, a black colour is available.
RELATED: Audeze Maxwell Gaming Headphones Review – Bringing Quality to Gaming Audio
Setup and Specifications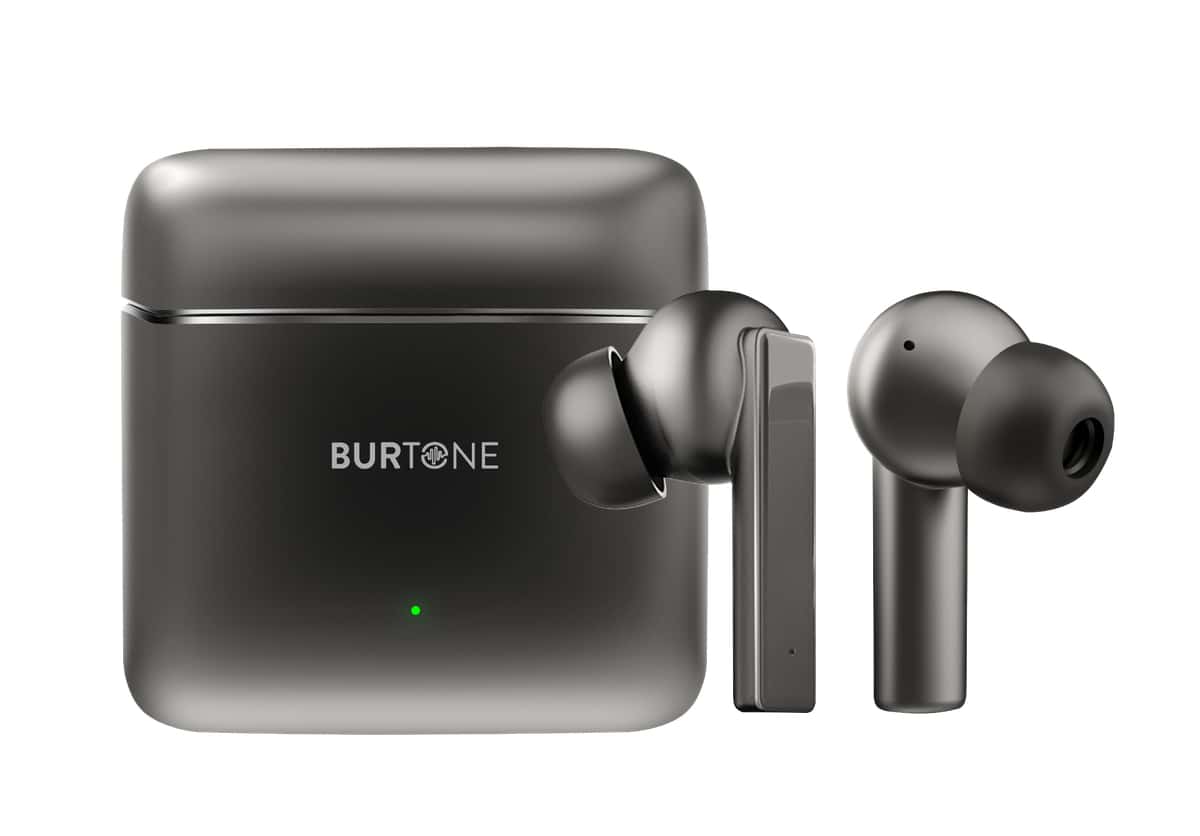 Upon first use, many earbuds often require dual pairing. This allows both earbuds to pair and connect as a single device on your source destination. In the case of the Burtone Metal Series Wireless Earbuds, the same applies. Upon taking out the first earbud, it automatically goes into pairing mode. This lets you locate the option on your Bluetooth-enabled device and select the pairing option. Once completed, you can take the second earbud from its case and complete the pairing and connectivity independently.
It's a seamless approach and works the first time. I attempted the pairing on a second device to confirm its seamlessness, and it did so with just as much ease. You shouldn't have any issues pairing these earbuds to your source device, as most of the work is done on the earbuds themselves and only requires users to select the option on their Bluetooth devices.
In terms of complete specifications, the Burtone Metal Series Wireless Earbuds feature a 300mAh battery in the case. Each earbud has a 30mAh storage charge capability, allowing four hours of playtime before needing a recharge. The case adds capacity for five recharges, making for 20+ hours of playtime. This isn't as long as many others, which often have up to 50+ hours of playtime and recharge from the case.
The earbuds can only be charged using the case, so keep them around even when your earbuds are in use. Recharging from zero takes around 90 minutes to charge the earbuds again fully. Compared to many other units that can take up to four hours, this is quite a quick turnaround on charging time.
The Burton Metal Series Wireless Earbuds also offer Voice Assistance, depending on what is installed on your source device. For your Android smartphone, you can use Google's voice assistance. You can use Cortana for your laptop, and for Apple, you can use Siri. These tie in quickly enough to make it work without too much fuss.
As with most modern wireless devices, these also utilise Bluetooth v5.1. As such, it has a range of around 10m without interference before it distorts or breaks the connection.
RELATED: Tranya T6 Review
Performance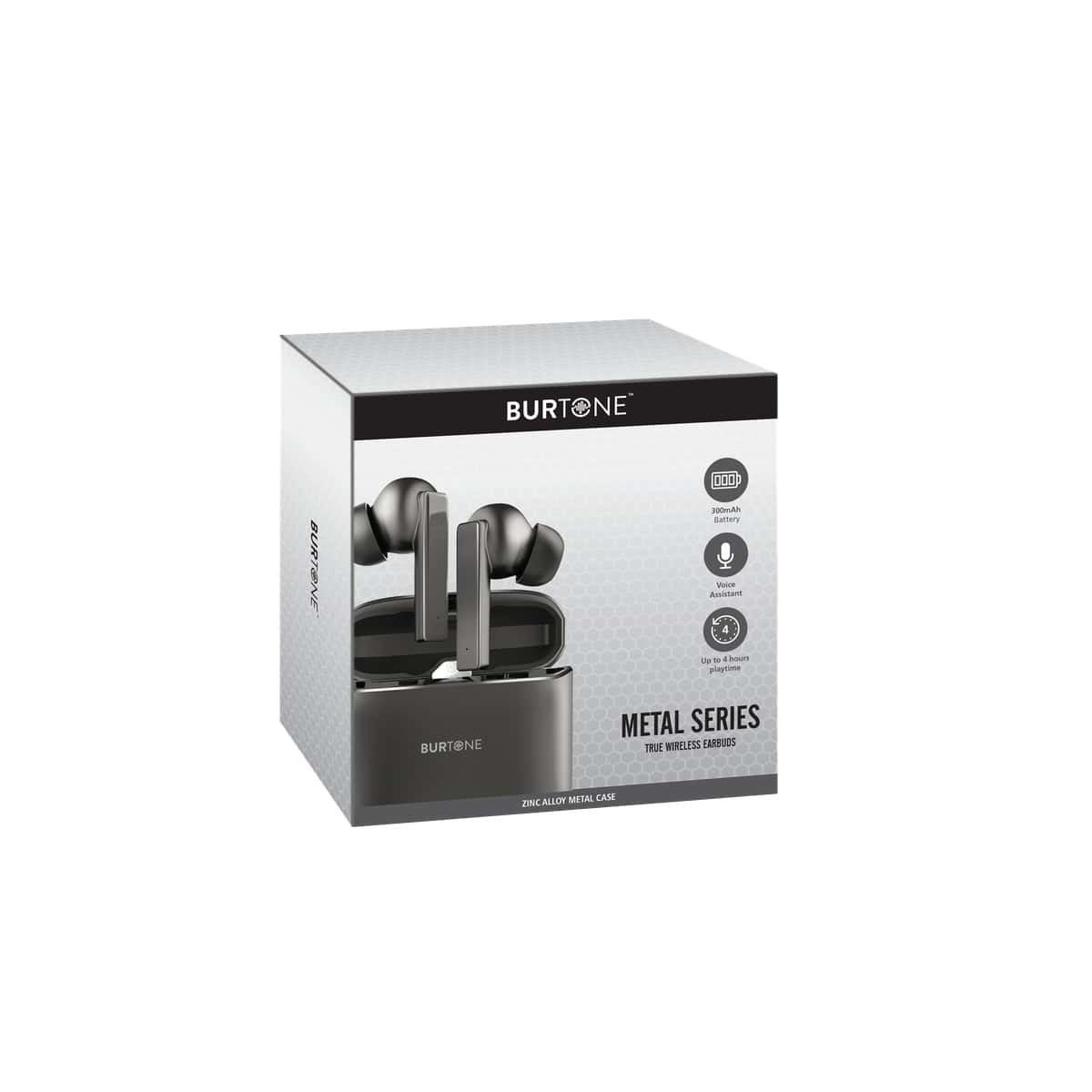 Although no specific information is available on the drivers in each earbud, I assume it's around the 10-12mm range. That said, the range of sounds and quality thereof are excellent regardless. The volume isn't as loud as many others, but there's hardly ever a need to go beyond its current range without wanting to damage your ear drums.
The audio quality is also evident. It's most potent with its mids, with the highs above average and the lows needing more work. It's clear from these results that the earbuds are geared more towards meetings and voice audio as opposed to listening to music throughout the day. This is further heightened by its microphone quality and some passive noise cancelling thanks to its cups. No active noise cancellation is available, but its passive approach works well enough, having tested these earbuds in the office without any issues.
The touch controls aren't as straightforward as I've been used to. A single touch on the right earbud increases the volume and decreases on the left earbud. Conventionally, this is the play/pause approach, which, in this case, is a double tap on either of the earbuds. There is no three-touch option. Instead, you'll need to long-press either earbud to skip to the next track or back to the previous. It is a lot simpler, especially when you need to count three presses. However, it's not as intuitive but works great once you've become accustomed to it.
RELATED: ASUS ROG Cetra True Wireless Review – The First ROG Wireless Earbuds
Should You Buy the Burtone Metal Series Wireless Earbuds?
Overall, the performances are excellent, with no significant negatives. Although it lacks bass, it doesn't hinder its overall performance even while listening to music. It offers the best performance for office use with its passive noise cancellation and various volumes across the range. It works great with its dual-microphone configuration, so it'll still work fine even if you're using just one of the earbuds.
With a four-hour continuous use battery life, it's not the best range. At the same time, placing the units back in its case can fully recharge them in 90 minutes or roughly an hour's worth of use in 20 minutes.
At a retail price of just R699, they're inexpensive and well-priced for many budgets. You can purchase the Burtone Metal Series Wireless Earbuds online from Takealot.
The Review
Burtone Metal Series Wireless Earbuds
PROS
Great-looking design
Easy to pick up and use
Great value pricing
Passive noise cancellation
CONS
Touch controls are not as intuitive at the start
Needs more bass
Review Breakdown
Ease of Learning

0%

Ease of Use

0%

Design

0%

Performance

0%

Enjoyment

0%

Value for Money

0%