Looking back at older comic book movies, most fans agree that the modern films are far superior in every way. They take the material way more seriously and there seems to be some plan beyond selling toys and Happy Meals. That doesn't mean they were all way off the mark, though. In Batman Forever, for example, Jim Carrey's Riddler was pitch perfect for the time.
Granted, the sole purpose of Joel Schumacher's Batman Forever was to move merch and be a more kid-friendly product than ever before (ha!). But that doesn't mean everything about it was wrong, since there were some bright spots such as Edward Nygma.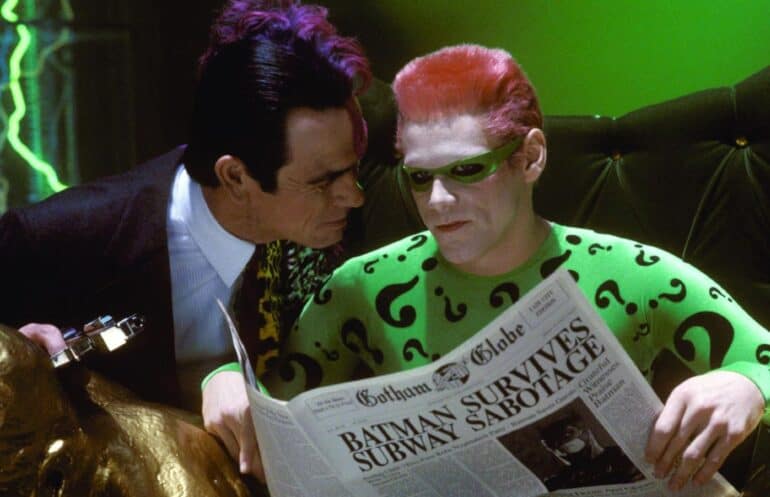 Think back to 1995 for a second. Jack Nicholson's Joker overshadowed the franchise. Not only did he portray Batman's greatest nemesis, but he also put in a seminal performance that's discussed to this day. While Michelle Pfeiffer's Catwoman and Danny DeVito's Penguin were excellent in Batman Returns, Warner Bros. wanted someone to elevate another villain to the same heights.
At that stage, Jim Carrey was one of the hottest stars in Hollywood, having come off star-making turns in The Mask and Ace Ventura. Yet, his casting proved to be a controversial one since he was seen as more of "the comedy guy". Would he have the acting chops to pull off a villain like the Riddler?
When Batman Forever arrived in theatres, it received mixed reviews from critics and fans. Criticism was levelled at it for being more colourful and over the top than Tim Burton's previous films. However, the box office receipts didn't lie as it made $336 million worldwide from a $100 million budget. It was a hit and made more money than its predecessor.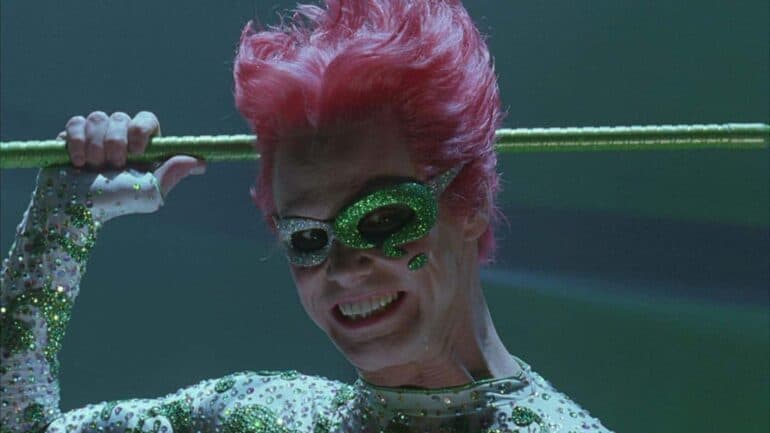 In hindsight, most fans remember two things about Batman Forever. One, Val Kilmer's underrated performance as the Bat. And two, Jim Carrey's Riddler, whom we'll be diving into more next.
You can't deny that the Riddler had the best dialogue in the entire film, with many people still quoting the infamous "riddle me this, riddle me that, who's afraid of the big, black bat?" line. There's something about his delivery and timing that never gets old, as you see the scene-stealing joy that Carrey possesses here.
Also, whenever you see his costumes featured, you instantly recall where they came from, as well as the scenes. They might be flashy and campy, but they're certainly memorable.
More importantly, mention the Riddler to anyone and the first person that comes to mind is Jim Carrey. He wasn't the first actor to portray the character in a live-action adaptation, but his name has become synonymous with the part. That's powerful and demonstrates how iconic his performance became in the minds of the audience.
With Paul Dano's upcoming performance as the Riddler in The Batman set to be darker and grounded than everything that came before it, there's a good possibility he could become the new face of the character for generations to come. Until then, though, Jim Carrey's Riddler is still the one thrusting to explosions in our heads.
Tell us, did you enjoy Jim Carrey's Riddler in Batman Forever? Let us know your thoughts in the comments section down below.