For more average users, the native media players on your laptop of PC will do the job of playing videos or music with default and basic settings. Native media players on Windows and Mac work well enough if you're not looking for more complex requirements and standard codecs. Any deviation from the norm, however, and you're left with video and music files that fail to load, stutter, aren't in sync and numerous other issues that will plague your entertainment for the afternoon. For the slightly more advanced users, switching to the likes of VLC and PotPlayer bring additional codecs, file formats and settings to play around with to open up more options overall. And, for the most part, these two apps are well-suited to the majority of the average experience. But, as with most minimalist media players, you'll quickly reach a roadblock when wanting to bring in more modern requirements such as AirPlay, DLNA streaming and, most importantly, 4K playback. This is where 5KPlayer comes in.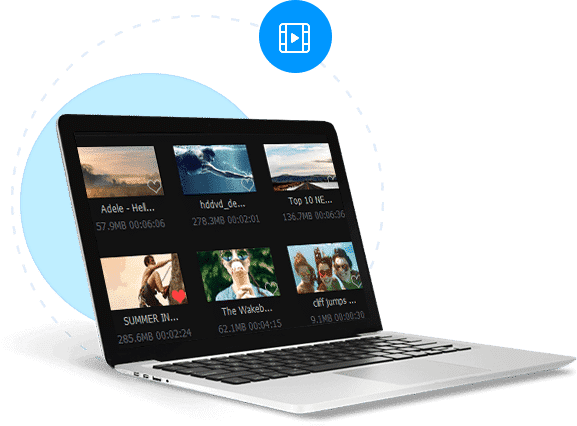 5KPlayer is a free-to-download media player for all the above-mentioned requirements. However, unlike many other media players, 5KPlayer offers a host of built-in features that add to your user experience without complicating the setup and bog down the average user, who won't often know where to begin when changing software settings, not even how to search Google for tips.
The player comes with built-in hardware acceleration that supports the rendering of 1080p, 4K and 8K video the various file formats that enable it. While other media players often have their own selection of hardware acceleration, it's not always a trivial task of selecting a file and playing it. And this is why 5KPlayer is one of the leading media players for playback of higher resolution formats. Some of the leading formats and codes for modern users include MKV, M2TS, MP4, FLV, AVI and WMV.
Similarly to other media players, users also have the option to select a separate audio file for a video, which is useful when watching films for different languages or with its own subtitle track. Unlike those same media players, however, the hardware acceleration is powered by the graphics card, supporting the likes of Nvidia, Intel and DXVA 2.0. This translates to a better playback performance, as the GPU is able to process the media much more efficiently that it being rendered via the CPU, as is often the case. As a result, users will experience less lag and stuttering
When it comes to music and audio playback, 5KPlayer supports MP3, AAC, APE, FLAC and ALAC audio, amongst others. This, too, means you wouldn't have concern yourself with questions on whether it supports the various file types. The media player supports the majority of the leading video and audio formats and codecs taking the pain out of any setup that may have been required. 5KPlayer also offers DTS multichannel surround sound if you have the correct setup.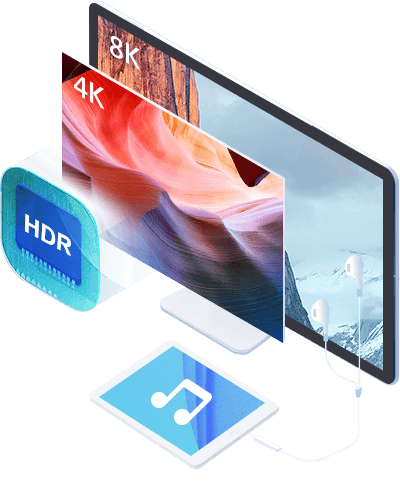 Beyond these standard, and not so standard, playback options, 5KPlayer is more than just a media player. The client allows users to stream from your PC to your TV or other enabled device, by means of Apple's AirPlay and DLNA capabilities. Both AirPlay and DLNA allows users to stream both to and from other connected devices, including your smartphone (iOS and Android) as well as your TV, Xbox and PS4, etc., as long as you're on the same network. For example, you can stream a video from your PC or Mac to your iOS device or from your iOS device to your PC or Mac. And what's great about this feature is that there are now complicated connectivity requirements, simply select the option from the player and then start streaming once the device is selected.
Another of the features is the YouTube downloader option. Here users can copy and paste a specific YouTube link, analyse the video and then choose your options for download. This means you're able to download various video formats, as well as the audio-only for any music requirements. This means you can download and build a library of YouTube videos and audio for later viewing without having to search for them all again. The YouTube downloader, while the name is specific to the Google-owned service, is also capable of downloading content from Vimeo, Facebook, Instagram and many more. The team says that it supports over 300 sites from which video can be extracted for your use. That's quite impressive.
Finally, to round things off for 5KPlayer, it also supports DVD-playback for users who have a large collection of the physical format. What's great about this option is that it supports multiple regions as well, which means you won't have any issues with such constraints. There's no need for additional codecs or downloads, it just works. Where users are required to spend a little is when you wish to download/RIP and convert DVDs from disk to digital media.
Overall, 5KPlayer ticks quite an impressive list of boxes when it comes to media playback and all the additional requirements you can think of from that. While I would previously prefer the minimalist approach to playing media, with standard players that just get the job done, there's a lot to learn from how we consume content on a daily basis. Considering that I would have a dedicated portable drive for playback on my TV, 5KPlayer took the sting out of streaming directly from one source to another, wirelessly, without wasting time copying files and even battling with the native media player on my TV, which isn't that great to begin with. There's not much 5KPlayer can't do when it comes to playing video and audio.
The Review
5KPlayer
If you're looking for an all-purpose media player, with built-in streaming services to and from your PC or laptop, then 5KPlayer ticks all the boxes you may ever require from a media player.
PROS
Simple to use across all options
Stream to and from PC/laptop
Fast playback (hardware accelaration)
Built-in video and audio downloader
Review Breakdown
Ease of Learning

0%

Ease of Use

0%

Performance

0%