Tough love can sometimes be the best master, and no one understood this better than Mr Miyagi. This iconic mentor instructed young Daniel LaRusso in the ways of karate – and hides a lot more pain than his jolly facade might hint at. A complicated and lovable character, Mr Miyagi might be one of the all-time best masters in film history, rivalling the likes of Yoda or Gandalf.
Pat Morita really poured his soul into Mr Miyagi's character: his performance really gave the karate master a very human – and sympathetically fragile – side. It seems unreal to think that the role almost went to Toshiro Mifune.
Let's take a look at what makes Mr Miyagi such a great character – and how different it could all have been.
Wise and Strong
One of the greatest virtues of Mr Miyagi is how he likens his knowledge in life with his karate techniques. His teachings might seem… odd at first glance, especially for Daniel-San, but there's undeniably a deeper meaning behind Miyagi's every act. Even from the most menial tasks imaginable, Mr Miyagi can use every opportunity to improve his apprentices.
Along with teaching how to properly kick some bullies' faces, Miyagi also imparts some valuable life lessons to his students. Having had a rough life himself, the wise mentor holds the concepts of peace and tranquillity in high esteem.
Presence From Beyond
In the Karate Kid franchise, it's revealed that Mr Miyagi passed away at the age of 86 on November 15, 2011. Pat Morita passed on earlier, in 2005, which means that there was no way for his character to return for the popular Karate Kid revival series, Cobra Kai.
However, that doesn't mean that Mr Miyagi isn't an influential character in the series anymore. After facing many trials and tribulations, Daniel revives his old mentor's karate dojo, becoming a better man in the process. He might not be present as a ghost-like Yoda did, but there's no denying that his presence can still be felt by his students.
He's also a commemorated WWII veteran, fighting in the 442nd Regimental Combat Team: one of the most highly decorated regiments in the US Armed Forces. His sorrowful life, including the death of his wife and daughter while he was in the fronts, marked his life forever, turning him into the man that he was when he trained Daniel.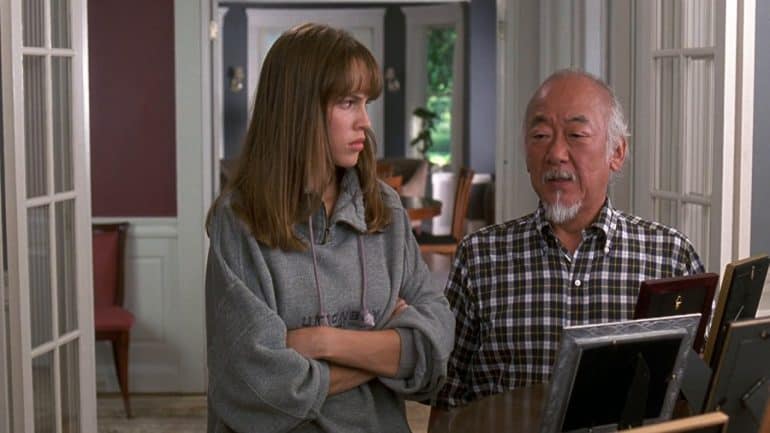 Accept No Substitutes
While Cobra Kai is doing a great job bringing the world of Karate Kid to new viewers around the globe, younger audiences might be more accustomed to the 2010 remake that had nothing to do with karate. Why a film centred around kung fu was titled The Karate Kid is anyone's guess, but it shows just how important the character of Mr Miyagi was for the original movie.
In 2010, we had Jackie Chan acting as Mr Han, the reboot's version of Mr Miyagi. While he shared some of the original character's attitudes and motivations – namely the loss of his family – the overall tone was nowhere close to the sheer mysticism that Pat Morita's character exuded.
Sure, the character of an old and wise martial arts master might be one of the oldest tropes in the book, but Mr Miyagi is absolutely one of the finest examples of this type of character you can find in cinema history. Thankfully, the Cobra Kai series is treating his legacy with the utmost respect, giving Pat Morita – and Mr Miyagi – the send-off they deserve.
What do you think? Is Mr Miyagi the best mentor?