Released by a fan on 1 July 2022, a TMNT: Last Ronin short has over 200,000 views. Following the 2020 comic book by the same name, both the short and the book feature Michelangelo as The Last Ronin.
Warning: Discretion is advised with the content of this video as it is graphic and contains very dark subject matter.
Fan Short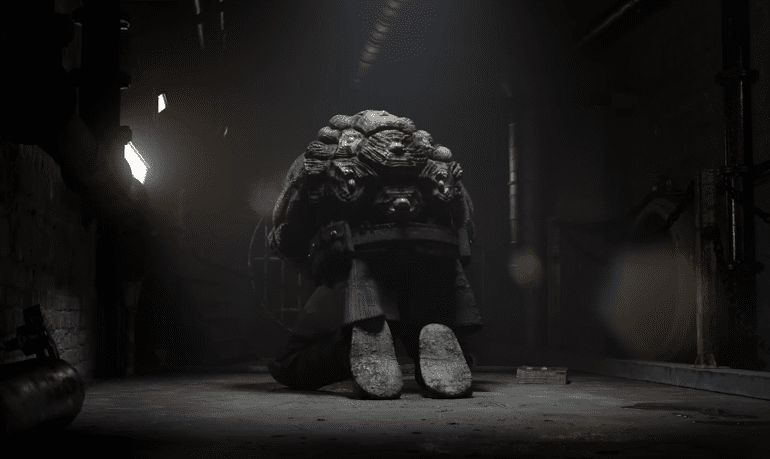 The TMNT: The Last Ronin short (created by Youtuber speedokaggen) opens by showing viewers one of The Turtles in a dark, bloodied hallway. As he walks through the door we cannot yet see which of the four beloved brothers is talking to us, as we have yet to see the colour of his mask. The camera follows the turtle through the doorway to find him kneeling facing away from us.
Suspense and tension are building as he lays something out in front of him. From a top-down view, we can now see the weapons and masks of all four brothers lain out in front of him, as well as the instruction book of their adoptive father, Master Splinter. It's now revealed that he is donning a black mask, in mourning for his brothers and father who have all passed and he is covered in blood.
"I miss my brothers so much," he says, seemingly to himself in the TMNT: The Last Ronin short. Picking up Master Splinter's book, he continues, "And I miss my father. More than anything else, I wanted to make him proud." He drops the book back down next to the weapons and bandanas of all his brothers and says, "They're all gone now."
The unnamed Turtle picks up Leonardo's broken sword and plunges it into his chest, attempting to kill himself. In a moment of respite, the screen cuts to white to reveal the spirits of his brothers waiting for him.
The Lore
This fan-animated TMNT: The Last Ronin short is impeccably comic accurate and follows Michelangelo in his struggle to deal with the loss of both his brothers and adoptive father at the hands of Oroku Hiroto. While the short only shows his suicide attempt after failing a suicide mission, the comic book shows him grappling with his loss and his need for revenge for his family.
Having swapped his orange bandana for a black one, this is both to signify his mourning as well as his transformation from the once fun-loving youngest of the brothers to the serious, revenge-bent last of his kind. Along with this, he no longer uses his nunchucks, having exchanged this as well for much more deadly weapons such as the ones Leonardo and Raphael once wielded.
The original comic book and lore state that Michelangelo's attempt on his own life was unsuccessful as he fainted from blood loss before actually committing suicide. This is different from the fan-animated short which shows Michelangelo committing suicide and having a vision of his brothers surrounded by white light before ending, possibly signifying that he is finally at peace.
TMNT is usually a kid-friendly franchise and film content, so it's nice to see some real, darker content coming out of the franchise to cater to its adult fans that have loved the franchise for years.
What do you think about the fan-animated short of TMNT: The Last Ronin?