Samsung's Galaxy Z Fold and Galaxy Z Flip are notorious for the creasing issue that slowly comes to the surface thanks to all the tension on the screen when the device is folded closed. While a relatively minor issue, it has plagued its users since the devices arrived on the market. With the Galaxy Z Fold 5, Samsung might finally be ready to implement a design to solve this irritating issue.
RELATED: Samsung's New 8k Projector Can Turn Any Wall Into A Flatscreen
Samsung Galaxy Z Fold 5 New Hinges
With Samsung's upcoming Galaxy Z Fold 5, they might have finally solved the issue of the creasing folding screen. A Korean site, Naver, has reported that a design that Samsung patented back in 2016 might finally come into play. The design is that of a "droplet"-style hinge that will allow the display to form a teardrop shape when it's closed, making it a much gentler curve than what is currently being used, which would leave a significantly less noticeable crease.
Another exciting facet of the new design is that it could make both halves of the display sit flush against each other when the foldable phone is shut, something that sets it apart from previous models and generations, which would leave a small gap because of the tension on the display. This might seem like a small win, but it would mean that it would properly close and fit into a pocket or a bag easier, where the older ones struggled.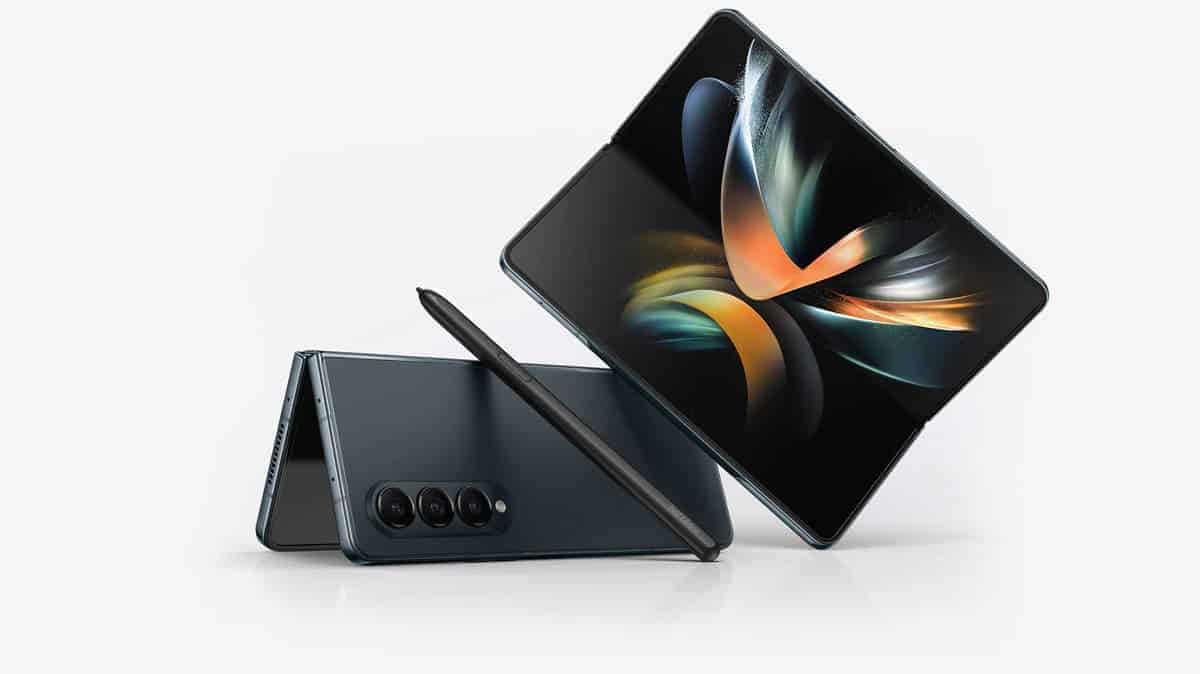 This design has just been implemented, but Naver mentioned that it might be possible that Samsung was waiting until they could bring an IPX8 water-resistant rating to the new display. However, this rating was first introduced with their third-gen folding devices in 2021, so this theory might not hold up. So why didn't they implement it with the third-gen devices?
Samsung's Problem With Screen Creasing
Although the creasing has always been a problem, they have been trying to improve it slowly over the years and throughout the generations. Despite this, the creasing is still noticeable, even in the latest fourth-generation foldable devices. This is likely because the Samsung Galaxy Z Fold 4 and the Galaxy Z Flip 4 still use a "U"-shaped hinge. This hinge, instead of the "droplet"-shape, puts the display at a much sharper angle when closed. Unfortunately, this puts more stress on the display and creates the prominent crease that ails its users.
RELATED: Samsung Launches Galaxy Z Fold4 & Flip4 in South Africa
Other Folding Smartphones
Some other folding smartphones have already implemented the "droplet"-style hinges, such as the Oppo Find N2 and the third-gen Motorola Razr. Both have a markedly unnoticeable crease when unfolding, meaning that there is definitely some truth to the properties of this newly shaped hinge. The Samsung Galaxy Z Fold 5 could have a significant one-up on both of these devices, however, because neither is rated for water resistance.
Samsung has been implementing its water resistance since the third generation of their foldable devices, so it seems unlikely they would get rid of this feature for the Z Fold 5.
Things To Look Forward To
It needs to be clarified if they will implement the new hinge to the Galaxy Z Flip 5, as they have yet to implement it despite having patented the design in 2016. We will have to wait and find out; it might be a while before we know anything. We can expect some reveal in August, as Samsung will then reveal the new folding phones. After that, we can look forward to the Galaxy Unpacked Event in February, where we might get a reveal of the new Galaxy S23.
While it might not seem like a huge change, the change in the design will make a big difference for users of Samsung's folding devices, making their lives easier and putting less stress on their smartphones' displays. Hopefully, this will be the year that Samsung decides to start implementing its patented designs.
RELATED: Samsung Galaxy Z Flip4 Review – Refinement Over Rebuild
Are you excited about the new design for the Samsung Galaxy Z Fold 5?