If one were to make a list of the most harmless animals on the planet, bunny rabbits could easily top that list. Maybe that's why they can be found so often in horror movies: you would never expect a bunny to rip your throat, right? Whatever's the case, there's a suspiciously high number of scary bunny rabbit movies out there.
On this list, we'll be taking a look at five of the scariest movie rabbits of all time.
5. Donnie Darko (2001)
Not every scary bunny movie has a real rabbit as the source of every moviegoer's nightmares. Case in point, 2001's Donnie Darko features one of the most emblematic rabbit costumes in film history.
A mind-bending story full of alternate-reality shenanigans, Donnie Darko is a great cult classic that will keep you wondering about its symbolism long after its credits roll. Starring a very young Jake Gyllenhaal and his sister, Maggie Gyllenhaal, this is an amazing flick for all the fans of psychological horror films – or just weird things in general.
4. The Twilight Zone (1983)
Now we're getting into proper scary rabbit movie territory with 1983's The Twilight Zone. An adaptation of the classic Rod Serling show, this film featured some fan-favourite stories from the 1950's show, reimagined by some of the decade's most brilliant makeup artists.
The scary bunny in this case appears briefly during a segment directed by Joe Dante. A young kid terrorizes a small town, conjuring up all manners of monsters and ghoulish apparitions. One of those monsters is a deformed hellish rabbit, designed by Rob Bottin. Needless to say, this is no funny bunny.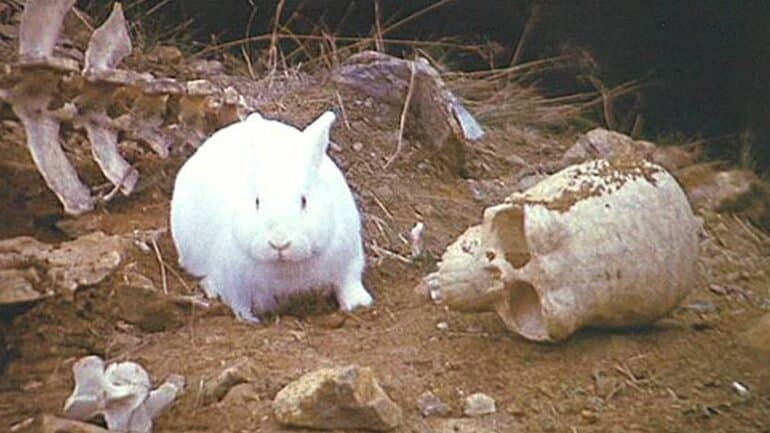 3. Monty Python and the Holy Grail (1975)
Who said that scary bunny rabbit movies had to be horror flicks? The rather unexpected – and unusually gory – killer rabbit in Monty Python and the Holy Grail is one of the funniest and most violent scenes in the whole movie. It's so good that it has been referenced countless times in other forms of media.
A satire of Arthurian legends, Mothy Python and the Holy Grail could be considered, well, the Holy Grail of British comedy. The killer rabbit is but one of the film's many non-sequiturs. The moment is so out of left field, that audiences can't help but laugh at the sheer absurdity of a rabbit killing a group of armed knights.
2. Night of the Lepus (1972)
It's rare to find a creature feature that uses rabbits – for obvious reasons. No one told the filmmakers behind 1972's Night of the Lepus that scary bunny rabbit movies are hardly effective, and that's a good thing.
Fans of cheesy horror flicks will absolutely love this wacky B-movie. Featuring a horde of killer rabbits and all campy horror cliches we love, Night of the Lepus is an absolute blast from start to finish.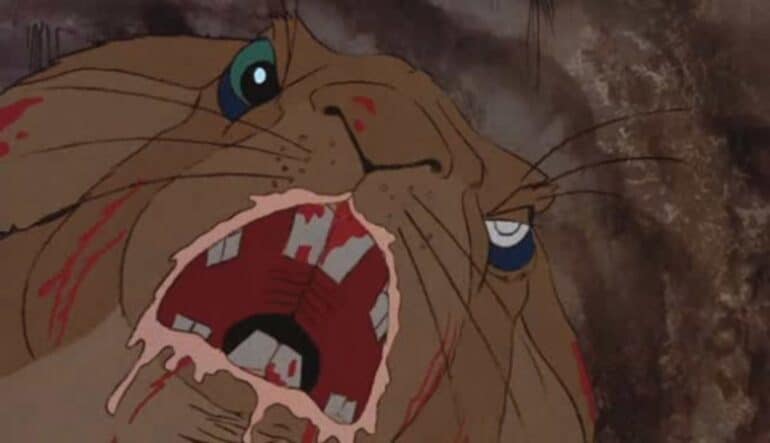 1. Watership Down (1972)
Cartoons are for kids, right? That's the fallacy that forced a generation to watch Watership Down when they were young. This animated allegory for fascism and the Nazi regime is certainly not safe for kids, but it's absolutely devastating for cute animated rabbits.
Blood, violence, and all manners of suffering can be seen in this scary rabbit movie. Adults might not find this movie all too offensive, but it can cause some serious nightmares for younger kids who happen to love bunnies.
Tell us, what do you think the scariest bunny rabbits are?