As the battle for mid-range and budget smartphones heats up, we're seeing more options for the average consumer. And while that may be great, it poses a few more challenges for consumers who aren't able to decide between these options. Over the past year, another brand has landed on the shores of South Africa, the Tecno smartphone range. I received the Tecno Spark 7 Pro for review. It was launched as part of a duo, along with the standard Tecno Spark 7.
In 2020, Tecno was one of the highest-selling smartphones on the continent of Africa. The brand has established itself in the market and is attempting to position itself in South Africa in the same manner. The Tecno Spark 7 range was designed for content creators at an affordable price point. With its marketed state-of-the-art hardware, we take a look at what it has to offer.
Tecno Spark 7 Pro Build and Design
When first unboxing the Tecno Spark 7 Pro, it doesn't stand out all that much. Most smartphones look fairly similar upfront with the screen turned off. That's until you flip it over as you lift it from its casing. Here, I was presented with a matte green rear. Tecno calls this Spruce Green. Other colours available include Alps Blue, Neon Dream and Magnet Black.
Although it has a plastic finish, the sand-blast texture gives it a unique look and feel. It's like a giant fingerprint over the whole rear end. What's great about this textured approach is that it makes it harder to pick up actual fingerprints when in use. However, that's not the same on the screen, which is more prone to fingerprint smudging.
Back on the rear, on the top centre is the fingerprint sensor. I haven't seen one of these fitted to a smartphone in quite some time. Many of these are now built into the power button, with the flagship units offering the under-the-screen approach.
On the left-hand side, you'll find the camera island. It's surrounded by a clear plastic, which runs about halfway down the back. The top half of the camera island features the three camera lenses with the LED flash slightly off to the right. The rest of the space is used for the Spark and AI text. I like the approach here, with the island elongated to add more flow, as opposed to a bulky-looking box that feels out of place.
The right-hand side edge houses the power button near the middle, with the volume rocker right above it. The left-hand side is mostly flush, barring the little hole to release the SIM tray. There's nothing at all on the top. However, it is the bottom end that has the most talking points.
The Tecno Spark 7 Pro includes a 3.5mm jack, which is great, as well as the audio grille on the right side. However, it's the charing port that leaves me a bit perplexed. It features a microUSB port, which, even on mid-rand smartphones, isn't something you'll find much of in 2021. There is a charger included in the contents but takes you back a few years now having two different types of charging cables needed on hand.
Overall, it's a solid build. It doesn't feel heavy despite its large frame and has a very good-looking rear cover.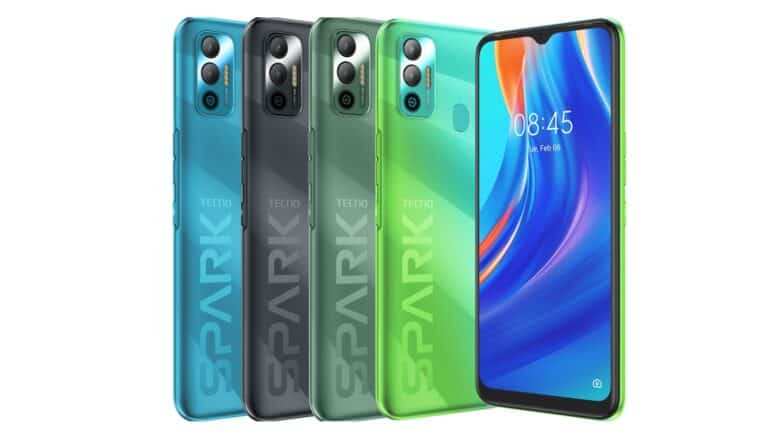 Screen and Display
In today's market, there are plenty of smartphones with 6+ inches of screen real estate. The Tecno Spark 7 Pro continues this trend for mid-range units with its 6.6" screen. It has an IPS LCD panel, which supports a 90Hz refresh rate. The screen has an 83.7% screen-to-body ratio, which isn't bad at all.
The screen has a pinhole cutout for the front-facing camera, which is located on the top left-hand side corner. It's quite significantly out the way that it's barely even noticeable. Unlike many other smartphones that sport a centred design or the dewdrop approach in some instances.
Additionally, the display has a 720×1,600px resolution with a 266ppi pixel density. This is somewhat down on other mid-range smartphones, which puts it a bit on the backfoot. That said, I've always had the argument that you're not going to be noticing a considerable difference between a 720p and 1080p display on a 6" screen. It all depends on the content you consume, as well as the brightness levels and the likes that contribute to this.
After a few side-by-side comparisons, there's very little difference when comparing it to other IPS LCD panels. However, it's no match for OLED screens – although this is mostly featured among top-tier smartphones.
Watching HD content on the device still holds up quite well. Looking at a few nature documentaries at higher resolutions provides great contrast and solid colours. Having compared the imagery side-by-side with a flagship OLED screen, it's down on a bit of brightness but overall stands up fairly solidly.
Even in direct sunlight, it's still easy to make out the content and had no issues with it at all. Overall, then, a decent performance considering it's a 720p display.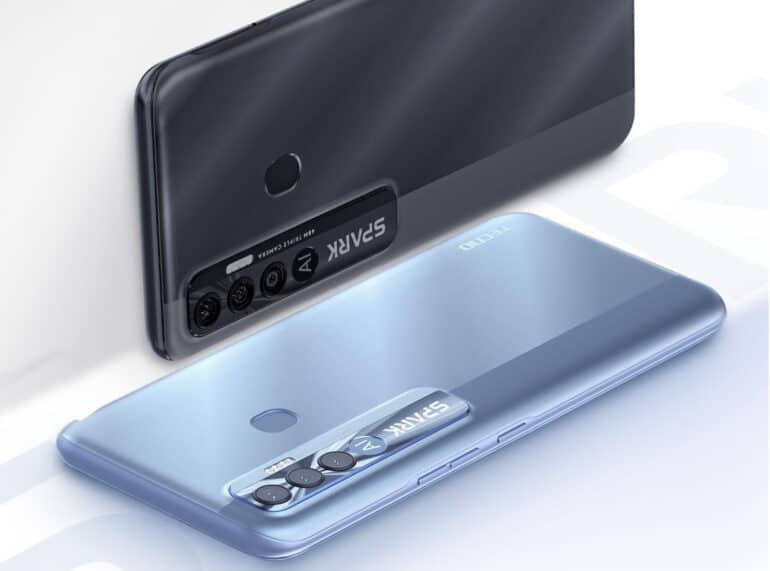 Specifications
Being a lower-end, mid-range smartphone, I wasn't expecting the hardware specifications to blow me away. It all comes down to the overall performance and how efficient it is in getting tasks done. That said, it doesn't have a bad set of hardware under the hood.
The Tecno Spark 7 Pro features the Mediatek Helio G80 chipset, which has an Octa-core CPU. This includes x2 2.0GHz Cortex-A75 and x6 1.8GHz Cortex-A55 CPUs. Additionally, it also has a Mali-G52 MC2 GPU as part of the SoC. When it comes to RAM, it has a reasonable 4GB, with a 128GB internal storage capacity. It also has a very decently sized, 5,000mAh Li-Po battery.
As mentioned previously, it includes a triple-lens camera, with the main camera being a 48MP, PDAF lens with quad-LED flash. Although they is not much known about the two other lenses, it does offer HDR and autofocus. The unit has an 8MP front-facing camera.
It runs the latest version of Android 11 OS, which uses the HiOS 7.5 firmware. The firmware is very snappy and has quite a few shortcuts and nifty animations built-in. For starters, there's the Smart Panel, which opens from either the left-hand or right-hand side of the display. Using the gesture features, if you long swipe back from the edge of the screen, it will pop up. You can then customise which apps you wish to see, along with the second row of native shortcuts. This includes Power Boost, Scan, Lock Screen, Screenshot and Screen Record.
The device comes pre-installed with a few Tecno native apps, some of which are useful, while others are annoying. The Phoenix browser, for example, has quite a few annoying notifications when you first use the device with default settings. Thankfully, you can tinker with it to turn these off.
Performance and Battery Life
When it comes to the outright performance of the Mediatek chipset, it's not going to be winning many battles. The SoC doesn't score very highly in Geekbench scores, with just 370 on the single-core score and 1,300 on the multi-core score. That said, it does offer decent performances when it comes to multitasking, allowing you to easily switch between quite a few apps and tasks. You do have the option to use the Power Boost feature, which adds a bit of oomph, but it's not going to double the processing power by any means.
Users can also use the split-screen feature. However, the majority of the apps that support this are Google-based, with social media and other apps not offering this feature on HiOS 7.5.
Where the performance takes its biggest hit is when it comes to gaming. While it's able to run most games, you'll have to turn down the settings for many of the higher-end games. This includes Fortnite, PUBG, Free Fire and more.
Battery life is where the performances are most impressive. Using the device as a secondary driver for a few weeks provides an entire week's worth of up-time. That's a boatload worth. Switching to a few days as the daily driver, the results aren't nearly as impressive, but you should be able to muster close on two full days of usage as a power user. Putting the device through its paces with consistent streaming over WiFi while playing a game, you should expect about 10 hours of gameplay.
Most of these gains are due to the lower resolution display, which doesn't consume a significant amount of computing power. Hence, it's much easier on the battery overall.
Tecno Spark 7 Pro Camera Quality
As with most mid-range smartphones, the camera quality of the Tecno Spark 7 Pro yields its best results in the midday sun. Here, images are clear, textures are distinguishable and the contact is great. The autofocus also does a pretty good job of it.
Where the camera lacks is when you're attempting a few action shots, as well as anything poorly lit. While the images after dark are usable, they're not great when social media posts on the whole.
Additionally, users will notice that the other two unknown lenses don't play a significant role in the imagery. There is no wide-lens support for those landscape photos. However, there is quite a good representation when it comes to depth in images.
From what I can gather, it has 2x optical zoom before digital zoom takes over. It offers up to 10x zoom in total, but, at that point, it's fairly grainy. Overall, it's not a bad camera and definitely something that's useful on the whole for content creators on a budget.
With its 8MP front-facing camera, it does a solid enough job. It looks good. Video quality is also quite nifty and is capable of recording 2K videos at 30fps and 1080p at 60fps. This is the same for both the rear-facing and front-facing cameras. Although there's a clear distinction between the end results, it's quite a good offering.
Conclusion
The Tecno Spark 7 Pro offers quite a lot for a very low premium. With a good screen, albeit with a 720p resolution, good design, decent camera and overall performance, it delivers a very good performance overall. However, with its two-day battery and over a week as a secondary device, it has quite impressive availability between recharging.
At a price of just R3,499, you can expect there would be quite a lot of takers for the smartphone.
The Review
Tecno Spark 7 Pro
The Tecno Spark 7 Pro is a very good mid-range smartphone. It offers plenty of features and specifications to get through the basics with ease. With adequate performance and an impressive battery life, there's extremely good value for money for this smartphone.
PROS
Smudge-free rear design
Comes with free rear and screen covers
Massive battery life
CONS
No Ultrawide lens on the triple camera
720p display
Limited graphics for high-end gaming
Review Breakdown
Ease of Learning

0%

Ease of Use

0%

Design

0%

Performance

0%

Enjoyment

0%

Value for Money

0%