The Skyworth SUC9300 Android 4K UHD 50" TV brings some really great new next-gen features to the living room.
When Skyworth first launched in South Africa a few short years back, it brought a fresh take to the smart TV market. It remains one of the only smart TVs with built-in Android TV in the South African market. In October 2020, Skyworth launched its latest smart TVs, bringing with it a host of new features to its 2021 lineup.
The launch saw two variants launched, the premium SXC9800, which offers a 120Hz 4K OLED screen. The unit is set to launch in the coming weeks. Then there's the SUC9300 TV, improving on its previous range of Skyworth Smart TVs. The SUC9300 brings with it another "first in-country" release, thanks to improved memory, AIoT, Cast Play and Two-Way Bluetooth Transmission.
Skyworth SUD9300F 50" Android TV Review – Great Value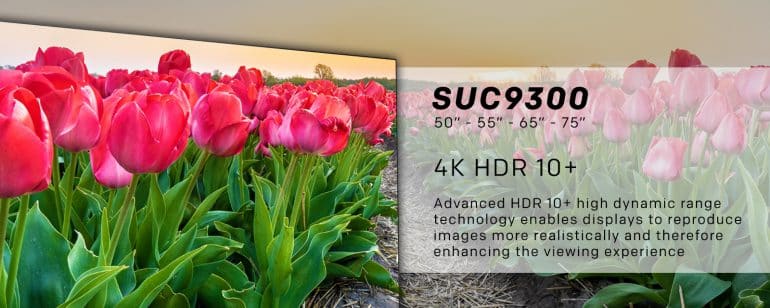 Skyworth SUC9300 TV Build and Design
One would think that there isn't much room for change when it comes to TV design. Having already boasted quite a thin bezel on Skyworth G6 we previously reviewed, the manufacturer has improved on this quite a bit.
Similarly to the G6, with the Skyworth SUC9300 TV, the silver frame is thickest on the bottom end. This, too, has been reduced in size. Despite its reduced size, Skyworth still manages to fit its logo onto the bottom centre.
In terms of dimensions, the Skyworth SUC9300 TV measures 1113x237x712. It also weighs just 9.2KG. This shaves off some 3KG over the G6 while still being some 10" larger in size.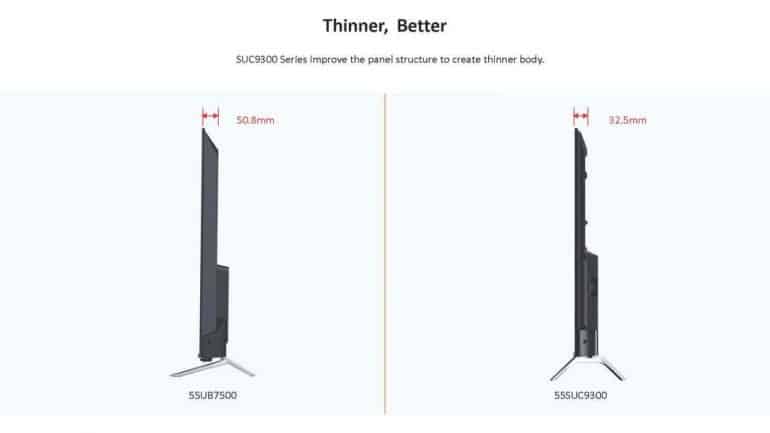 The TV's stand, or the feet, keeps the same style as the previous unit. However, it's quite a lot thinner than before. Skyworth has also raised it, which means the TV stands higher off the surface than before. If you have a soundbar for your TV, this works out well, as you could potentially slide it in underneath. However, if you don't it does seem a little strange.
When it comes to connectivity options, the unit has you covered. It features x3 HDMI ports, x1 Composite input, x1 RF input and x2 USB ports. It also features optical SPDIF output. When it comes to wireless options, the unit includes Bluetooth 5.0, 2.4Ghz WiFi and a built-in Chromecast.
These connectivity options are great, but there is just one letdown. For a next-generation device, I would have expected support for 5Ghz WiFi. It may not matter to most households today, but with the increased use of 5G and 5Ghz routers which support much faster transfer speeds, it would've been preferred as future proof.
Overall, while the improvements aren't dramatically overhauled, there's a lot of it to make a significant difference. Cutting the weight for a larger screen is great and with the near bezel-less design, you can't fault much.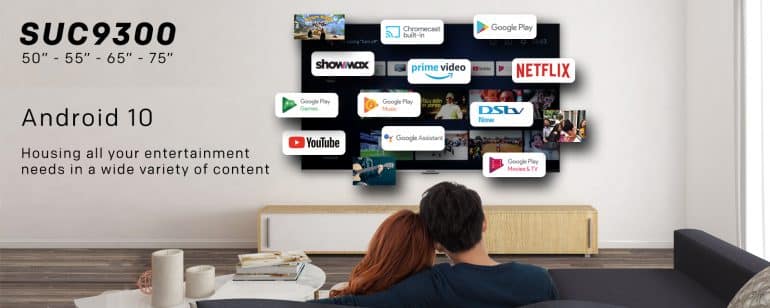 Skyworth SUC9300 TV Screen and Display
One of the key upgrades on the new range of Skyworth smart TVs was the screens. While it always offered 4K UHD on its entire range, things have been upgraded somewhat. The Skyworth SUC9300 TV we received was a 50" model, the smallest entry to the new range.
To start things off, the entire range offers HDR support. Specifically, this includes HDR 10, HDR 10+ and HLG support. This brings with it enriched contract and improved handling of lighting in each frame.
The TV features the standard 3840x2160px resolution alongside the 5000:1 Dynamic Contrast and a 60Hz panel. Unfortunately, the SUC9300 range doesn't support a higher frequency range, which is left for the more premium range.
As mentioned in the previous section, the screen has a near-zero bezel. Skyworth calls this its Infinity Screen design. Rounding off the specifications is the 250nit rating when it comes to its brightness.
Features
To say that Skyworth offers great features across its range is an understatement. While other brands may still dominate over the actual panels, the Skyworth remains unmatched in smart features. Having already been the first fully-integrated Android TV and AI-enabled TV in South Africa, the new range is the first Android 10 Smart TV in the country.
With its native Android 10 OS support, it offers users AIoT, Cast Play and Two-Way Bluetooth Transmission, amongst many other features. With Advanced IoT support, it is capable of integrating with multiple smart home devices and software. With its built-in voice system, this means you now have the capability to control every connected smart appliance in the home via voice commands to your TV.
In terms of sound capabilities, the Skyworth SUC9300 TV supports both Dolby Digital / Dolby Digital Plus as well as DTS Studio Sound. This provides for enhanced audio quality, provided that you have the surround sound hardware to fully utilise it.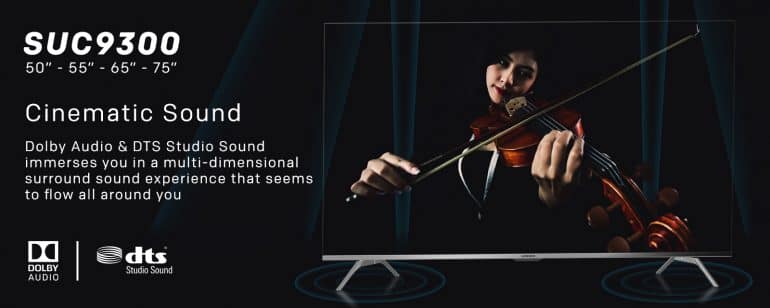 Performance
The Skyworth SUC9300 TV is a feature-rich unit. However, there are some additional accessories required to get the most to enable all of them. The two standout features, however, are the enhanced screen (and its list of features) and Google's software integration across multiple apps that tie into the overall experience.
Regarding the latter, there were plenty of apps I could install on the TV and use it as I would from my smartphone. While not all apps have support for Android's voice activation, there are many that do. For just a day or two during the review period, I received some smart appliances. This included some Lifesmart products, which I could control via the TV to switch on a few lighting fixtures.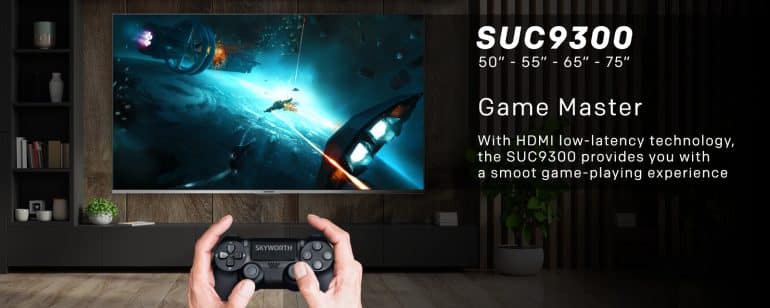 One of the best aspects of the Skyworth SUC9300 was its performance when it came to next-gen gaming. Its HDR support improved the gaming visuals quite dramatically. While it didn't support higher than 60Hz refresh rate, it was great nonetheless.
When tinkering with the TV settings on the Xbox Series X, I was surprised to see that besides the refresh rate, the TV supported every other feature. Enabling each of these and heading back into the games made a huge improvement overall.
Skyworth G6 Android TV Review – A Great Smart TV
Conclusion
There's quite a lot to love about the Skyworth SUC9300 Android 4K UHD 50" TV. There are plenty of features integrated into the Android TV experience that is just seamless. The upgraded hardware also bodes well for next-generation gaming, whether on your PC or console. There are only two missing elements stopping it from being the perfect TV. That's the lack of 5Ghz support and 120Hz refresh rate. That said, these two features will most likely only be used by advanced users with third-party hardware to support their use.
Despite the host of great features on the SUC9300, it still remains less than R10,000 for most of the screen sizes. The 50" model starts at an RRP of R7,999 up to R12,999 for the 65". Considering that you don't need a standalone Android TV box to enable the built-in feature, the price points are great.
At present, the Skyworth SUC9300, in my opinion, is the best smart TV on the market. Only the likes of Samsung and LG outshining it when it comes to the display panel with their OLED ranges. But only for a few more days. With the SUC9800 launching soon, with OLED support, are we going to be seeing the best TV offering quite shortly? Stay tuned for further coverage.
The Review
Skyworth SUC9300 TV
If you're on the market for a new TV, the Skyworth SUC9300 should be at the top of your list. When it comes to features, it's unmatched, thanks largely to its Android 10 integration. With next-gen specs and features, it's also ideal for your PS5 or Xbox Series X. With extremely competitive pricing, it's an easy sell.
PROS
Fully integrated Android 10 OS
Feature-rich
HDR and Dolby support
Voice command for smart home features
Great price
CONS
Lack of 5Ghz WiFi support
No 120Hz refresh rate
Review Breakdown
Ease of Learning

0%

Ease of Use

0%

Design

0%

Performance

0%

Enjoyment

0%

Value for Money

0%