Mindhunter has left a giant hole in our hearts. Who wouldn't want to watch a show where they dive into a serial killer's mind and learn what drives them to do what they do? Well, if you're missing David Fincher's Netflix series, Amber Sealey's No Man of God promises to fill that stone-cold gap.
Starring Elijah Wood as FBI Agent Bill Hagmaier and Luke Kirby as Ted Bundy, this film is based on the real-life transcripts between the serial killer and special agent as they happened over a five-year period, leading up to Bundy's execution. Like Mindhunter, No Man of God doesn't show the violent nature of the crimes in detail, preferring to have the chilling conversations between Hagmaier and Bundy as the focus of the film.
Wood and Kirby carry the film sensationally, as the bulk of the 100-minute running time involves the two of them sitting in a small room and talking about murders and even life in general. That said, it's never boring as their strange and twisted relationship keeps you wondering what comes next. Whenever Kirby's Bundy walks into a room, there's always a tension in the air. You never quite know how he's going to behave, wondering if he'll play along or snap at any given moment.
It's easy to see why Wood and Kirby would be drawn to Sealy's No Man of God as these are the types of roles that every actor cherishes. Every gesture, word, and pause tell a chilling story that's capable of unsettling an audience more than a gory and blood-filled scene. Diving into the psyche of a real-life killer who existed and committed these heinous acts is far more terrifying than a dude who wears a hockey mask and murders horny teenagers.
At the same time, there's an element of No Man of God that tries to redeem Bundy as he confesses for all his sins. If you've followed the story, though, Bundy only confessed to his crimes, including more murders, in an attempt to withhold information and buy more time. He wasn't remorseful for what he'd done—it was merely a delay tactic to avoid the electric chair. This part of the story could've been portrayed more accurately for what it was, rather than as a way for him to find peace before death.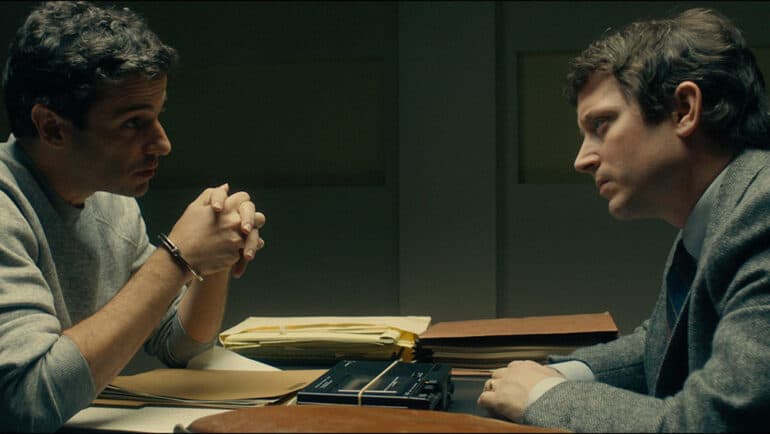 This slight misstep aside, No Man of God is a captivating and nail-biting film. True-crime junkies will find this a must-watch, while the general audience will undoubtedly be curious to find out about one of the most infamous serial killers in history. Mindhunter might be as good as gone, but at least there's something equally as fascinating to keep the fans on the edge of their seats.
Tell us, are you looking forward to watching No Man of God? Let us know in the comments section down below.