Two mortal enemies nearly crossed paths, as confirmed by Capcom producer Yoshinori Ono to Eurogamer. A Street Fighter character almost made an appearance in Mortal Kombat before the decision was vetoed by Capcom.
"It's true that a proposal for a Street Fighter character in Mortal Kombat was rejected by Capcom," Ono said. "But it wasn't me personally! There were many people at the company that felt that it wasn't a good fit for our characters. I actually met Ed [Boon] at the Brazil game show and spoke to him personally about it. So, it's true, but I didn't make the decision!"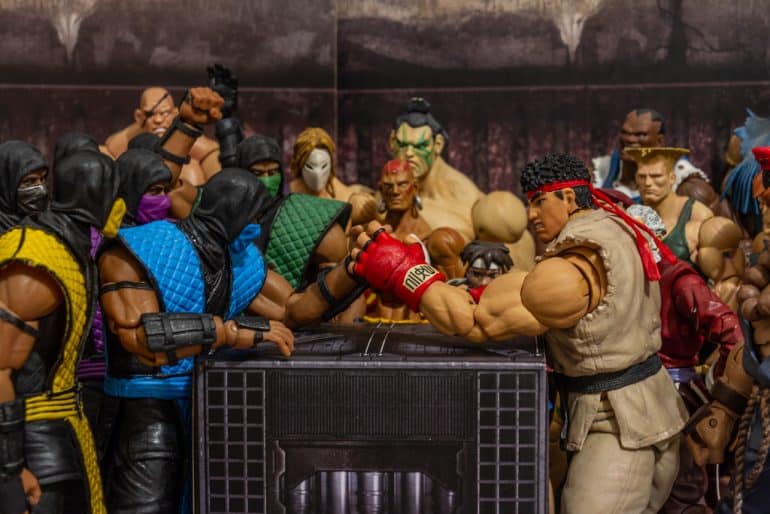 Fans of both franchises are bemoaning the decision, pointing out how characters such as Spawn to the Terminator have appeared in Mortal Kombat games. So, why not Ryu or M. Bison?
Because it's a terrible idea—that's why. While it's perfectly acceptable to love both Street Fighter and Mortal Kombat, they don't need to cross over or coexist at all.
This whole fetish of shared universes is poisoning every medium. Sure, it works in certain instances, but it's become akin to when you pit all the figurines in your toybox against each other. It looks cool and epic, but it's entirely disjointed and tells no story. In other words, it's pointless.
Going back to Mortal Kombat and Street Fighter, the franchises are both about tournaments, but the tones and characters vary in significant ways. Street Fighter feels far more cartoony, as the characters are over the top and the storylines ripped straight out of anime. On the other hand, Mortal Kombat has more in common with an R-rated action film from the '80s, bursting with blood, gore and super-serious-yet-cheesy characters.
Now, imagine a character such as Ryu in a Mortal Kombat game. He'd need to more violent and receive his own fatality, right? But do we really need to see that? It's the equivalent of throwing a character from Riverdale into the game; it'd raise an eyebrow or two but it would feel off and unnecessary.
The alternative isn't any better: A Mortal Kombat character in Street Fighter. Let's face it, the latter isn't as violent as the former. Characters such as Scorpion would need to be toned down and there wouldn't be as much bloodshed. And if there's no blood, is there any point to Mortal Kombat?
For those who think a crossover title such as Mortal Kombat vs Street Fighter will do the trick here, it'll encounter the same challenges as listed above. Which tone will be the proverbial chosen one and how do you get the best out of all the characters? In many ways, it's like a crossover between the MCU and Zack Snyder's DCEU. While there are ardent fans of both, they're too different to work together in a cohesive and beneficial way.
Knowing how developers work, though, don't be surprised if you do see Mortal Kombat and Street Fighter cross over at some point. It would be the ultimate fan service, which translates into money. That doesn't mean it's a good idea, but whatever. You know it's inevitable in the long run.