It's been nine decades since Walt Disney brought Mickey Mouse to life on a cross-country train ride from New York to Los Angeles. Nine decades since Mickey Mouse took the entertainment world by storm and captured the hearts and minds of generations to come. For many, Mickey Mouse remains as relevant as ever — his cartoons are still watched, his image is a staple worn on T-shirts, his birthday continues to celebrated around the world.
Talk to those who work with Mickey Mouse on a daily basis and they'll tell you that its essence that keeps him appealing. The adorable, friendly little mouse that got his start on film and became a star of TV, print and merchandising seemingly never falls out of favour with his fans. Librarian of Consumer Products Libby Spatz will tell you that while some Disney creations may experience a wave and wane in their popularity, Mickey Mouse is always constant. "You'll see someone like Rihanna wear a t-shirt with his face on it, and that's timeless," she says.
Although the idea of Mickey Mouse was thought of on a train ride that Disney took back from a disappointing meeting with his distributor in early 1928, in which he'd lost the rights to another of his creations (Oswald the Lucky Rabbit), it wasn't until November 18, 1928 when he was officially unveiled to the world. The debut of Steamboat Willie changed entertainment history forever – introducing synchronized sound to Disney cartoons, as well as a lovable little mouse with a can-do attitude.
"Mickey cartoons just never get old. There is a charm and appeal to them," says animator Eric Goldberg, who supervised the 2D animation of Mickey Mouse on the 2013 Oscar-nominated short Get A Horse! "Also, the sense of physicality is always a joy to watch. Mickey is fun, and fun doesn't go out of fashion!" Goldberg chuckles, wearing his Mickey-faced Apple watch.
That sense of fun has imbued Mickey cartoons for decades. The idea to gather children together to watch them made the experience of enjoying Mickey a communal one. The Mickey Mouse Club, which first ran from 1955, gave rise to other variety shows aimed at children – although not many others could lay claim to showcasing the likes of Britney Spears, Justin Timberlake and Ryan Gosling!
More than just cute and heartwarming, Mickey Mouse as a movie star went on to receive critical acclaim. Before his death in 1966, Disney collected 25 Oscars — including a special award for creating Mickey Mouse. He won a final posthumous honour in 1968, bringing his total count to 26 Oscar statuettes, making him the most celebrated Oscar winner of all time.
Disney's admiration of another silver screen star, Charlie Chaplin, can be seen in Mickey. Rebecca Cline, who runs the Walt Disney Archives, believes that has a lot to do with his endearing appeal. "I don't think it matter what age you are, what sex you are, what your world outlook is, or where you come from. Everybody loves Mickey," she says. "With Charlie Chaplin, there was a lot of mutual admiration. Walt used to dress up as Chaplin and imitate him, and that same kind of attitude behind Chaplin – he would get knocked down but he would still get back up – is what would drive Walt. That appeals to anyone of anyone age."
It's of particular appeal to children, as Ken Shue, vice president of Global Art, confirms. "Mickey's positive attitude has always made him a good role model for little children. The Disney Junior shows are very rudimentary and basic and simple, but kids can learn a lot because he's a good, solid character," says Shue.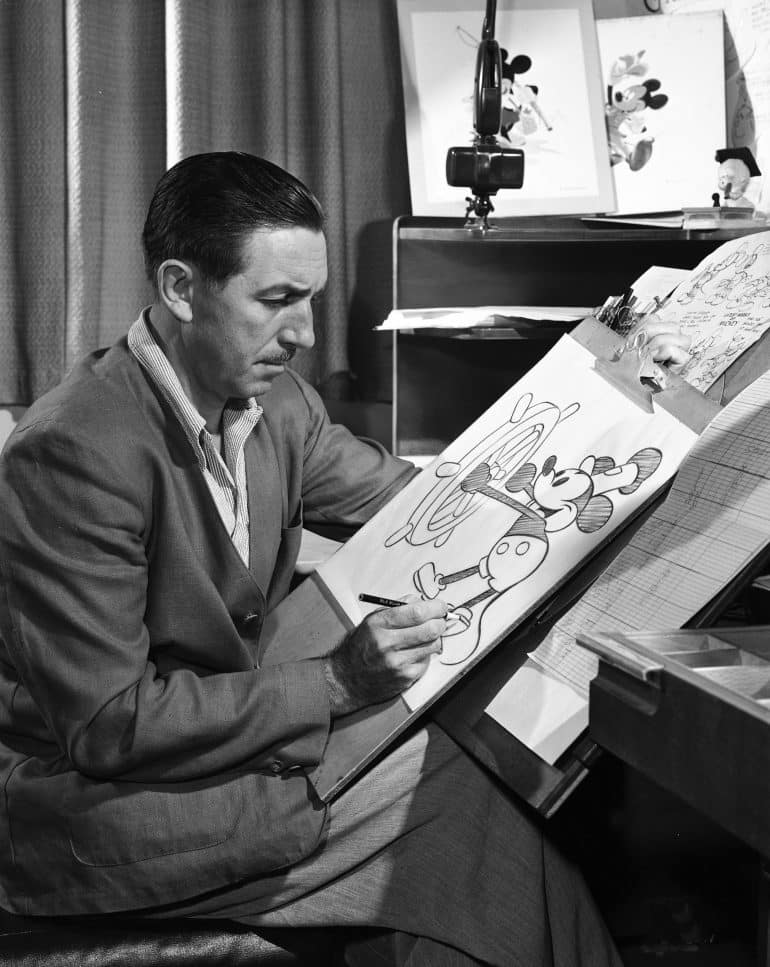 For those who are older and don't see him necessarily as a teacher, Mickey is still endearing in his own right. "He's instantly recognizable," says Shue. "My mom, who's 87, has Mickey t-shirts and a bomber jacket with him on it too, and my nephew, who is 3, also has Mickey pyjamas."
Mickey has gone on to far surpass his cartoon form, becoming a powerhouse that never goes out of style. As, Gianfranco Cordara at Disney Digital International says, there is one important rule about Mickey Mouse that anyone who works with him knows. "Mickey Mouse lives in his own world. There are no humans, there's no politics, there is no religion. They are all animals with anthropomorphic attributes" she says. "This world is set, and it doesn't change. And neither does Mickey."
If Mickey doesn't change, then neither does his right-hand gal, Minnie. His anniversary is just as much her's too. Recognition for Minnie may have lagged behind, but in January this year, she finally got her star on the Walk of Fame in Hollywood. "She was there from the very beginning," says Cordara. "Minnie and Mickey have equal status, and we can't ever forget that."
As both Mickey and Minnie head into their next years together, so their likability travels on too. As Fox Carney, who manages the Animation Research Library and deals with artwork from the 1930s and 40s, puts it, the future of Mickey and his friends is secure. "He's always going to carry into the future. He's a universal character. He may be a mouse but he's human in a way. He will carry through." And he carries with him the legacy of the Walt Disney Company – a company that's success was all started by a mouse.
Written by Nadia Neophytou. Courtesy of Disney Africa.