In a world that seems more and more likely to automatically connect the idea of FPS with the format of thoughtless multiplayer mode (thanks a lot, Battle Royale genre), it's a breath of fresh air to see that some titles are continuing the proud tradition of story-driven, experience-rich, single-player FPS games. The Metro series has always done so of course, but their latest release, Metro Exodus, is really the first time it feels like they're playing in the same league as the big boys. Some changes have been made, but do they make the series better or worse as a result? Let's see.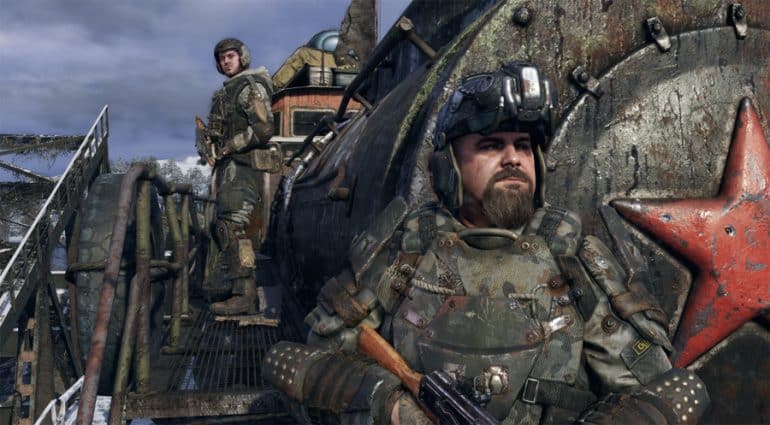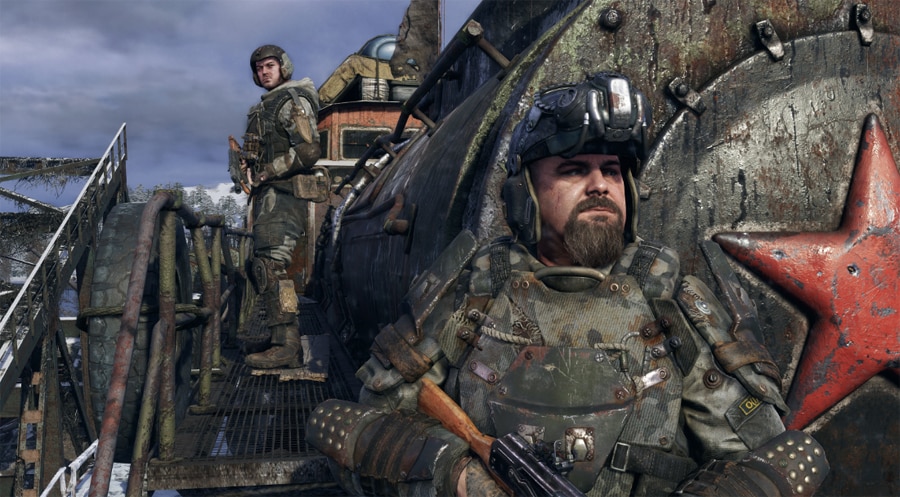 The Metro series is based off novels by Dmitry Glukhovsky and are distinctly Russian in setting and tone. You play in a world following a nuclear war, where mankind has been confined to live in broken societies within the Moscow Metro train tunnels. In the previous two titles, it was believed that this was all there was left in the world, but that notion quickly becomes unravelled here. Once again you control Artyom, now married to Anna, as well as a supporting cast of his friends from Spartan Company. Artyom is obsessed with discovering whether there is anything else out there to hope for in the nuclear wasteland, and as it turns out in the prologue, he was right.
The main setting in Metro Exodus is thereafter a series of small open-world areas, as your group travels on a train called the Aurora around Russia. The open world areas are distinct, being a snowy one, a desert one, and a forest-y one mainly. Your train serves as a hub, and you can engage in great characterisation moments with the NPCs in this space. Whenever you arrive in an area, you have a few objectives to complete and can travel around doing them in any order you wish, or otherwise explore and find optional extras along the way. The tense nature of the tunnels from the previous games is diminished somewhat, with all the open space, but there are occasional areas you enter that invoke the same feelings of danger and claustrophobia once more.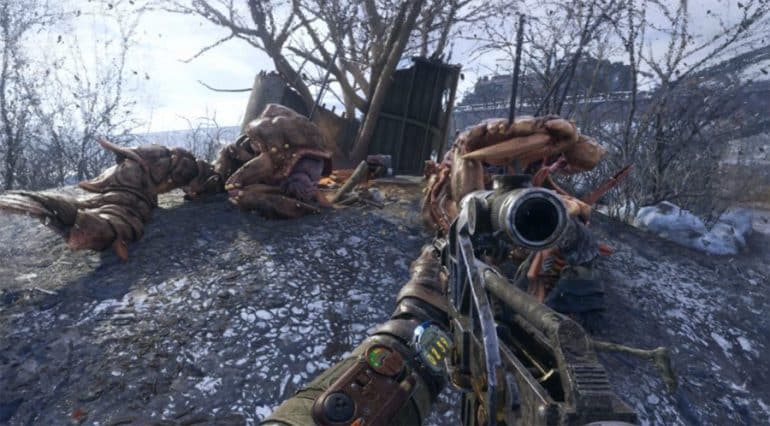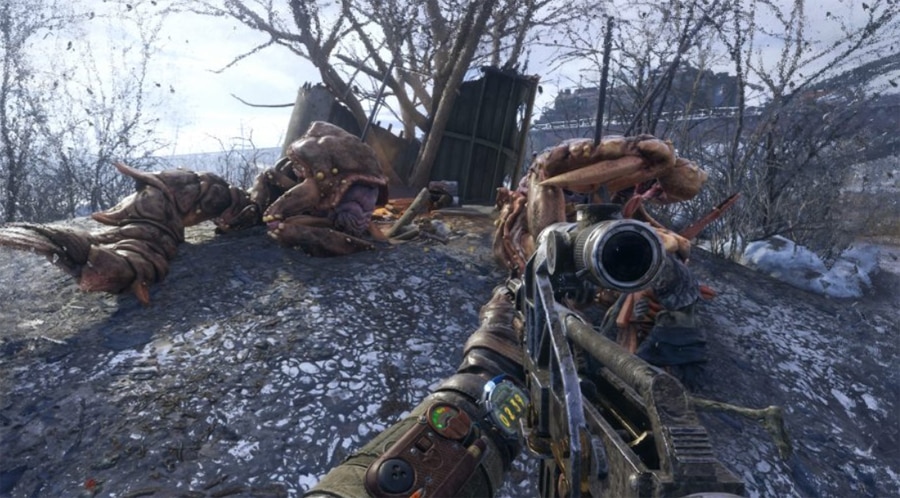 While there is a plot driving things forward, there is no real single antagonist to face off against, except the world itself. This is good and bad, as it feels more organic and allows the focus to be on the cast, but at the same time it does mean that each area feels a little more self-contained, and you might enjoy one more than another, leaving you feeling underwhelmed at the end if you didn't like that area as much. The story is not particularly deep or surprising, but it is handled well, and I did find the characters quite charming. They have varying levels of voice acting skill, and all speak in a kind of generic English but with Russian accent mode. Interacting with them in small ways does remain fun though. Artyom is once again a silent protagonist, which may feel weird at times, but I think it suits this style of game.
What Metro Exodus succeeds at most though is the world itself and in giving you a certain feeling as you play through it. Firstly, it is gorgeous and looks amazing on a technical level. Secondly, a great effort is put into the realism of the challenges you are facing, and this presents itself visually too, from snow and sand blowing onto your face, to light and darkness being elements you must consider with guards, to the cracks appearing on your gas mask visor if you are shot there. Speaking of the light and dark element, Artyom is not some impossibly powerful warrior god and will be shot and killed quite easily if you are not careful. This, therefore, means there is a greater emphasis on sneaking and on positioning yourself around guards. The light and dark element comes in when you can wait until the night cycle starts, or you can also destroy or unscrew light bulbs as you sneak around an area to increase darkness. Artyom carries a light meter on his wristwatch that can be observed as a tool to manage this, and in many ways, Metro Exodus is a great game to play with the UI and HUD off and to just enjoy being in the world. It has varying difficulty settings and options to tweak, but at its most intense gives a wonderfully hardcore experience, if you are into that sort of thing.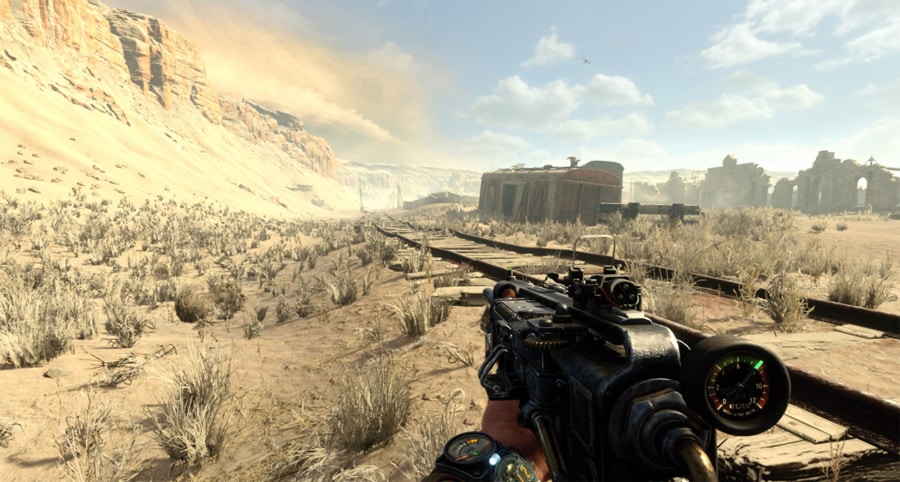 The gunplay feels weighty and powerful when you do shoot an enemy, and the guns and weapons you use do give a nice feeling of being old and almost worn out after 30 years of apocalypse later. In the previous games, ammo was also your currency, which was a nice feature. I kind of miss it here, but you don't really have shops this time – instead, you scavenge and craft items from materials, using your fancy portable backpack crafting station. I do like being able to swap out weapon mods on the fly, but at the same time, if you find too many resources, it can take away some of the survivalist challenges that the other games had.
I played this on PS4 and saw it played by a friend on PC, and I would recommend that you go for the PC version if you have a choice. The PS4 version is fine enough, it's a great experience, but it is showing its age a little bit at this point. Furthermore, it's not an incident-free game, as I encountered a few bugs within the first couple hours of play that made me need to reload my game again.
However, what Metro Exodus does have going for it is that it is distinctly made by people who care a lot about what a good game should feel like to play and control. The world is amazing to experience, even if the post-apocalyptic tropes are a little old fashioned, and it gives a distinct experience of realism like little else does in the FPS genre. I liked the character focus and on the little touches, like how Artyom has a clipboard he tracks his position on, rather than on just opening a map screen. Its things like that that set Metro Exodus apart from its contemporaries. I feel this game should be enjoyed as a companion piece to the previous two games, as the open-world thing does change a lot in regards to the feeling and story as you play through it, but both approaches have their merits.
In my opinion, Metro Exodus definitely a good and fun game, which are indeed two different things, but it is best experienced for yourself, as words cannot get quite across what it means to be traversing this dangerous and destroyed world.
The Review
Metro Exodus
Metro Exodus takes the formula from the first to games and builds upon it to create a fun and engaging experience.
PROS
Absolutely gorgeous world
Weapons modding system
Exploration can be both tense and rewarding
Review Breakdown
Storyline

0%

Gameplay

0%

Graphics

0%

Replay Value

0%

Sound and Music

0%