With Microsoft acquiring Activision/Blizzard, many gamers hope that the move would see Microsoft resurrecting many of the publisher's forgotten IPs. For fans of all things Disney, there is one game that we would love to see resurrected, Disney Infinity.
Although the IP is owned by the House of Mouse, with Microsoft acquiring Activision, which in turn owns Toys for Bob, there could be a chance that Microsoft and Disney could work together to help resurrect the brand.

What happened to Disney Infinity? Why was it cancelled?
One of the first toys-to-life brands was Skylanders (released on October 13, 2011). Developed by Toys for Bob, the game allowed you to place plastic figures on a base (which scans the figures' data) and instantly insert the characters into the video game. This means that the more Skylander toys you collected the more characters you had to play within the game. It was a brilliant idea that tapped into the part of people's brains that wanted to collect toys, but also gave them a unique way to play with their collection.

Obviously, with Skylanders selling in record numbers ($3 billion in sales as of 2015), other big companies wanted a piece of the pie. This included LEGO and Disney, who then proceeded to work on their versions. This, paired with the fact that many of those working at Disney found themselves captivated by the thought of toys coming to life, ala Toy Story, helped them design Disney Infinity.

Developed by Avalanche Software (who previously worked on Disney's Bolt, Toy Story 3, and Cars 2 games) alongside Disney Interactive Studios, Disney Infinity set out to create a sandbox universe that could be filled with all of the studio's most recognisable characters. As with Skylanders, players would scan in little plastic figures of their favourite Disney characters and then play with them in a sandbox world.
The difference? Disney already had a large pool of characters to pull from. This included popular brands like Mickey Mouse, Pixar, Marvel and even Star Wars. In order to differentiate the game even further from the competition, Disney Infinity would also include the ability for players to create their own unique worlds and maps. They also included Hexagonal Power Discs (which unlock skies, textures, clothing, vehicles and toys) and Circular Power Discs (which give in-game boosts to playable characters).

Released in August 2013 for the Xbox 360, PS3, Wii, Wii U and the Nintendo 3DS, and later on PC, the game sold 294,000 copies in the United States during its first two weeks on sale. It seemed like the game would grow to be a huge hit for the company.
After the release of the first game, the franchise expanded to Disney Infinity 2.0 (which had improved Toy Box editor tools and introduced Toy Box Games). Focused on Marvel super heroes, the starter pack included figures of Iron Man, Thor, and Black Widow. Thankfully, 2.0 (which introduced the Avengers Playset, Spider-Man Playset, and Guardians of the Galaxy Playset) was also compatible with all figurines and accessories from the previous game. The second instalment was also now available on the PS Vita and mobile phones (iOS and Android).
On May 5, 2015, Disney Infinity 3.0 was released. The new game introduced Star Wars to the franchise, bringing a number of characters and settings to the world. The 8 playsets available were Twilight of the Republic, Rise Against the Empire, The Force Awakens, Inside Out, Marvel Battlegrounds, Finding Dory, Toy Box Takeover and Toy Box Speedway.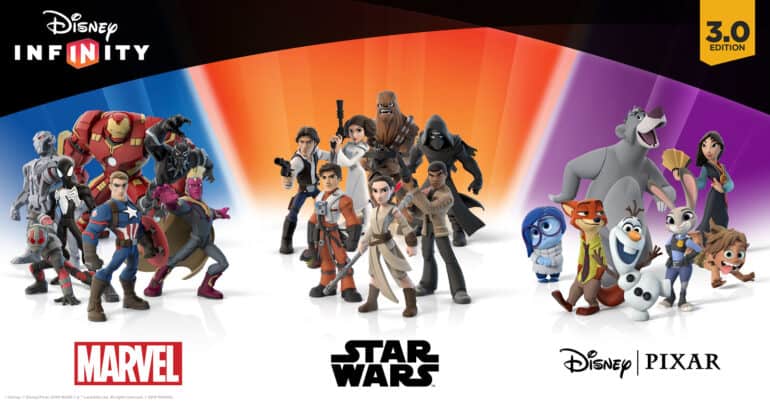 As the game grew, so did the number of Disney Infinity figures and new characters that had to be manufactured. This was quite a process as Disney decided, rightly so, to unify all the characters under one unique art style. This meant that even if you had a Mickey figure next to Yoda, they would still look like they could exist in the same game universe.
To help achieve this, figure designers had to go through a process dubbed "Infinitizing". This would entail the team first deciding on which playable characters they would want to add to the game, after which the artists would draw up a bunch of concepts sketches of the figure. Once a design is decided upon, the team then takes it to the filmmaker who originally designed the character to get their opinion and make any necessary changes. Just deciding which pose a figure should have can take days depending on the character and a lot of research went into making sure each figure looked unique.

Once the pose is finalised, a colour scheme is decided upon then a clay maquette is created, a 3D Disney Infinity character is designed and then, only then, is the design sent for mass production.

As you could guess just from the above description, it is quite a process to get to a final figure, and of course, this means lots and lots of money that needs to be invested. It is said that Disney spent more than $100 million on Disney Infinity. This is a substantial amount that needs to be recuperated before you even start to show a profit.

Now, while it seemed to many that Disney was printing money, they were actually losing quite a bit. Not only this but mismanagement and interference from investors were just some of the reasons given to why Disney Infinity eventually had to be cancelled.
Strangely enough, there was also the fact that, although Disney owned brands such as Star Wars and Marvel, there was quite a bit of manoeuvring that had to be done in order to sidestep many of the restrictions that came with those brands. Moreover, instead of letting the developers focus on popular characters, many of the companies/brands behind some of these characters wanted the developer to include characters that not many cared about. This meant low sales, which in turn had to be absorbed by the developer. In the end, it was mostly red trape that caused Disney Infinity to be cancelled in 2016 and Avalanche Studio to be shut down with it.

Luckily, the studio was saved by Warner Bros. Interactive entertainment who bought them and re-opened Avalanche in 2017.
Disney Infinity 4.0
Before the cancellation, Avalance Software was actually busy working on Disney Infinity 4.0 (slated for release in 2017). According to rumours, the next iteration of the franchise was in the last stage of development and was going to be titled "Kingdoms". Also, for the first time in the franchise, Disney called on the help of Hasbro to help design the 12-inch figures.
A video leaked back in 2019 (see above) featured gameplay from the cancelled project. The gameplay saw familiar characters from Star Wars: The Last Jedi, Cars 3, Pirates of the Caribbean: Dead Men Tell No Tales, Coco, Guardians of the Galaxy: Vol. 2, Thor: Ragnarok. and Monsters, Inc. alongside Aladdin and his friends as they explore the city of Agrabah.
The next iteration in the franchise would also give players more freedom allowing different characters to play together outside the Toy Box in a Toy Box Story Mode. Judging by the title, it would seem that the narrative for Disney Infinity 4.0 would feature a dedicated Aladdin story with characters from other franchises able to join in on the fun. It would've been fun to see Yoda taking a magic carpet ride along with Abu.
It is sad to think that so much time and energy was put into something that would not see the light of day. The game was a lot farther along than many would've guessed.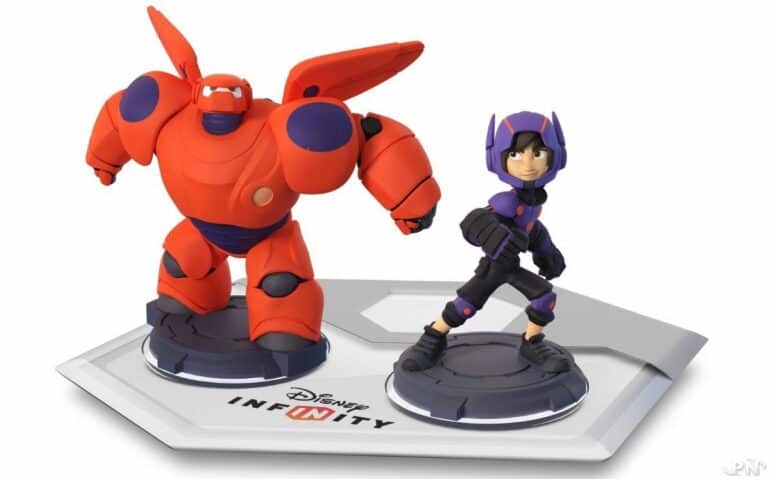 Should Disney revive the franchise?
Yes! Just imagine a new Disney Infinity game on the PS5 and Xbox Series X — and that's not even considering all the VR options too.
There is also a huge gap in the market at the moment. There aren't many (if any) toys-to-life games available for the two consoles yet. A reboot or remake of the game would work so well, especially with Disney's current roster of characters, films and TV shows.
Imagine haptic feedback while using the PS5 DualSense controller. Imagine quicker load times, ray tracing and a whole bunch of other advancements that could be made to the franchise. It's the perfect opportunity.
But we won't just be getting advanced next-gen graphics, but we will also get our hands on brand new figures, new playsets and finally be able to play online multiplayer again.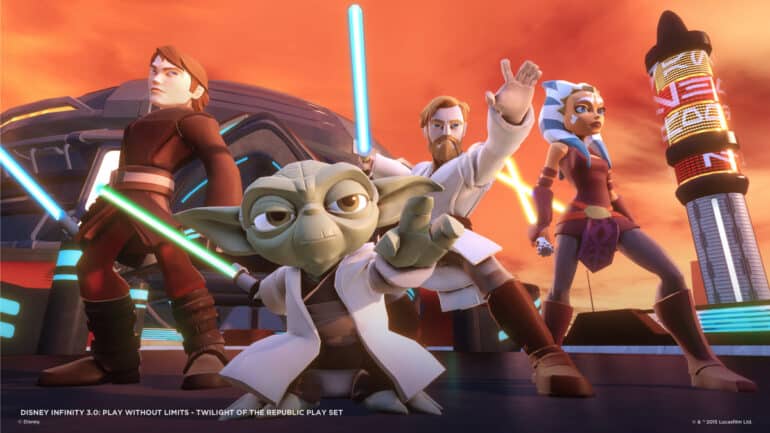 A Disney Infinity TV show
Not only could Disney revive the series as a toys-to-life game but imagine if they use the Disney+ platform as a marketing opportunity to release an animated series based on the Infinity universe?
We could see the Mandalorian fight alongside Luke Skywalker or Black Widow and The Lone Ranger against Darth Vader and Kylo Ren. Or how about Jack Skellington and Nick Fury teaming up against Boba Fett? Not only would this result in an awesome series but could potentially help create awareness for the game, new heroes, new brands and the franchise as a whole.

Fans have been complaining and begging on various forums to bring back the franchise and now would be a great time. With careful management, removal of all the red tape and, of course, slowly releasing new and popular figures instead of flooding the whole market at once, Disney Infinity could work.
A TV show would be a great way to bridge the gap between consumers and the Disney Infinity world.
The characters and stories we would like to see
After Disney Infinity was shut down, leaks started appearing of some of the planned characters that were being worked on. These included characters from Rogue One: A Star Wars Story, Zootopia, Moana and even Peter Pan figures.
Let's say, that there is a slim sliver of hope that the franchise might be revived, which characters would you like to see added? Of course, there would have to be Marvel characters from the Infinity Saga and the now expanded Marvel universe (including Shang Chi, Daredevil, Punisher, Captain Marvel, etc). Personally, I would love to see a Dr. Strange, Deadpool, Indiana Jones, Wolverine and even an Alien figure (maybe Ripley?). Heck, we could even have Ice Age, Winnie the Pooh, and The Chronicles of Narnia in there.
Disney's acquisition of Fox also makes a lot more possible. The great thing about the game is the ability to mix and match characters from different franchises into a single game. You could have The Muppets or one of the Pixar characters in a Star Wars setting alongside Baby Yoda (Grogu) or The Hulk fighting Xenomorphs in space alongside Encanto's Luisa Madrigal and Captain Jack Sparrow. There's just a world of crazy possibilities out there. And when you marry that with interesting gameplay, great stories (taken from the comic books, movies and TV shows) and amazing graphics, you have something special.
Of course, the quality of Disney Infinity characters has always been great too. So just collecting them without playing the game works too.
Amazing Fan-Made Designs
With Disney shattering our dreams of ever having a Deadpool Disney Infinity figure, artist Hector Moran decided to take it upon himself to show us how cool they could have looked.
Hector Moran designed and created some very good looking X-men figures along with his Deadpool figure that includes, Wolverine, Rogue, Beast, Gambit, Storm, Jean Grey, Cyclops and even a Sentinel all decked out in their classic 90's inspired costumes. The figures are so well designed that they wouldn't look out of place standing side-by-side with the other Marvel figures.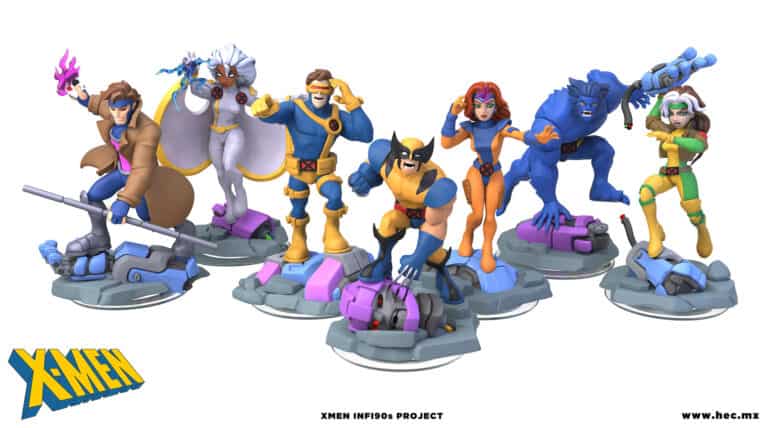 Can you play Disney Infinity on PS5 and Xbox Series X?
The short answer is yes. While the Disney Account service no longer works (which means you can't play online anymore), the game (including the awesome story mode) still works on your PS4 and Xbox One with a compatible Disney Infinity base. Recently some players also realised that the PS4 and Xbox One versions also work on the PS5 and Xbox Series X (through backwards compatibility). So if you want to relive the wonders of the original games and go on an adventure with Tinker Bell and Captain America, it is still possible to play it on your new console.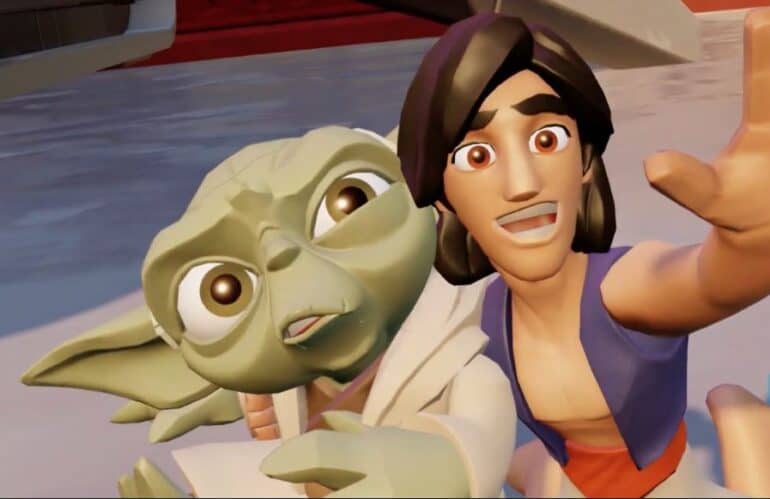 Tell us, would you like a Disney Infinity 4.0 on the PlayStation 5 and Xbox Series X?