When you think of great comedies of the past decade or so, two franchises come to mind immediately: Horrible Bosses and The Hangover. To be fair, none of the sequels ever matched the side-splitting virtuosity of the originals, but they're still films that'll get you cackling. So, why doesn't Horrible Bosses 3 just go for the jugular and bring The Hangover into the same universe?
This unexpected crossover almost happened in Horrible Bosses 2. There was meant to be a scene where Jamie Foxx's Jones introduced Nick (Jason Bateman), Dale (Charlie Day), and Kurt (Jason Sudeikis) to the gang from The Hangover. However, this sequence was never filmed since the filmmakers believed it would take the audience out of the movie.
But here's the interesting part: both Zack Galifianakis and Ed Helms thought it was a genius idea. They would've been totally on board with it. So, it makes you wonder why no filmmaker has attempted to make it happen—perhaps in the shape of Horrible Bosses 3?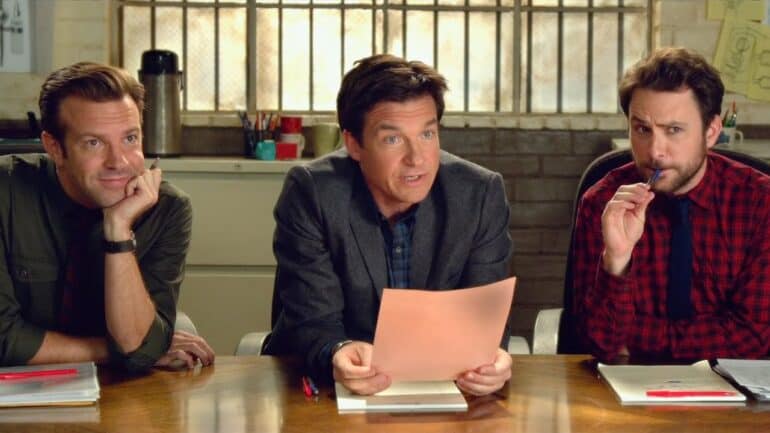 The reality is, we're more likely to see Horrible Bosses 3 than The Hangover Part 4 in the future. Bradley Cooper's career has skyrocketed and he's too busy chasing Oscars right now to return to the world of dick jokes and drunken escapades. Though, his castmates might feel differently since they haven't strayed too far from the comedy genre.
On the other hand, Bateman, Day and Sudeikis have been honest about the failure of Horrible Bosses 2 to connect with the audience. They understand it wasn't the same hit as the first film, but they still had a fantastic time filming it. More importantly, they enjoy working together and likely wouldn't say no to a reunion (especially if the price was right).
Sudeikis, in particular, is riding the wave of success with Ted Lasso. While he was known to most movie fans before, his popularity has gone to the next level as AFC Richmond's earnest coach. A smart filmmaker would spot this opportunity and fast-track Horrible Bosses 3 to capitalise on this before someone else swoops in.
As two of the most popular comedy franchises in recent times, it might be difficult for them to match the success of before in any further sequels. Combining their powers might be the most obvious solution here. While it might not be a full cast, a Horrible Bosses–Hangover crossover could be the right dose of laughter that audiences deserve.
Tell us, would you like to see Horrible Bosses 3 cross over with The Hangover dudes? Let us know in the comments section down below.