An IMDb page for Hereditary 2 has appeared. But is it real? Is Ari Aster working on a sequel to Hereditary?
In 2018, writer/director Ari Aster made his feature film debut with the horror movie Hereditary. The film was released by A24 and received universal praise from critics, who praised its ability to scare audiences in a fresh and utterly terrifying new way. At a time when most horror flicks showed an over-reliance on jump scares and loud sounds to scare their audience, Hereditary proved that there was still room for some more nuanced concepts within the genre.
The film begins with the death of the matriarch of the Graham family. After her passing, each member of this family goes through their own individual crisis as they are haunted by bizarre supernatural phenomena. At least for the first part of the movie, it seems like Hereditary is going to be a touching family drama – until the film's second act comes around, and it becomes much more horrifying and unsettling than any other horror movie in recent memory.
Featuring some astounding acting by Toni Collette, Hereditary marked a before and after in modern horror cinema. In the wake of its release, many fans have wondered if Aster would return to make a sequel or follow-up story. While nothing has been confirmed yet, we do know that the filmmaker is currently developing a new project under A24, Disappointment Blvd.
However, a new mystery has emerged on the internet regarding the future of Hereditary. Seemingly out of thin air, an IMDb page for "Hereditary 2" has appeared, dumbfounding fans everywhere. The page is as vague as it can be: there's no info on the movie's production team, or even if Ari Aster is tied to the project in any capacity.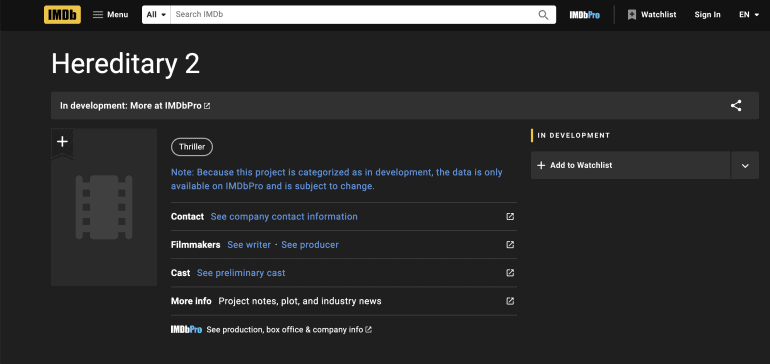 Let's keep in mind that even if Aster has proved himself as one of the best horror directors in the business right now, he is still quite new to feature film directing. As such, he has only directed two movies so far, with the third one coming later this year.
It would be somewhat unexpected for such a visionary director to work on a sequel like Hereditary 2 so early in his career. However, it would also be shocking if A24 did not want to capitalize on the success of Hereditary. If anything, it seems rather strange that the studio hasn't already greenlit a sequel or prequel to the movie, considering how well-received it was by both critics and audiences – but as we all know, that's just not A24's style at all.
So far, most of the movies distributed by A24 have followed a very similar self-contained formula. The truth is that Hereditary isn't the kind of movie you'd expect to ever get a sequel: it doesn't follow the same formula as The Conjuring franchise, where every movie works as a set-up for the next entry in the series. So Hereditary 2 just wouldn't make sense, right?
There's another reason why some die-hard fans would rather never see a sequel to Hereditary, and that's the movie's outstanding open-ended finale. As Stephen King once put it: "Nightmares exist outside of logic, and there's little fun to be had in explanations; they're antithetical to the poetry of fear."
Explaining or even seeing what happens after Hereditary's finale would more or less ruin the air of mystery that Ari Aster so masterfully crafted with this modern horror tale. Some movies definitely need a sequel, and some others could even benefit from getting a continuation – but, as far as we are concerned, Hereditary may not be one of them.
For now, we'll have to wait and see if we get any direct confirmation from either Aster or A24 regarding a potential Hereditary 2.
But perhaps the story of King Paimon has only just begun.
Would you like a Hereditary 2?