With all the Comic Con Cape Town 2023 tickets sold out before the epic long weekend kicked off, the convention saw an estimated 20 000 guests stream in. In conjunction with Toyota, Telkom, and the City of Cape Town, we finally saw one of the most prominent pop culture and gaming festivals hit our shores. And this was in addition to the Cape Town International Animation Festival and FanCon collaboration that gave way to a memorable weekend that left fans excited for next year's festival. Naturally, a lot was happening, so here is the breakdown of everything you might have missed at Comic Con Cape Town 2023.
RELATED: Comic Con Cape Town 2023: What to Expect From The Geek Convention
Day 1: Thursday – 27 April 2023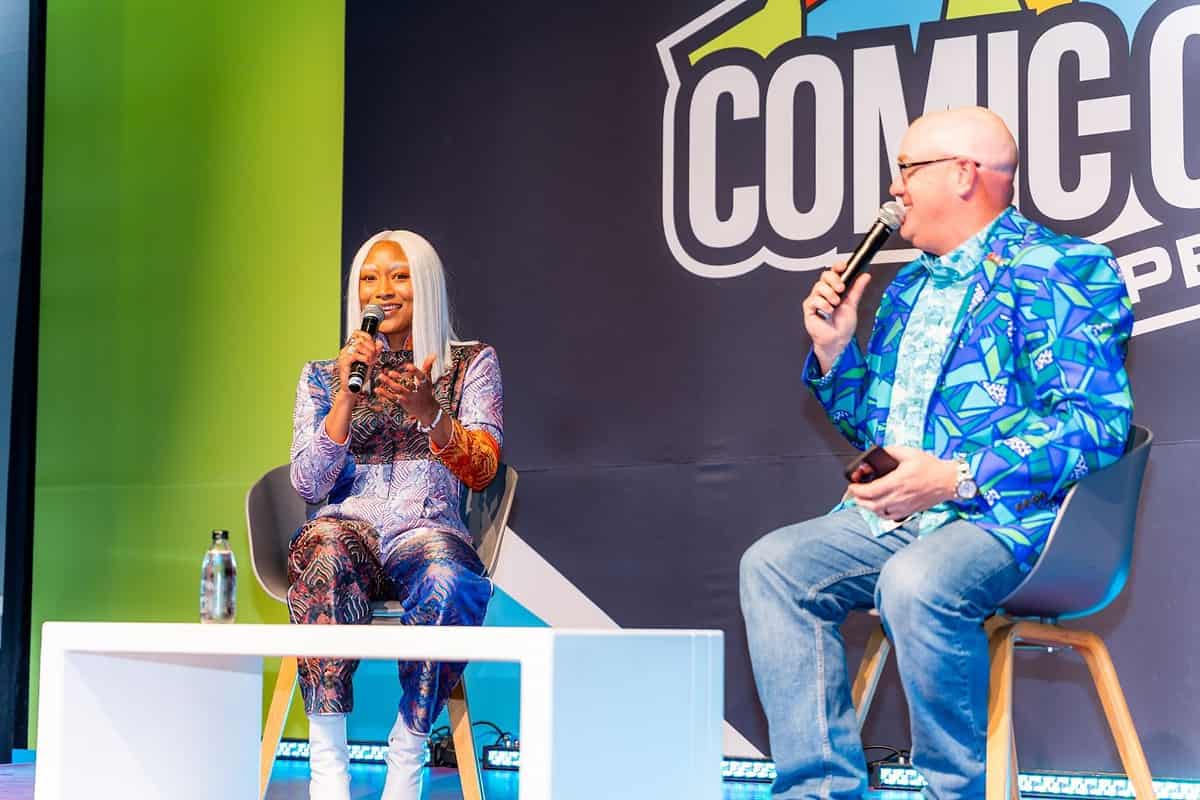 Kickstarting the weekend with a bang, this public holiday resulted in one of the busiest days of the weekend. With people standing in line for over an hour and a half before the doors opened, the excitement in the air was tangible. Fans were greeted with a fantastic performance of the Star Wars theme song by the Hugo Lambrechts Orchestra, setting the tone for the rest of the day. Furthermore, appearances from huge stars such as Tati Gabrielle from You and Avengers: Infinity War's Ross Marquand had fans cheering.
In addition, we saw Kat Graham from The Vampire Diaries make her way onto the main stage, with each celebrity speaking on their upcoming roles and projects. Fans were elated to be given the opportunity to ask their favourite stars questions ranging from their opinions on specific topics to who their favourite co-stars are in their careers so far. As expected, they were extremely friendly and did not hesitate to answer with the utmost enthusiasm.
But wait, there is more! The Artist Alley showcased some fantastic work, with fans enjoying the session with South African illustrator Jason Masters. Further tips on how to become successful in the industry were shared by comic book artists Afua Richardson, Ian Churchill, and Sean Izaakse. We even saw the faces behind some famous local work by artists such as Loyiso Mkhize, Clyde Beech, and Zimbabwean illustrator Bill Masuku.
Finally, there was the gaming room, exhibitors and Casual Cosplay competition that was teaming with life. While the Gaming Hall sported an insane set-up of consoles and gaming PCs to accommodate all gamers. The highlight was the Telkom VS Gaming 32-player FIFA tournament, where players could win a share of R7000 each day. Naturally, this money would be spent on the amazing merch available for sale, ranging from Marvel and DC to anime and other pop culture-themed items.
And, of course, the cosplayers did not disappoint, bringing their A-game as some of the most popular pop culture characters. We saw characters from Demon Slayer, Legend of Zelda, God of War, Chainsaw Man, Monster Hunter, and even Teen Titans, to name a few!
RELATED: You Season 3 Review – Our Favourite Toxic Relationship Returns
Day 2: Friday – 28 April 2023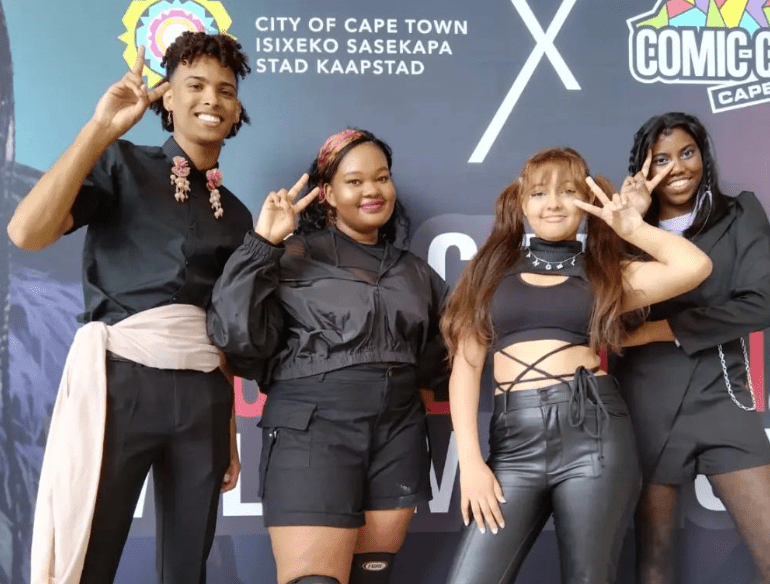 Day 2 of Comic Con at the Cape Town International Convention Centre saw a much smaller number of people join in the fun. However, the festivities were as lively as ever, with many lining up in their incredible cosplays for the day. The second day kicked off with many fans crowding the stores showcasing their favourite pop culture and foreign products while admiring the effort put into many of the cosplayers at the event.
Of course, many fans flocked to the main stage to listen in and comment on the celebrity line-up for the day. We saw Tati Gabrielle, Jason Moore, Ross Marquand, and Kat Graham interact with their fans and enjoy their time on stage. In the case of Kat Graham, she enthusiastically interacted with her fans, learning and performing a dance routine taught to her by an audience member. This made for an endearing exchange between a performer and fans.
And speaking of dancing, we got a fantastic performance for K-Pop fans from a local dance crew called Cape2Kpop. The appearance of Marley Thirteen, a popular Call of Duty YouTuber, followed this excellent showcase. Discussing the methods he used to become one of the biggest COD YouTubers, Marley Thirteen let us in on what it took to grow such a humungous fanbase. And speaking of COD, the Doritos Crunch Cup kicked off, inviting many gamers to join in on the fun and stand a chance to win their share of R7000 and an Xbox.
And while all this action took place, hundreds of animation enthusiasts were streaming into the Cape Town International Animation Festival (CTIAF) in the Pop Culture Content Zone. With words from Director and Animator Ulysse Malassagne and Character Animator Annike Pienaar, fans were granted unique insight into the industry. Furthermore, this was a great way to appreciate the female animators in the animation industry and the hard work they produce for us.
RELATED: Call of Duty: Modern Warfare II Players Are Begging For This Controversial Feature To Be Nerfed
Day 3: Saturday – 29 April 2023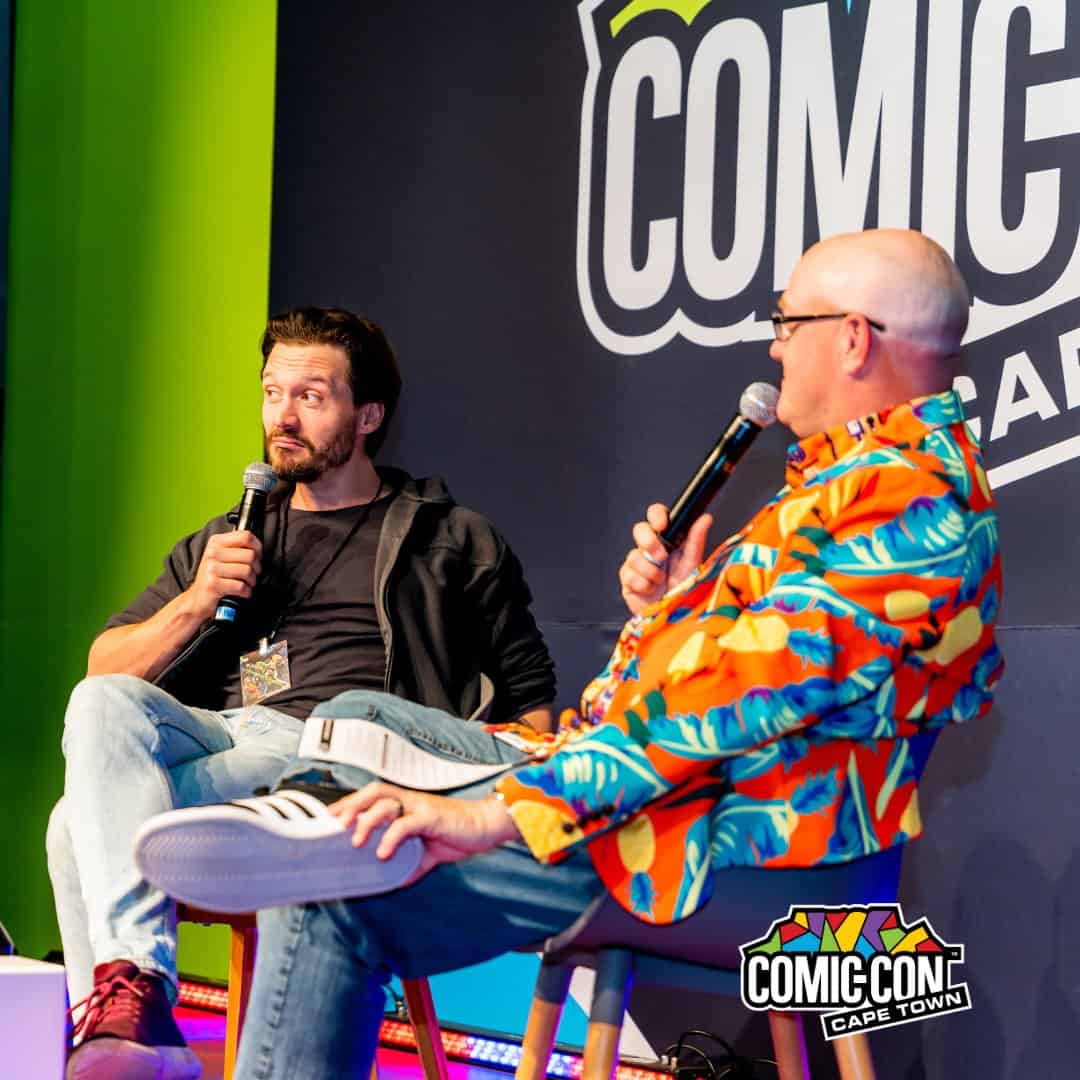 As can be expected, the third day of Comic Con saw a much heftier stream of people making their way into the convention centre. But, of course, the second last day of festivities saw much more appreciation aimed at the creative minds and cosplayers of the large pop culture and gaming community. First, we got to interact with David Oakes, best known for his role in Vikings: Valhalla. Then, the star engaged in a Q&A session with his fans, answering all the questions they were excited to ask.
We also saw our very own DJ Fresh give us a glimpse into his podcast, "WAW!!" (What A Week). The DJ sat down with international celebrities, including Tati Gabrielle, Kat Graham, and Ross Marquand. But the radio veteran did not stop there; he invited the talented local illustrator and creator of South African superhero Kwezi, Loyiso Mkhize, to share his thoughts. So if you want to know more about how Loyiso became a leading South African artist, be sure to check out the podcast.
A massive highlight of the day was the Ubisoft Character Contest Cosplay Competition which saw an array of amazing cosplayers take to the main stage. While many had some fantastic and impressive costumes lined and ready to go, Fred Wolf, dressed as the Prince of Persia, ultimately walked away with the hefty cash prize. Cosplayer Ludus Cosplay commented on Wolf's win: "I must say he channelled the Prince of Persia very well. I know exactly how nerve-racking it is to compete in the Con, but all the contestants brought their A-game today."
He expressed his excitement for the upcoming Regional Cosplay Competition on Sunday, 30 April 2023, stating, "Back in 2020, I entered the Comic Con Cape Town 2023 Regional Championships of Cosplay, where I was crowned the Champion. After a three-year hiatus, I'll be handing over the title tomorrow."
Fans got their creativity on in the Pop Culture Content Zone's fun program kicking off with an Introduction to Painting a 3D Printed Miniature using Beginner techniques. This was in addition to an insightful discussion concerning secret identities and their importance in Marvel and DC universes. And on the topic of art, we saw a fantastic head-to-head challenge between Che the Stray and T.S. Zombie to illustrate on a pair of Palladium sneakers. Of course, the designs were worth seeing.
And not to worry, the convention did not forget the likes of Tabletop gamers. There were discussions and panels hosted on multiple topics concerning tabletop games. For example, there was a fantastic lineup of gaming experts who shared their thoughts on the current state of the gaming industry. They further expanded on the challenges many creators might face when participating and how they may overcome them.
Another excellent convention highlight was the little sneak peek we got for Star Wars Visions Volume 2. Coming to Disney+ on 4 May 2023, the Cape Town International Animation Festival did not disappoint. We also saw some great short animated films submitted to CTIAF for 2022 alongside works from the Best of Animation School. This allowed for an opportunity for final-year students at the school to gain recognition.
RELATED: Star Wars Jedi: Survivor Review – Game of the Year
Day 4: Sunday – 30 April 2023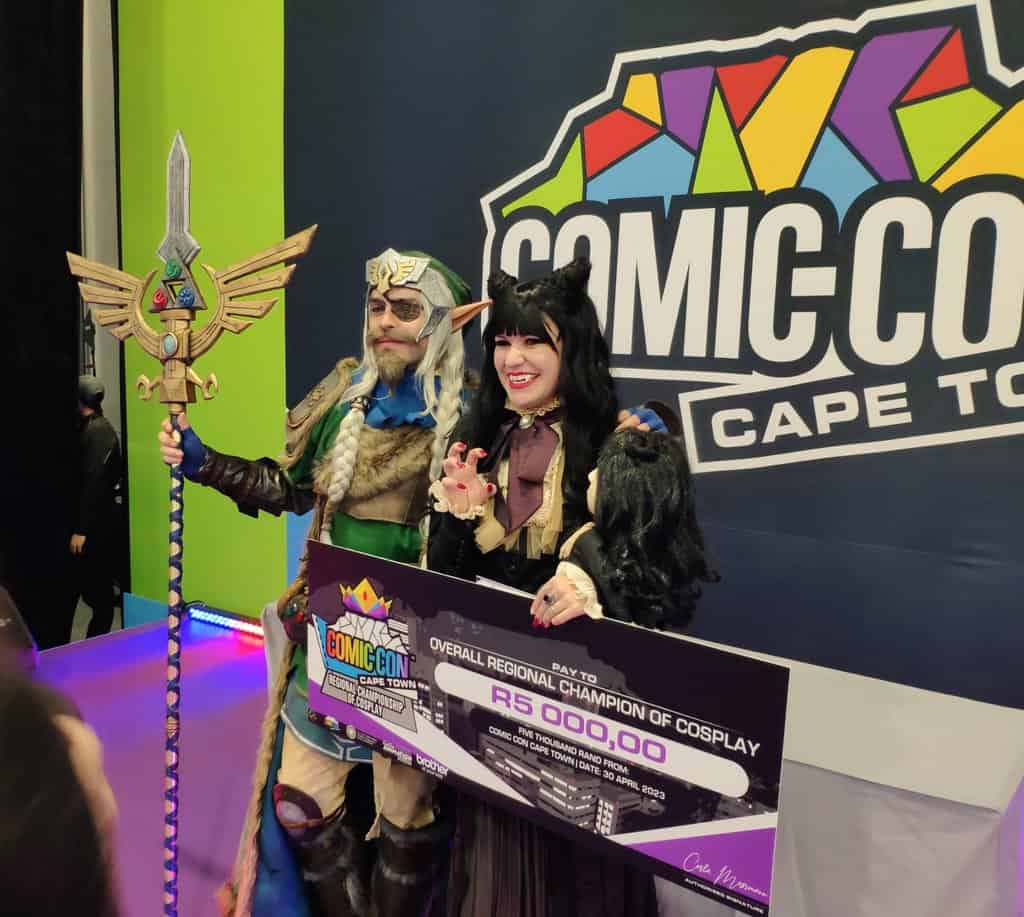 The weekend flew by, and the convention ended much too soon. So naturally, fans streamed in by the thousands to get their fill of the festivities before the year-long wait begins for the next Comic Con Cape Town. Of course, fans who had not yet received an opportunity to join the Q&A sessions with their favourite celebrities flooded the main stage. This was in conjunction with the masses trying to stock up on their collections before the doors closed for the day.
However, everyone was excitedly anticipating the arrival of the Cosplay Regional Championship. While the Casual Cosplay Competition saw some impressive costumes, the regional championship crowned Nicola Andalis as the winner. Dressed in a jaw-dropping rendition of Nadja from What We Do in the Shadows, Nicola received Ludus Cosplay's title and an opportunity to appear in the continental championship scheduled for Johannesburg's Comic Con later this year.
Regarding gaming, the Telkom VS Gaming saw John Walenga, Zaheer Hoosain, and Reatile Thakholi take prizes home each day in the 32-player FIFA tournament. The 120-player Doritos Crunch Cup tournament gave their first-place title and R4000 cash prize to Zaid April. As one can imagine, Zaid was delighted to come out victorious, expressing his love for the e-sport and gaming community, "I feel like I'm on top of the world! It's always great to play FIFA in person with other gamers who share the same love for e-sports that I do. At the end of the day, competitions like this are cut-throat because we all want to win. Today, I brought my A-game, and it paid off."
Other fun competitions included a Palladium sneaker customisation competition where Liezel Bason walked away with R5000 in cash. Then, feeling generous, MSC Cruises saw Ryan Varga walk away with an all-expenses paid trip over three nights and four days from 15th – 18th March 2024 for the Comic Con Cruise. Valued at R35000 a night, this was a steal for the lucky festival goer. And what a way for the four-day-long festival to end, with many fans excited at the prospect of a bigger, better Comic Con Cape Town we will welcome with open arms in 2024.
Did you enjoy Comic Con Cape Town 2023?