A live-action BraveStarr movie? Where do we sign up?
Ah, the '80s: a time when every idea that could sell toys, no matter how wacky or outlandish it might sound, got made into a show. That's the reason we got so many great pieces of nostalgia to fondly remember, even if some of them are a bit more obscure than the others.
Such is the case of BraveStarr, an animated show that ran from September 1987 to February 1988. Like so many other shows of its time, BraveStarr was created to draw attention to a collection of action figures sold by Mattel. While it might not be as popular as something like He-Man, BraveStarr fans do exist, and they swear by the show's colourful characters and rad late '80s aesthetics.
Yes, the '80s were a great time for this kind of animation franchises. Coincidentally, we are now at a time when reimagining and readapting those retro characters is all the rage in Hollywood, so we thought it might be high time to cast our own dream BraveStarr live-action flick.
Surprisingly, the cast of BraveStarr is quite rich, so we might have to choose only a handful of characters to include in our hypothetical movie. After all, we've got to leave some characters as sequel bait, right?
Shaman – Wes Studi
First things first, we've got to talk about how different BraveStarr was from the rest of the franchises of its time. It was one of the only shows at the time that had a Native American lead, with many of the series' visuals alluding to Native American culture.
Shaman is the mentor figure for Marshal BraveStarr: a wise and powerful mystic that stopped one of the greatest evils New Texas has ever seen. His story ties directly with the series' main antagonist, so it would be utterly impossible to leave this character out of the live-action adaptation.
Wes Studi is a Native American actor with a rich history of appearing in some of cinema's most praised Native films. He's starred in The Last of the Mohicans and Dances with Wolves, so him showing up in a live-action BraveStarr would lend the movie an advantage in terms of acting quality.
Judge J.B. McBride – Anya Taylor-Joy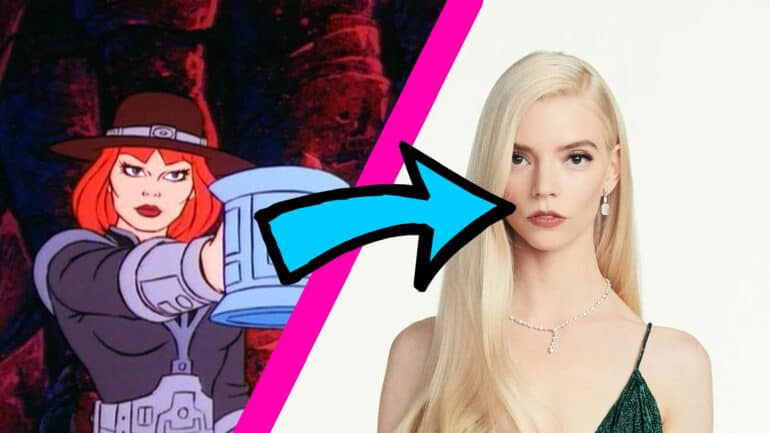 Fresh off The Queen's Gambit, Anya Taylor-Joy has proved two things to audiences everywhere: 1) she has some serious acting chops, and 2) she looks amazing with red hair. These two things combined make her more than fit to play the role of Judge J.B. McBride, one of the main heroes of BraveStarr.
J.B. is as capable a warrior as she's smart: she wields a high-tech weapon known as the 'Hammer of Justice,' a weapon that fits her role as a judge of law. She also offers legal advice to Marshal BraveStarr and has been seen as the hero's romantic interest from time to time.
Doc Clayton – Idris Elba
Although he only appeared in four episodes of the original show, Doc Clayton has become a fan favourite character due to his pacifist views, being the voice of reason. And his name having been inspired by one of the most famous real-life gunslingers. He's also one of the only African American characters in the show, and having him in our movie would make the cast even more diverse.
Idris Elba would be a great choice to play the Doc. Even though Elba is British, we're more than sure that the actor who has already played an African American Norse god is capable enough to do an American accent. Our point is that Idris Elba is awesome, and any movie with him is immediately 5 times better.
Tex Hex – Sam Elliot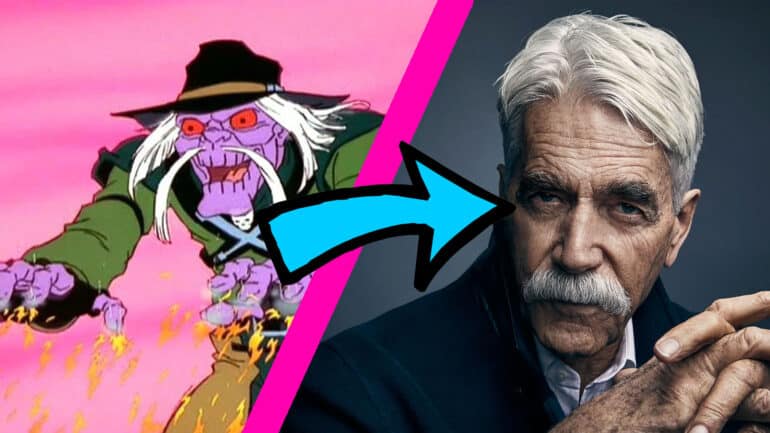 When it comes to modern cowboys, most people think of Sam Elliot as their actor of choice. His iconic moustache and raspy voice have made him one of the most recognisable faces in the modern wild west business. It's only fitting that he should play the role of one of the only characters in BraveStarr with a moustache as impressive as Elliot's.
Tex Hex might be the sole reason why BraveStarr, the show, was created in the first place. The character originates from another Filmation's property, Ghostbusters. No, not those Ghostbusters: we are talking about the animated Ghostbusters, the guys who drive an old car and have a gorilla as their partner.
A revenant well-versed in magic, Tex Hex is one of the show's most iconic villains. He's also the leader of the Carrion Bunch, one of New Texas' most fearsome gangs. For our live-action movie, Tex Hex would obviously be the villain, even though we have someone else in mind for the role of the big bad of the show.
Stampede – Andy Serkis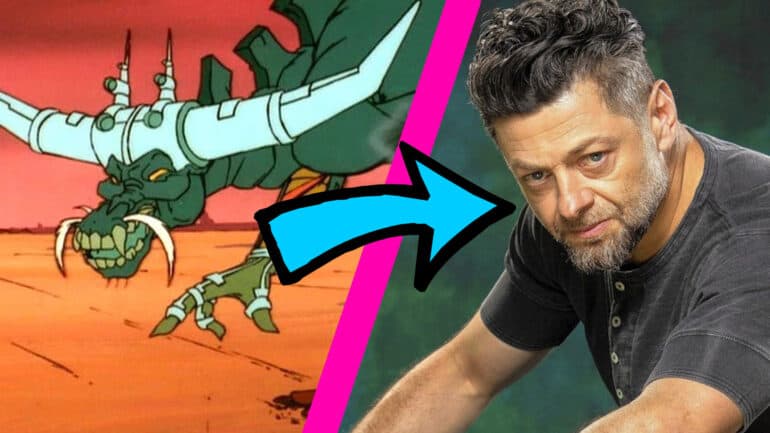 You might already know who Andy Serkis is, even if you've rarely seen his face. This talented actor has starred in a multitude of film and TV shows and is most well-known for his motion capture and voice acting roles. You've probably heard his voice as The Lord of the Ring's Gollum or as Caesar in the latest Planet of the Apes franchise.
Serkis would lend his voice to Stampede, the meanest entity in the whole of BraveStarr's universe. Stampede is a massive dinosaur with a moustache and command of mystical powers. If Tex Hex is anything to go by, then we'd say that's the deadliest combination in the world of BraveStarr.
Thirty/Thirty – Bruce Campbell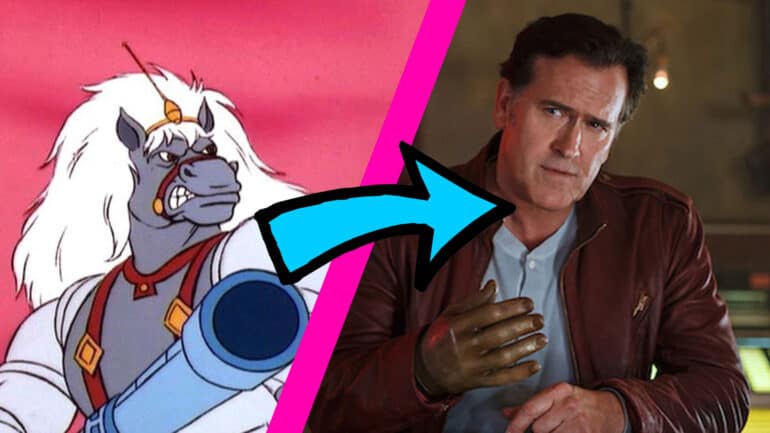 Finally, we get to the main characters of our flick, the duo around which all of the BraveStarr episodes are centred. Thirty/Thirty is BraveStarr's most trusted companion: a hot-headed robotic horse warrior with a big ol' blunderbuss named Sara Jane. He's also the last survivor of an ancient civilization known as the Equestroids: a race of cybernetically-enhanced equines.
His no-nonsense temperament often clashes with the calmer ways of BraveStarr, but he's proved to be a reliable ally on countless occasions. We've chosen Bruce Campbell to voice Thirty/Thirty for a very simple reason: they both love their guns.
Known for playing Ash Williams in the Evil Dead franchise, Campbell is no stranger to boomsticks. He'd also be a great fit for Thirty/Thirty's attitude and wisecracking persona.
Marshal BraveStarr – Forrest Goodluck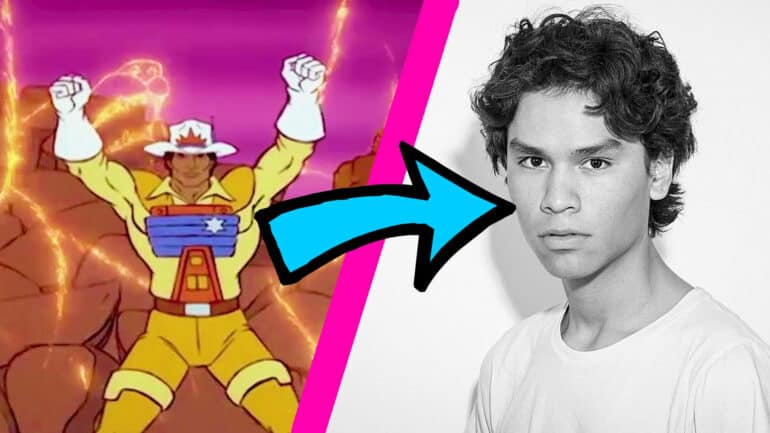 Forrest Goodluck would have to step into the shoes of our movie's protagonist, Marshal BraveStarr. While Goodluck might be a bit young for the role, this movie would be an origin story of sorts, so the 22-year-old Native American actor would be great to play the film's protagonist.
One of the most skilled warriors of the show, BraveStarr blends his knowledge of nature and animals with his impressive collection of sci-fi gadgets. As New Texas' Marshal, BraveStarr makes sure that the law and order are upheld at all times, always following the due procedure and relying on the help of his partner, Thirty/Thirty.
And that would be the cast of our live-action BraveStarr adaptation. Sure, some other well-known characters of the show still remain, like Deputy Fuzz and Thunder Stick, but, as we mentioned earlier, we must leave those guys for the sequels. After all, G.I. Joe got three live-action films, who's to say that BraveStarr and Thirty/Thirty can't get a live-action Hollywood franchise of their own?
What do you think? Who should be cast as BraveStarr in a live-action movie?