When it comes to gaming headsets, the majority are corded. The advantages of the 3.5mm audio cable is a lower latency in comparison to wireless options. However, with the modern advancement in these wireless technologies, ASUS released four new Go headsets for gamers. The options across the range include wired and wireless options. For the wireless, the first of these is a 2.4GHz variant. But, it's the second variant we have for review today, the ASUS ROG Strix Go BT headset.
As you would've assumed, the BT stands for Bluetooth. The headset is the simpler of the two, while still offering a host of features. This includes the latest Bluetooth 5.0 technology, as well as Qualcomm's aptX adaptive audio technology, active noise cancellation and more.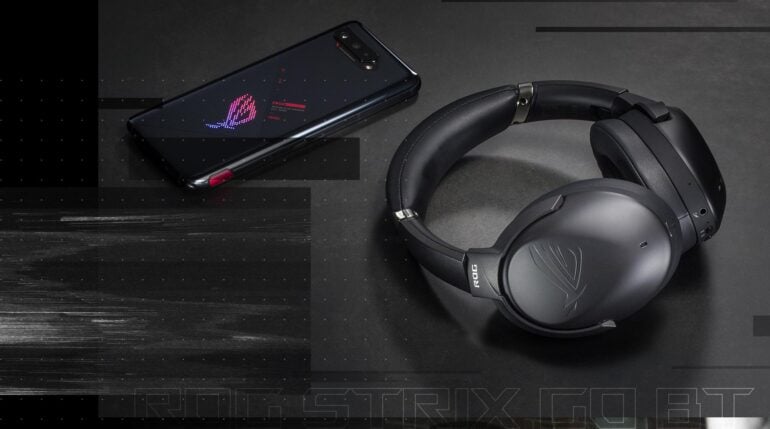 Build and Design
Unlike many other gaming headsets, the ASUS ROG Strix Go BT has a minimalist appeal. ASUS has toned things down from its other ROG units, with no LED light sync, or over-the-top styling. And I love this.
It looks like many other Bluetooth headsets on the market, with its faux leather, foam-padded earcups and headband. There's a good mix of plastic and metal on the device, with a matte black finish to give it that premium aesthetic.
Back to the padding. It works. It's comfortable enough to keep you plugged in for hours. While it does have a bit of a seal when you put them on, it doesn't heat up your ears too much. It's also very comfortable and relatively lightweight at 300g, which, again, helps with those long gaming sessions.
While it may have a minimalist approach, there's quite a fair amount of ROG branding scattered throughout. The outside and inside of the earcups feature the ROG logo and text, mixing it up between the two sides of the headset.
On the left-side earcup, the buttons feature a volume rocker, a playback control, as well as a power button that also has dual functionality. Just below this is the 3.5mm auxiliary slot. There's no slot for a detachable microphone as with other devices in the range. There are a few pinhole openings on the earcups, where the various mics are positioned. The right-hand side features a Type-C port for the charging cable.
The headset comes with a carry case in the contents. It not only keeps the headset safe but also has space for the cables and included adapter. It has the look and feel of many other carry cases. Its minimalist approach features only a ROG logo on the front with a zip around the outside to close the case.
I liked the approach that ASUS has gone with on the headset. The minimalist approach means that it can also double as a device you could use at the office without drawing too much attention. It's stylish and also has a quality build.
ASUS ROG Strix Go BT Headset Setup and Features
There are two methods of usage for the ASUS ROG Strix Go BT. The first of these is by means of Bluetooth pairing. It's also the easiest to set up. With most modern devices, Bluetooth connectivity is a breeze. Whether it be the source of the destination device, the steps aren't more than one or two clicks away.
When powering up the headset, keep pressing the power button to enter into pairing mode. Then, on your PC, you can choose to search for a Bluetooth device, after which the unit will be picked up. And that's pretty much that. Quick and easy.
The other option to connect involves the cable provided in the carry case. The cable provided is a 3.5mm auxiliary cable, measuring 1.2m in length. Once you've plugged it into the headset, you can connect it to your device. For those units that require a dual input for the audio and mic, ASUS has included an adapter within the carry case contents.
While the second cable does provide connectivity for the headsets, it isn't picked up as an audio device. The Type-C to USB cable is only for charging. The Type-C end plugs into the left earcup with the USB plugging into your PC, laptop, console or charger.
When it comes to the features, the ASUS ROG Strix Go BT packs in quite a few. In addition to the Bluetooth wireless and 3.5mm cable connectivity, it also features:
Active Noise Cancelation (ANC) technology
Qualcomm aptX Adaptive audio technology
ASUS AI noise-cancelling microphone
Super-fast charging technology
Noise-cancelation is one of the more important aspects of modern headsets. With the need for more portability and remote office work, it has become a crucial feature when users select their next pair of headsets.
A modern enhancement for headsets has been the introduction of Qualcomm aptX Adaptive audio technology. With Bluetooth 5.0 already providing quite a number of connectivity features, improved range and lower lag, it's the aptX tech that makes a significant impact in pairing with these features. Providing a further reduced latency, it's a critical requirement for professional gamers.
ASUS has also developed some of its own technologies added to the headset. This includes the industry-leading ASUS AI noise-cancelling microphone. It may be a hidden feature but works quite well. With a database of distinguishable sounds, it provides clear sound to your team in the heat of battle, blocking out unwanted sounds and focusing on your voice.
Finally, there's the super-fast charging support. If you've lost charge on the headset, users will be able to be and running again in just 15 minutes, providing a massive five of charge in such a short charging duration.
ASUS ROG Strix Go BT Headset Performance and Quality
While the unit was designed primarily for PC gamers, it supports multiple other devices. This includes everything from your smartphone, PS5, Xbox, Switch and more. This is done by means of Bluetooth or 3.5mm cable connectivity.
Additionally, most of the features are built-in and don't require any additional software support to be enabled. That said, if you do wish to make some adjustments, other than those native to the connecting device, there is only one option. This is done via the mobile ASUS Armoury app on Play Store and App Store.
ASUS has packed 40mm neodynium magnet drivers into the earcups. This is the average size for gaming headsets in recent years. The brand has created its own drivers, known as ASUS Essence, meant to deliver rich, pure sound with deep bass.
However, in the real world, the ASUS ROG Strix Go BT focuses on the mid-range over the bass or even highs. This is strange compared to the configuration for most other gaming headsets, where the bass is the priority over everything else, mostly as a result of explosions and gunshots being the predominant sound in games.
Focusing on mids means that sounds like voice or even sounds are more focused and clearer. That's not necessarily a bad thing, depending on the game you're playing. However, if you're looking for the exhilaration of the gunfire and explosions for a more immersive experience, you may require some fine-tuning before you can extract the best results.
It may have been designed with gamers in mind, but the active noise-cancelling earcups and ASUS' noise-cancelling microphone make it ideal for normal usage as well. If you're working remotely, this is ideal. This also means it will also work great when you're in a gaming arena competing in a tournament. Both the noise cancellation of the audio and the microphone perform great.
Battery
ASUS claims to have packed in a 45-hour battery charge on the ASUS ROG Strix Go BT. Just shy of a full two days' worth of playtime, you couldn't ask for anything more.
Typically, users won't be able to reach levels in real-world use. However, it comes fairly close. During the testing period, I was able to extra multiple 40-hour playback times. It's not the easiest to test, having to leave the device connected and playing content for well into the second day. But it's proven itself, and definitely makes for a great portable unit.
With its super-fast charging support, users only need 15 minutes of charge time to eke out another five hours of battery life. It takes a little over two hours to fully charge, which also isn't bad given its battery life.
Both the charging and battery life results are synonymous with earbuds and their respective carry cases, which double as charging docks. For the same results to be found on a Bluetooth gaming headset is very impressive.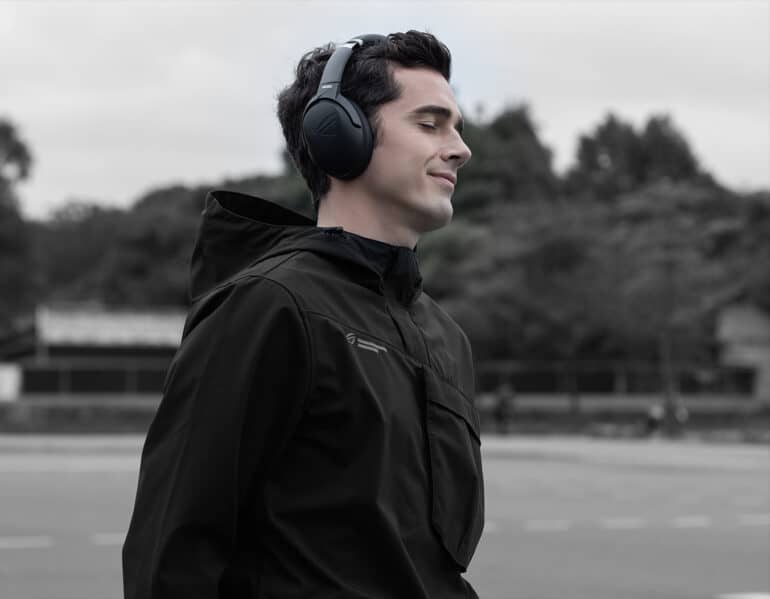 Should You Purchase An ASUS ROG Strix Go BT Headset?
The ASUS ROG Strix Go BT is a very good gaming headset. It looks good, even while not having the regular over-the-top styling and lighting effects. It travels well, both as a result of its carry case, as well as the 40+ hours' worth of battery life. While it does focus, by default, on the mid-range audio, it provides clear sound and good audio overall.
The Review
ASUS ROG Strix Go BT Headset
The ASUS ROG Strix Go BT is a very good headset with extreme battery life. This is the ultimate portable gaming headset, with active noise-cancellation and noise reduction microphone. The default audio needs some tweaking, but it's clear and crisp overall.
PROS
Ample built-in features
Noise cancellation and reduction
Comfortable design
Battery life
Review Breakdown
Ease of Learning

0%

Ease of Use

0%

Design

0%

Performance

0%

Enjoyment

0%

Value for Money

0%