43 years ago, director Ridley Scott brought the first Alien movie to the big screen – a film that still terrifies, entertains and fascinates audiences worldwide to this day. It became legendary, spawning one of the most iconic and successful film franchises in history. But while the original film's anniversary was celebrated in spectacular fashion, it's impossible to ignore the franchise's rocky history.
From Oscar nominations for special effects and box office gold to disowned film disasters and awkward crossovers, almost as much has gone wrong with it as has gone right. When the franchise's biggest fans start begging Ridley Scott to stop making Alien movies, especially at a time when the original film is being so heavily celebrated, that's quite an indication that there's a real problem.
But where did it all go wrong? And can the Alien movie franchise be saved, even with more movies and a TV series in the works?
RELATED: Alien's Engineers Didn't Stop at Humans & Xenomorphs When Creating Races
Ridley Scott & James Cameron's Alien Movies
Looking back on it, the success of the original Alien movie (which won Academy Awards for Best Visual Effects and Best Production Design) is an unlikely tale. Originally pitched as "Jaws in space" and with little studio support initially, the original Alien (98% on Rotten Tomatoes) is a tense science fiction horror story that benefitted from the sci-fi boom created by Star Wars.
In the film (which starred Tom Skerritt, John Hurt, Veronica Cartwright, Ian Holm, Harry Dean Stanton, Yaphet Kotto and Bolaji Badejo), the deep space vessel Nostromo's crew unknowingly brings an alien aboard after investigating a transmission from a nearby moon in outer space. Crewmember Ripley (Sigourney Weaver) learns that the transmission is a warning, but it's too late – and before long the crew are killed by the adaptive xenomorph.
With its claustrophobic setting, terrifying alien design by H.R. Giger, impressive effects, strong performances from the cast, sweeping musical score and atmospheric directing, it was an overwhelming success both critically and commercially. Alien spawned movie sequels and prequels, books, comic books, video games and crossovers, launching one of the biggest film franchises of all time.
However, one of the most notable issues with the series over the years has been the identity crisis it regularly suffers from. While Ridley Scott's Alien was a horror movie that succeeded by building tension and rarely showed the monster, the first sequel – James Cameron's Aliens (starring Michael Biehn, Lance Henriksen, Paul Reiser, Bill Paxton, Carrie Henn and Jenette Goldstein) – switched up the formula drastically.
In a move that was revolutionary for the time, Aliens (97% on Rotten Tomatoes) did something original and was an action-packed survival horror film instead of being a copy of the first. It was a bold move but one that made perfect sense; the design of the xenomorph, originally shocking, was no longer powerful enough to instil terror in an audience who had become familiar with it. Instead, the new level of fear in Aliens was of a planetary colony infested by hundreds of xenomorphs, overwhelming through sheer force of numbers.
Released seven years after Alien, James Cameron's sequel was a success in its own right… arguably achieving even greater acclaim than the original. Shaking the established curse of sequels being inferior to the originals, Aliens is often listed as one of the greatest films of all time in its own right. It worked for fans and critics, albeit on a completely different level than the original. Crucially, neither of the first two films detracts from the other. Despite a clear difference in storytelling style and overall vision, both Alien movies fit together seamlessly.
RELATED: Alien: Isolation Needs A Live-Action Movie
Horror or Action?
However, while Aliens was a worthy successor to Alien, it also altered the course of the series – resulting in a split as to what genre any future films should follow. Should Alien films be slow-burn psychological horror movies or gung-ho action-based survival horror films? What kind of Alien movies did the filmmakers, studios and fans want to see?
The underwhelming Alien 3 (46% on Rotten Tomatoes) attempted to return the series to its more traditional claustrophobic horror roots… or at least it tried to, during the times when it was filmed with an actual script. A massively troubled and chaotic production behind the scenes, the movie began with Ripley's fellow survivors from Aliens – Corporal Hicks and Newt – being unceremoniously killed. Many fans considered this a cheap betrayal of the "happy" ending of the previous film almost immediately, and the film went downhill from there. Their deaths leave Ripley to battle the xenomorph while trapped in an off-world penal colony populated only by male prisoners.
Alien 3 (starring Charles S. Dutton, Charles Dance, Paul McGann, Danny Webb, Holt McCallany, Pete Postlethwaite and Paul Brennen) received a lukewarm reception from fans and critics alike, while the film's director David Fincher notoriously disowned it – blaming deadlines and studio interference for the film's failure.
The fourth movie in the series, Alien Resurrection (written by Joss Whedon and starring Winona Ryder, Dominique Pinon, Ron Perlman, Michael Wincott, Gary Dourdan, Dan Hedaya, Kim Flowers, Brad Dourif, Leland Orser and Raymond Cruz), switched the style back to a more action-oriented scenario. This time around, a human/alien hybrid clone of Ripley teamed with a group of mercenaries; together, they attempt to destroy a hive of xenomorphs aboard a scientific/military spaceship before it crash-lands on Earth.
The film was considered an improvement over the lacklustre Alien 3. However, despite creative visual flair from director Jean-Pierre Jeunet, a talented cast and an intriguing concept for the "new" Ripley, it lagged far behind the first two Alien movies. Joss Whedon's script for Resurrection (54% on Rotten Tomatoes) was criticised, while Whedon himself was unhappy with the execution of it, claiming that it had been filmed "in such a ghastly fashion as to render it almost unwatchable".
With seemingly no clear direction for the franchise, the Alien movie sequels began to look like uninspired retreads even to the most dedicated fans.
Enter the Predator
1990's Predator 2 – a sequel to 1987's sci-fi action film – had featured an alien xenomorph skeleton in one scene, displayed in a Predator's trophy case. From the moment it was shown on screen, fans had been clamouring for a crossover of the two iconic sci-fi characters and debated which one was the universe's true alien champion. While games and comic books were happy to oblige, telling tales of the Alien and Predator franchise interacting, it wasn't until 2004 when the films crossed over on the big screen.
Despite mostly negative reviews and a weak, uninspired story, Alien vs. Predator (starring Sanaa Lathan, Raoul Bova, Ewen Bremner, Tommy Flanagan and Colin Salmon) achieved box office success and picked up a cult following from fans of both alien killers. The film managed to utilise elements from both franchises with a surprising amount of accuracy. Yet, to the disappointment of many, the film was given a PG-13 rating in the US… a clear indication of how diluted both franchises had become over the years.
The Alien movie franchise, one that had started out by being clearly set in the realms of adult horror, had practically become family-friendly.
An Alien vs. Predator sequel (starring Reiko Aylesworth, Steven Pasquale, Shareeka Epps, John Ortiz, Johnny Lewis, Ariel Gade, Kristen Hager and Sam Trammell) followed, which was widely panned by fans and critics alike and signalled the end of their on-screen antics for the time being. Beyond that, even with the Alien franchise's struggles over the years, there was still significant interest in the xenomorph's return – primarily from original Alien director Ridley Scott and Aliens director James Cameron. Ultimately it would be Ridley Scott who returned, with a prequel called Prometheus.
RELATED: Things You Probably Didn't Know About Ridley Scott's Prometheus
A New Alien Movie Franchise
Prometheus (starring Noomi Rapace, Logan Marshall-Green, Michael Fassbender, Charlize Theron, Idris Elba, Guy Pearce, Sean Harris, Benedict Wong, and Kate Dickie) touched on elements of the original Alien movie, although it was made absolutely clear from the non-Alien standalone title that this prequel was only linked to the franchise and wouldn't directly feature the classic xenomorphs. A slow-moving sci-fi drama, Prometheus achieved a level of box office and critical praise but was generally considered a disappointment. The film was generally criticised for being dull and pointlessly pretentious at times, while long-time Alien fans were disappointed that the movie failed to take advantage of the opportunity to show more of the xenomorphs.
Following Prometheus, five years later came Ridley Scott's Alien: Covenant (starring Katherine Waterston, Billy Crudup, Danny McBride, Demián Bichir, Carmen Ejogo, Jussie Smollett, and Callie Hernandez), a sequel-to-the-prequel which continued the slow-burn style of the former. Continuing the journey of antagonist David8 – a character whose popularity amongst fans has started to rival even that of Ripley – the sci-fi film delivered far more xenomorphs than Prometheus and attempted to link the prequels more closely to the original Alien movie.
More popular with fans than Prometheus, the pace of the film and predictability of the script still left fans feeling disappointed once again.
Despite the prequels being able to keep the Alien movie franchise itself ticking over, they've continued to add to the confusion as to what exactly the franchise is – and should be.
An Inconsistent Vision
The difference in tone and storytelling over the years has been mirrored in the franchise's other areas: the computer games have ranged from survival horror to outright shoot-'em-ups, identifying the franchise as action-based; the comic books have ranged from outright horror to action and adventure stories, and the xenomorphs have crossed over with the likes of Judge Dredd, Green Lantern, Batman and Superman.
Good news for fans and proof of the xenomorph's status in popular culture, but it also makes their credibility as slow-burn, intelligent sci-fi horror icons harder to take seriously.
Unlike other franchises which have suffered through excessive over-exposure – the latest to suffer this fate being Star Wars, now forced to dial back on how many films they flood the market with after Solo's failure – the Alien series hasn't done that. Eight films in 40 years is hardly flooding the market; more so, two of those were crossovers and one technically didn't feature them in any significant way.
Instead, the failures of the Alien franchise have been a lack of any consistent vision… and, at times, a genuine lack of quality. The Alien movies have been its own worst enemy, far more so than Ripley.
But… can it survive? Absolutely.
RELATED: Prometheus: The Complete Fire And Stone Review – An Epic Crossover Event
Celebrating the Alien Movies
When celebrating its 40th anniversary in 2019, the original film received a cinema re-release – while Ridley Scott announced that he was on board for yet another sequel. The response to that news may have been welcomed by some, who are keen to see the xenomorphs return once more, but it also drew criticism. While he may have created a classic in the original film, his others have been disappointing. But there's hope, and like the xenomorphs themselves, the key to survival may be to adapt.
Meanwhile, the Alien movies' popularity is so widespread that a stage production of it was recently performed as a school play at North Bergen High School in New Jersey. The play gained international attention and widespread acclaim, including the admiration of directors James Cameron and Ridley Scott, as well as original Ripley actress Sigourney Weaver.
While they're proof of the undeniable impact that the Alien movie franchise, and in particular the first film, has had on popular culture, they're also proof that there are fans out there who are willing to continue upholding the legacy.
Whatever the fate of the next Alien movie or TV series, the franchise, in general, will survive and continue because it's respected and admired by so many – some of whom are willing to take the reins. And who knows? Perhaps, at some point, they'll even figure out exactly what kind of franchise it is that they're getting their hands on…
Every Alien Movie Ranked From Best to Worst
If there's something truly horrific about the Alien movies is the way they've been slowly deteriorating with each new entry in the franchise. Here we list every Alien movie released so far, starting with the best and ending with the most awful films in the franchise.
Watch the chestburster scene from Alien (1979) below.
1. Alien (1979)
You simply can't beat the classics. The first Alien movie in the franchise is, without a doubt, the strongest one of the bunch – and it might be because of its unapologetic simplicity. From the moment you read the movie's tagline ("In space no one can hear you scream"), you pretty much get everything the movie's about.
Sigourney Weaver stars as Ellen Ripley, and this is the first time she'd have to face off against the dreaded Xenomorph. A classic horror flick, the original Alien movie is just as good today as it was back when it was released.
2. Aliens (1986)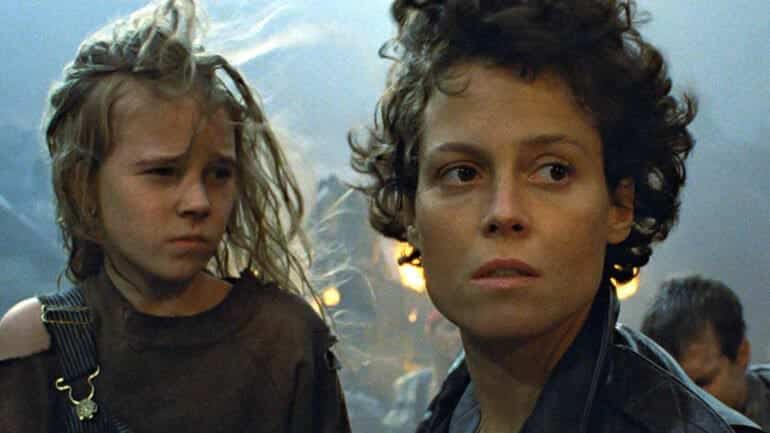 Despite being loved by critics and standing out as one of the best action movies ever made, Aliens proves to be a divisive film among fans of the franchise. While it successfully turned Alien into a franchise, it stripped the series from its darker horror aesthetic.
Directed by James Cameron, and starring Sigourney Weaver once again as Ripley, the film continues the story of Ripley – fifty-seven years after the events of the first movie. After being trapped in cryosleep for the better part of six decades, Ripley must now reluctantly work with the shady Weyland-Yutani Corporation, and face off against her alien archenemy.
3. Prometheus (2012)
Ridley Scott's attempt at resurrecting the Alien movies franchise offers an intriguing look at how Scott has matured as a director over the years. Prometheus is a much more high-concept movie than the first Alien films, and aims to clarify the origins of the Xenomorph.
Prometheus stars Noomi Rapace as Elizabeth Shaw. On a mission to discover the origins of humanity, the crew of an intergalactic exploration unit finds way more than they were hoping for instead.
Don't expect to see much of the classic Xenomorph in this film, though. The iconic black creature isn't anywhere to be seen during most of the movie's runtime, so we can only recommend this one to die-hard sci-fi fans.
4. Alien Covenant (2017)
As a continuation of Prometheus, Alien: Covenant delivers very little in the way of straight answers to the previous film's mysteries. As a modern take on the classic Alien horror movie formula, however, this film absolutely nails the look and tone.
This Alien movie is the closest we've gotten to a true successor to the original film's style. While the plot is a bit weak at parts, most of the action and horror sequences work amazingly well.
5. Alien: Resurrection (1997)
One of the oddest movies in the franchise so far, Alien: Resurrection is weird in every right way for a horror film. 200 years after Ripley's death, she's brought back to life as a clone with all her memories intact, with the small caveat that she's now a human/alien hybrid.
Featuring one of the spookiest Xenomorphs in the franchise, this Alien movie stands as one of the most unique in the series. It was certainly a breath of fresh air after the disappointing Alien 3 – which just so happens to be occupying the next entry on our list.
6. Alien 3 (1992)
Speaking of disappointing movies, 1992's Alien 3 failed to capture the momentum set by Aliens or the atmosphere established by Alien. The result is a messy movie with a couple of memorable moments sprinkled in between.
A controversial part of this film is the way it resolved the stories of Ripley and the survivors from the previous Alien movie. Some fans weren't keen on the idea of simply killing off Ripley, much less the grim fates the director envisioned for Newt and Hicks.
All that said, Alien 3 gave fans one of the most iconic images in the franchise: Ripley being pinned down by a xenomorph who slowly begins to reveal its second set of jaws. The scene has been referenced and parodied in multiple pieces of media, and has become synonymous with the series as a whole.
7. Alien Vs. Predator (2004)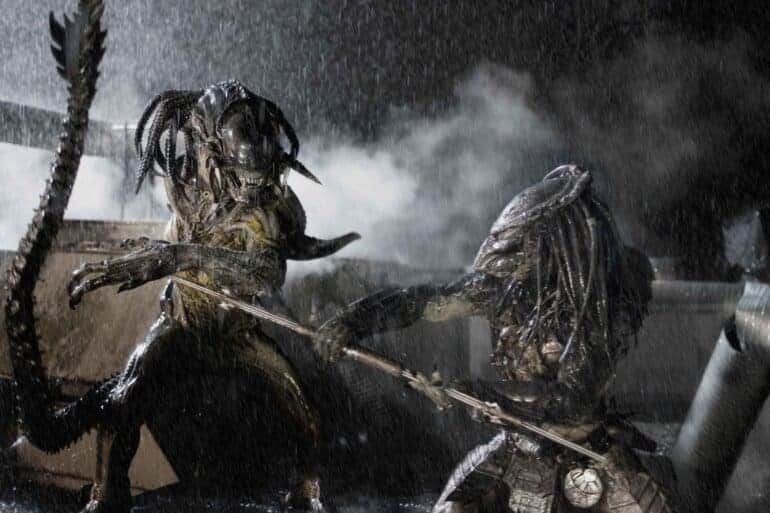 The dream of every horror movie fan has always been to see a proper confrontation between Aliens and Predators. Sadly, they didn't get that with 2004's Alien Vs. Predator. The first warning sign is that the movie is a PG-13 affair; that means no ripping off spinal cords or violent chest-bursting explosions can be shown.
Violence aside, the plot is as weak as it gets: the story is mostly just an excuse to see two classic characters duking it out. Directed by Paul W.S. Anderson, this flick is loud, dumb, and ultimately unforgivably boring.
Perhaps some fights were never meant to be seen. The good news is that this film never got a sequel… Until three years later, that is.
8. Aliens Vs. Predator: Requiem (2007)
Aliens Vs. Predator: Requiem is unquestionably the worst film in the franchise. Paul W.S. Anderson didn't return as the director for this sequel, and the task was assigned to Colin and Greg Strause instead.
Despite ramping up the violence, Requiem still fails to capture what's present in some of the best Alien movies. The idea of xenomorphs terrorizing a small American town sounds promising, but it's held back by this movie's atrocious cinematography and lousy editing.
Requiem seemingly killed the idea of seeing these two iconic beasts fighting on the big screen for good, at least until someone decides that it's time to milk these franchises once again. However, we must keep in mind that both franchises are now under the control of the almighty Disney, so only time will tell just how good (or how irredeemably terrible) future Alien movies are going to be.
Who knows? Maybe the idea of a crossover with the MCU might not be as far as it once was. Let's not forget that Peter Parker's knowledge of the Alien movie franchise is what saved him and Tony Stark in Avengers: Infinity War. It might just be a matter of time until we see a xenomorph riding along with the Guardians of the Galaxy.
RELATED: Aliens: Fireteam Elite Review – Eat This, Xenomorphs
Interesting Alien Movie Facts
Sigourney Weaver's audition for Ripley was just 3 seconds long
When Sigourney Weaver attended the audition for the role of Ripley in Alien, she was advised by friends not to wear heels and dress conservatively, so as to not intimidate Ridley Scott with her physique. As expected, Weaver completely ignored the advice and instead put on some hot pants, a pair of thigh-high 3-inch heel leather boots, and went for the audition. Ridley Scott took one glance at her and gave her the job. Weaver commented on this by saying, "He loved it. I think he was quite impressed, really."
The Newborn in Alien: Resurrection originally had a penis and a vagina
According to a documentary about the production of Alien: Resurrection, the Xenomorph-human hybrid, aka The Newborn, seen at the climax of the film, was originally meant to have a penis and a vagina. During the design process, director Jean-Pierre Jeunet insisted that it should have both genitalia. Thankfully, Jeunet saw it and changed his mind. He famously added, "Even for a Frenchman, it's too much." The team was then forced to use CGI to remove the genitals.
The original Xenomorph in Alien was played by an unknown actor they found in a bar
6-foot-10 Nigerian student Bolaji Badejo originally played the Xenomorph in the first film. The production crew met the actor in a bar and was drawn to him because of his size and long limbs. Even though this was the only film he ever starred in, Badejo took the part quite seriously and even went for Tai Chi lessons to help with the movement of the creature.
Ripley was supposed to die in the original ending of Alien
In the first treatment for the Alien film, Ellen Ripley's head gets ripped off by the Xenomorph. Fox intervened and ordered Scott to change it. Thankfully, he complied. As a result, we have had a franchise of good and bad films.
The Xenomorphs have a Queen Mother
The Alien comic books and novels describe various Xenomorph creatures, including the most powerful, the Queen Mother. She is incredibly large, seven hundred feet tall and has psychic abilities. They are protected by Palatines – enlarged, elite Drones. The first Queen Mother was kidnapped by Ellen Ripley, leading to anarchy and chaos on the Hiveworld.
How to Fix the Alien Movie Franchise
In many aspects, the Xenomorph is the perfect horror movie villain: a relentless force of nature that can't be reasoned with. In the first Alien movie, the motivations behind this ultimate killer are never fully explained, the creature seemingly killing every crew member of the Nostromo for the hell of it.
However, with each subsequent film in the franchise, the backstory of the Xenomorphs got expanded upon, eliminating some of the mystery behind this once enigmatic life form. To make matters worse, one of the most critically acclaimed movies in the franchise might also be responsible for the series decline.
There's an eternal debate among Alien fans: there are those who prefer the first film's overtly horror style, while some others are all aboard for James Cameron's 1986 action film sequel. Aliens was loved by critics and audiences both, but it's undeniably one of the reasons why the franchise began its steady decline.
For starters, it expanded upon the Xenomorphs as a species, giving them a Queen and more animalistic behaviour. The Alien we saw in the first movie was close to that film's heroine in intellectual terms; In Aliens, the Xenomorphs are even called "bugs", yet another jab at their archaic behaviour.
However, 1986's Aliens isn't the worst offender when it comes to demystifying the Alien. That honour goes to 2017's Alien: Covenant.
The original 1979 Alien movie had a simple premise: it was a slasher film set in space. There was no higher meaning to be found in the actions of the killer alien life form and just a vague hint of a conspiracy being thrown in by one of the film's characters.
The latest Alien movies, Prometheus and Covenant, are seemingly ashamed to be called "slashers" by fans or film critics. The franchise has become a pseudo-intellectual rambling on the origins of humanity and its relationship with divinity. That's… unexpected for a series about alien parasites that burst out of their victim's chest.
Covenant also gave us some conflicting info on the origins of the Xenomorph species. The entire Xenomorph species was seemingly created by David, an android antagonist from the last two films. We see everything from his point of view, including the planning and creation of his ultimate life form. And just like that, the mystery of the Alien is no more.
It would be easy to say that there's no way to fix the Alien movie franchise – that it was never meant to be a series in the first place. However, there's one final glimmer of hope shining in the depths of space for this Xenomorph, and it comes in the form of branching from the film industry.
If you're craving a more traditional Alien experience, definitely give 2014's phenomenal Alien: Isolation a try. It is the closest thing we'll ever get to a proper sequel and an excellent reference for future filmmakers who wish to continue the Xenomorph's horror legacy.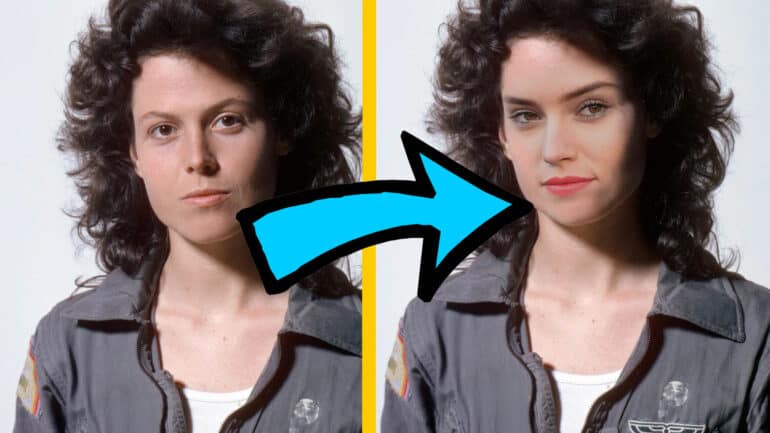 Daisy Ridley Should Play Ellen Ripley's Daughter In An Alien Sequel
Thanks to the Fox acquisition, Disney now owns the rights to Alien. But what could they possibly do with the sci-fi franchise? Here's an idea for an Alien sequel: abandon Ridley Scott's new trilogy and make the story about Sigourney Weaver's Ellen Ripley again. And this time include Daisy Ridley as her daughter, Amanda Ripley from Alien: Isolation.
In 2014, Sega released Alien: Isolation, a video game set in the world of the iconic sci-fi franchise. The stealth and survival horror story followed Amanda Ripley, the daughter of Ellen Ripley, who learns that the flight recorder of her mother's ship, the Nostromo, has been located. Hoping to find closure regarding the fate of her missing mother, Amanda joins a retrieval team and travels to the space station. When she arrives, of course, she and her team discover that the station is damaged and external communications are offline.
Doesn't that already sound like a better plot for an Alien movie sequel?
But wait. There's more.
That wasn't the first time the character appeared either.
Watch the deleted scene from Aliens below.
Amanda Ripley can actually be seen in a deleted scene from the original 1986 theatrical version of Aliens. The clip reveals that she was just 10-years-old when her mother, Ellen, travelled into space before the events of the first movie.
Sadly, she died during her mother's 57th year in space (December 23, 2178) from cancer, somewhere between the events of the first two Alien films. When a picture of an elderly Amanda is shown to Ripley, she cries and reveals that she had initially hoped to return to Earth before her 11th birthday.
Who would be better to portray the daughter of one of the most significant female protagonists in cinematic history than Star Wars' Daisy Ridley? The daughter of the feminist film icon would have to project the same amount of strength and vulnerability as Weaver did. And it's hard to argue that Ridley isn't up to the task.
She's practically already played this sort of character with Star Wars' Rey. If Disney is considering recasting or continuing the franchise and its legacy, she would be the perfect pick.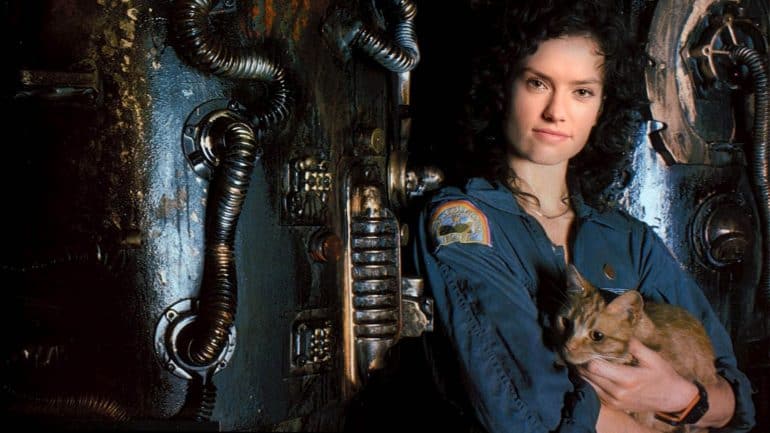 In fact, the characterisation for Rey fits seamlessly with the description for this role too: "Stubborn, headstrong, brave, optimistic, and maintains fierce loyalty."
In 2015, director Neill Blomkamp announced a fifth Alien movie with actress Sigourney Weaver returning as Ripley. Fans' excitement was short-lived, however, as the film was cancelled sometime before 2017.
At 71-years-old, Weaver might not be able to take on a physically challenging film any longer. But she is able to co-star and lead the film's new protagonist. Using Ellen Ripley's daughter as the new lead seems like a good idea to move the story forward.
The Xenomorphs are still out there somewhere and there are still tons of stories that could be told in the universe. Hopefully, Disney will realise that the future of this franchise doesn't require Ridley Scott's input any longer.
The Alien franchise needs to return to its horror roots. Beyond that, it needs to return to the story of its most important character, Ellen Ripley.
Neill Blomkamp's Alien 5 Showed Promise
A few years ago District 9 director Neill Blomkamp unveiled plans to work on an Alien movie sequel. His Alien 5 concept art, which included the return of Sigourney Weaver's Ripley, made waves around the net. Then director Ridley Scott shot down the idea of that film ever happening — possibly because of Chappie.
After mixed reviews for Scott's Prometheus, fans were hoping that the Alien movie franchise would be handed over to Blomkamp to breathe new life into the adaptations. Blomkamp is well-known for creating great visual set pieces for his films and this, of course, got fans excited. However, with Scott returning to the franchise with Alien: Covenant, things looked very gloomy for Blomkamp's Alien 5.
Then in an interview with AlloCiné, Ridley revealed that Alien 5 was officially dead:
"I don't think it will ever see the light of day. There was never a script. Just an idea that evolved from a dozen or so pages. I had to participate as producer, but it didn't go further because Fox decided it didn't want to do it. As far I was concerned, I had already done Prometheus and I was working on Covenant."
The concept art was impressive: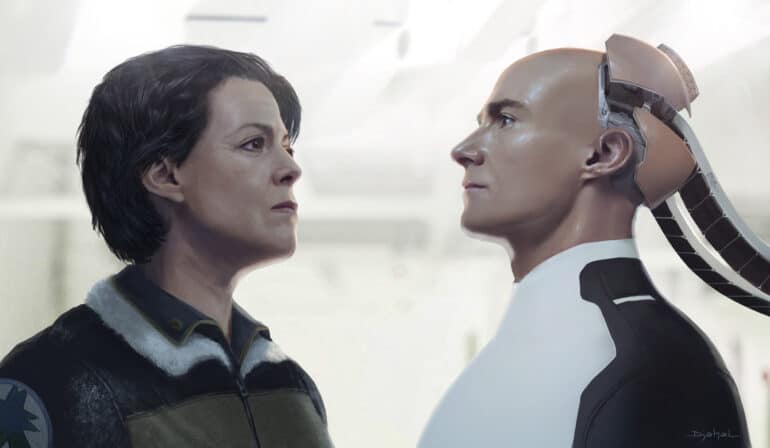 RELATED: Alien TV Series Won't Follow Weyland-Yutani
New Alien Series In Development At FX
A new series set in the Alien universe is currently in development at FX. Noah Hawley is teaming up with Ridley Scott for the project. It will be the first television show to be based on the classic film franchise.
The announcement was made by FX chief John Landgraf during Disney's Investor Day presentation.
"FX is moving quickly to bring audiences the first television series based on one of the greatest science-fiction horror classics ever made. Alien will be helmed by Fargo and Legion's Noah Hawley stepping into the creator/executive producer chair. And FX is in advanced negotiations with Academy Award winner, Sir Ridley Scott – director of the first Alien film and the sequel, Alien: Covenant to join the project as an executive producer."
Noah Hawley (of Fargo and Legion fame) will write and executive produce the series via his 26 Keys banner, while Ridley Scott is in preliminary talks to executive produce via Scott Free.
The new Alien series will be the first story set on Earth in the not-too-distant future. It will blend the timeless horror of the original 1979 movie with the action of the 1986 film, which was directed by James Cameron. Additionally, the show promises to be a scary thrill ride that will blow people back in their seats.
We'll have to wait and see whether or not a TV series is an answer to the franchise's problems. It will be great if it takes inspiration from the 20th Century Studios' original films — which were among the best sci-fi movies of all time.
RELATED: FX's New Alien TV Series Gets Amazing First-Look Art
Would you like to see Daisy Ridley play Ellen Ripley's daughter in an Alien movie sequel?