"I have everything for an emergency in my utility belt… except money to pay for our food and drink!" —Batman.
RELATED: What Trophies Are Kept In Batman's Batcave?
Batman's utility belt is arguably the most essential tool in his fight against crime. With its vast array of gadgets and weapons, this marvel of engineering has helped Batman overcome countless obstacles and adversaries. From batarangs to smoke pellets, grappling hooks to explosive gel, his belt is always fully stocked and ready for action. But its most impressive feature is its versatility – Batman can use it to improvise solutions to almost any problem he encounters. Need to scale a building? Use the belt's retractable line launcher. Need to escape from a tight spot? Use the belt's gas-powered jet thruster. And if all else fails, the belt even contains a miniature EMP device that can disable electronic devices in an emergency. It's no wonder Batman never leaves home without it! With his utility belt at his side, The World's Greatest Detective is always ready for whatever Gotham City throws at him. So, while He may be the Dark Knight of Gotham City, even Batman knows that sometimes you need a little help from your trusty sidekick – in this case, a high-tech utility belt packed with all the tools of the trade.
It certainly would be helpful to own a high-tech utility belt like the Caped Crusader, but not all of us have the billions to make that a reality. Thankfully, plenty of gizmos and gadgets are available to make life easier and more efficient without the hefty price tag. By taking inspiration from Batman's utility belt and equipping ourselves with some essential tools, it's easy to assemble a utility belt that will help tackle any situation (think of it as the utility belt for the everyday hero). Here are some of Batman's most trusted utility belt tools and how you can swap them out for your everyday adventures.
RELATED: What Happened to Michael Keaton's Batman After Batman Returns?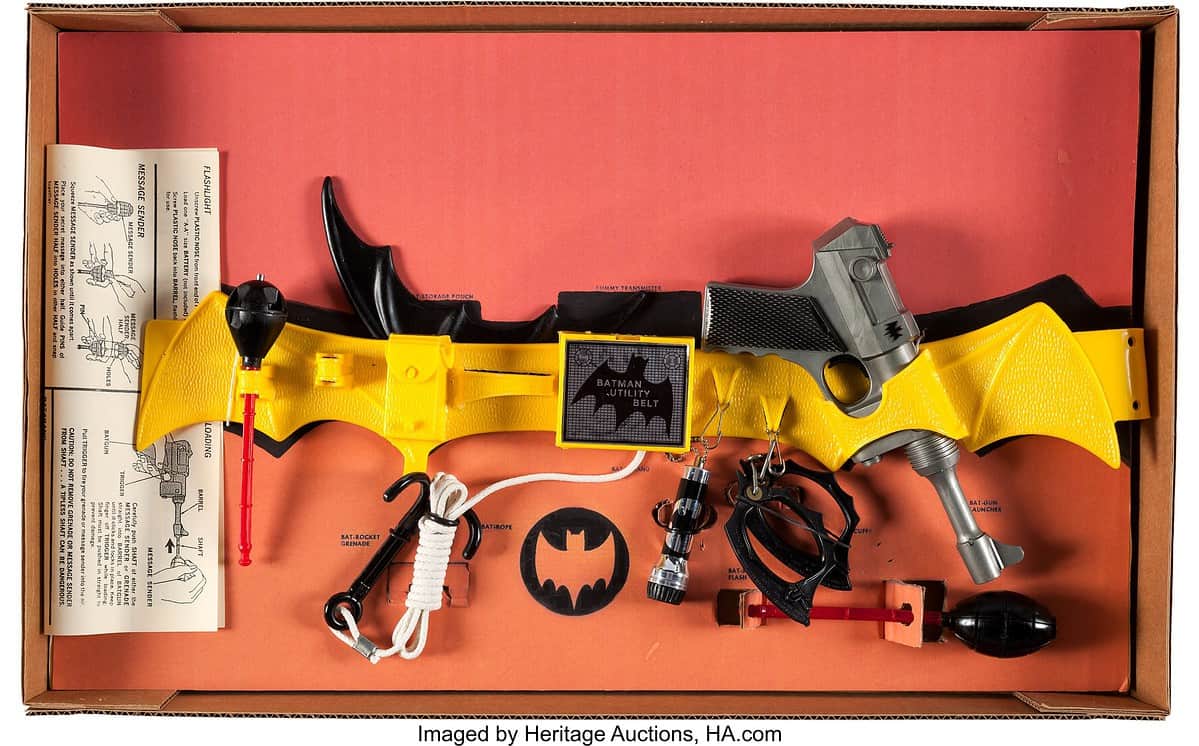 1. Batarang
The Batarang is an iconic tool that Batman often uses to disarm enemies or disable machinery. While carrying around a sharp throwing weapon in real life may not be practical, a sturdy multitool or pocket knife can serve a similar purpose. Opt for durable materials like stainless steel, aluminium or titanium and consider features like a serrated edge or pliers for added functionality.
2. Batlight
The compact and powerful batlight (essentially just a bright flashlight) is an important piece of equipment for the beloved superhero when he needs to navigate through dangerous alleyways or abandoned buildings. With its versatile design, Batlight can also be used as a signalling device or to temporarily blind his enemies during combat. You can get your very own miniature flashlight in a sleek black finish to shine some light on any situation. Batman's may have extra features like infrared and ultraviolet capabilities, but a basic LED flashlight can still be incredibly useful in dark situations.
3. Cash
Batman has been caught without it on occasion, but he often carries cash with him (nearly $100,000, to be exact) to pay off vehicles he needs to commandeer (like in Batman: Killing Time #3) or when he needs to make a charitable donation to a needy civilian. While it is certainly not advisable to carry large sums on you (unless you really are Batman), you can house your cards and cash in a scratch-resistant carbon fibre everyday carry (EDC) wallet and money clip, built to withstand even the toughest of situations.
4. Crayons
Batman's utility belt is known for its impressive collection of gadgets and tools, but one item that might surprise many is a set of crayons. These seemingly innocuous colouring tools serve a crucial purpose in Batman's crime-fighting arsenal. For instance, when some strange knights from another era decouple a moving train in Batman #149, Batman and Robin use the crayons from their belts to make a makeshift sign to warn the civilians below of the danger up ahead. Instead of crayons, try a sleek black pen for a less conspicuous approach. Who knows what sort of trouble you might find yourself in where a pen could save the day?
RELATED: Batman: Fortress – Bruce Fights Off Aliens Using The Fortress of Solitude
5. First-Aid Kit
Accidents can happen at any time, whether hiking in the wilderness or exploring a new city. That is why a first aid kit is the most crucial tool in any adventurer's arsenal (yes, even the Caped Crusader carries one). It's essential to be prepared for any injuries or emergencies, whether a simple cut or a more severe injury. A basic first aid kit should include bandages, antiseptic wipes, gauze, and pain relievers. Whether you're a superhero or an everyday person, having the right tools and knowledge can make all the difference in staying safe and protected.
6. Master Bat-Key
The Bat-Key key is a versatile lock-picking device that allows the Dark Defender to bypass conventional locks with ease. It is designed to fit multiple types of locks, enabling Batman to gain access to locked doors, safes, or other secure areas. The key is typically portrayed as compact and discreet, making it a useful tool for Batman's stealthy operations. While you may not have a master key like Batman's, you can use a sleek black key case to keep all your keys organized masterfully and ensure they are easily accessible.
7. Smoke Bomb
The use of smoke bombs is a signature move for The Gotham Guardian, and it's easy to see why. The smoke grenades obscure his movements and disorient his enemies, giving him the upper hand in any situation. And when he needs to make a quick getaway, the smoke provides the perfect cover for him to slip away unnoticed. A can of pepper spray can provide similar protection for everyday use – just be sure not to spray yourself.
RELATED: 6 Reasons Michael Keaton Is Still The Best Batman Ever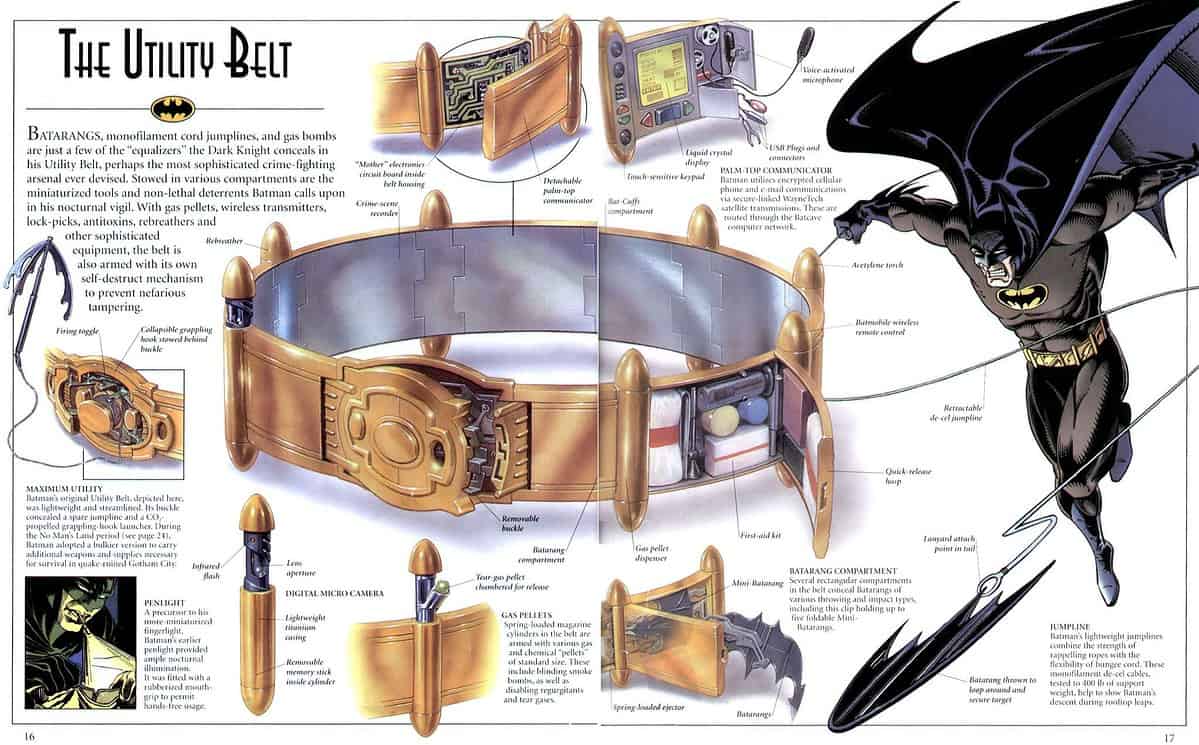 With these items at your disposal, you'll be prepared for whatever challenges come your way – whether you're facing off against villains or simply going about your daily routine. So why not take a page out of Batman's book and arm yourself with the tools you need to succeed!