Hollywood veteran, Kevin Bacon says he'd like to play Freddy Krueger in a new Nightmare on Elm Street movie.
In an interview with Bloody Disgusting, the actor who has appeared in horror movies like Flatliners said he is a big fan of the genre…
"The first horror movie I did was Friday the 13th, which kicked off this genre of slasher movies. They're pretty formulaic, I think, and not really thought of as being great character studies as much as they are just kids being killed."
"The horror movies that I really like are Don't Look Now or The Exorcist, which were really more character-driven. One of the best recent examples is Get Out. Not only is it scary, but it has comedic elements and social commentary, and getting all of those into a movie is difficult. There's more pressure on horror movies now to be a little bit more elevated and to have more to say about the world or about the human condition."
When asked about the possibility of taking on the iconic red and green striped Freddy Krueger, made famous by Robert Englund, Bacon expressed his interest, saying…
"Sure. It would take a lot of makeup…"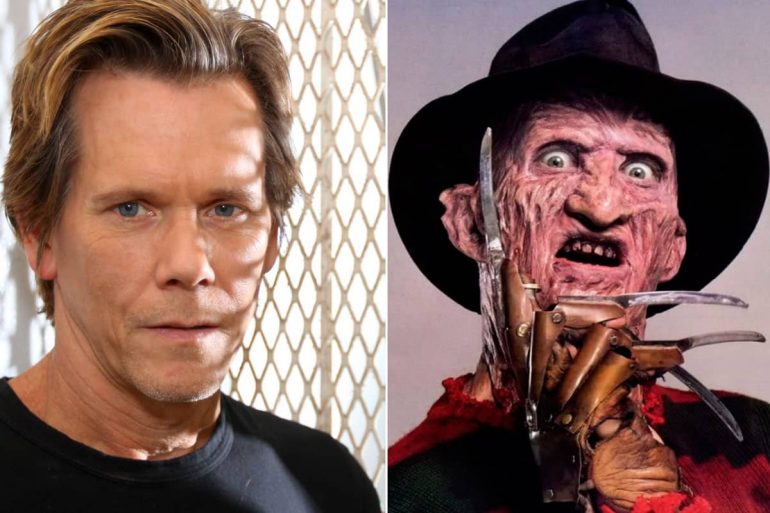 Bacon went on to explain that he isn't afraid of taking on horror roles, and he's always willing to embrace a good challenge in his career.
"The reason that I found myself in these horror films is for one thing, I'm not afraid of them. I'm not afraid to do them. I like them because they require a lot of acting challenges. They're intense, you're dealing with life or death situations, and these are all great acting challenges."
Kevin Bacon's latest creepy movie, You Should Have Left sees him reunite with Stir of Echoes filmmaker David Koepp. And Bacon compares it to some of the greats.
"I'm really more drawn to horror films like You Should Have Left. And films like Midsommar or The Shining or Rosemary's Baby. Don't Look Now is one of my favourites. Films that are really emotional and character-driven. That's the stuff that I… mostly because its great stuff to act, you know?"
The actor's comments come after Robert Englund (who played Freddy in the original movie franchise) suggested that Bacon would be a great choice to take on the role. Speaking about Bacon he said…
"I like Kevin Bacon. Kevin loves horror. He's a real actor. He's a character actor. Kevin was great in Tremors. Kevin was great in Stir of Echoes. We need someone like that to take it on. And re-do it, exploiting all of the new technology."
What do you think? Could Kevin Bacon pull off a decent Freddy Krueger?