With the movie industry in a bit of turmoil due to the lockdown, most blockbuster films were postponed. 2020 had a strong line-up of films, ranging from Wonder Woman, Bond, Morbius and many more. All of these films were pushed back, many into 2021.
While we did have a hopeful glimpse of a turn for the better with the release of TENET, it wasn't any indication of normalisation. Even though some films have moved to online streaming platforms, Mulan, Scoob! and Trolls World Tour, it hasn't kickstarted big-budget films from going this same route.
As such, we've been left with a handful of interesting films, and a slew of B-grade movies to keep us entertained throughout 2020. One such film, hoping to bring some entertainment back to the theatre, is Jiu Jitsu.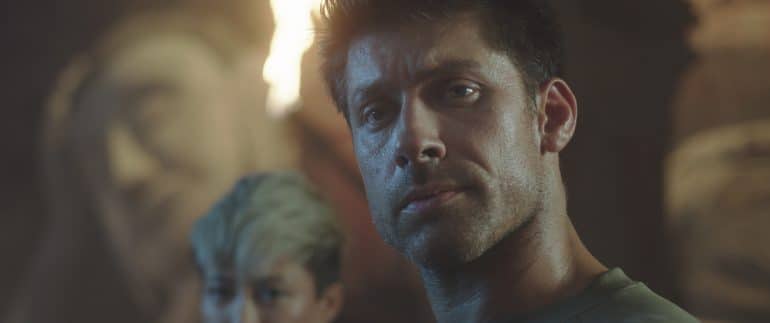 The premise is simple. An ancient order of jiu-jitsu fighters is all that stands in the way of humanity facing extermination. Every six years, a comet passes by the earth, opening a portal where a race of alien invaders sends one of their own to fight in an epic battle.
Humans have always come out on top throughout the thousands of years the battle has taken place. Until now, that is. Celebrated war hero, Jake Barnes (Alain Moussi), refuses to face Brax, the leader of the alien invaders. While running away, he suffers a head injury leaving him with amnesia. As a result, the future of the human race hangs in the balance.
It's up to his fellow jiu-jitsu fighters to rescue him, help him regain his memory and get back to the plan to fight off the alien race.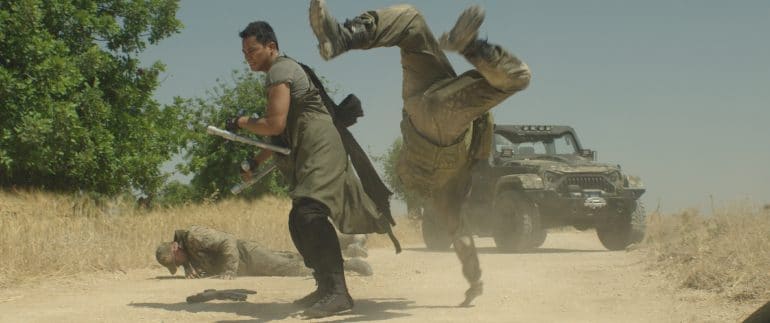 If you're expecting a deeper meaning from the film or much more of a backstory, unfortunately, you'll have to settle for the premise. The film follows a very predictable path through the chapters, aligned to '80s and '90s action film tropes. And that's exactly where Jiu Jitsu draws its inspiration from.
It's clear that the writers and director didn't set out to create a masterpiece of a film. What you see is what you get, an action-packed film with plenty of camp. This is clear from watching the trailers for the film.
However, there is a very tactful introduction to the film that truly makes it stand out. Nicolas Cage. Yes, that's it. Throwing the Academy Award-winning actor into the film makes all the difference.
Seeing Cage performing jiu-jitsu with a sword doing a somersault is bound to win over any moviegoer.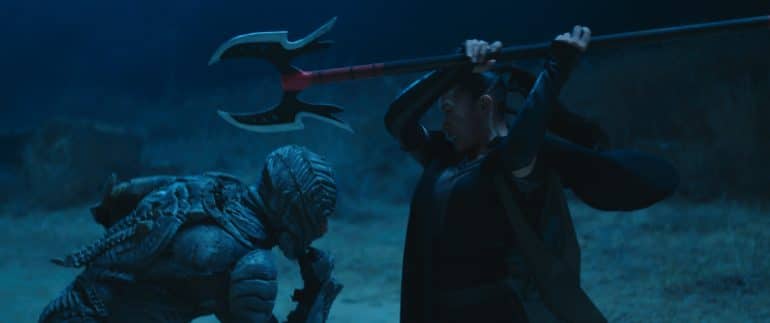 Cage has been an enigma in the film industry, bringing A-class performances that won him an Oscar to absolute rubbish films, mostly as a result of the apparent financial struggles. While many have been laughing at his crazy performances, it's not as if he isn't in on the joke himself. Taking on some of these roles has brought a slew of great B-grade films from the star. While Jiu Jitsu may not be classed as such, it has the potential for a long-term cult classic.
There are three main scenes that make the film worth seeing. These are over-the-top, action-packed fighting scenes that often come out of nowhere, which adds to the unpredictability of Jiu Jitsu.
Over the years, I've become more critical of blockbuster films, pointing out the many flaws, gaps in the story and the like. But, at some point in the '90s, these were the type of films I grew up loving. Jiu Jitsu takes me back to those days, where the story or flaws don't really matter.
We're in for the crazy ride that is Nicolas Cage fighting an alien to protect the earth from certain doom. And I'm, to my surprise, good with that.
Bring on Jiu Jitsu 2!
The Review
Jiu Jitsu
You don't need a deep story or complicated plot. All you need is Nicolas Cage performing jiu-jitsu with a sword doing a somersault on screen. This pretty much sums up Jiu Jitsu. An action-packed, 90s-style camp film that's all about entertainment.