Over the years, many board games have released tasking you with completing complicated objectives in order to be crowned the victor. Happy Little Dinosaurs is not this type of board game. Instead, this card game tasks you, as the titular little dinosaur, with surviving all the curveballs life throws at you. This includes meteors, personal attacks and even spa days.
Should you survive all these dangerous threats and be the last of the Happy Little Dinosaurs standing, you will be victorious.
What's in the box?
As with previous board games by Unstable Games, unboxing Happy Little Dinosaurs is a treat. Every part of the packaging has been carefully crafted not only to keep your components nice and safe but also to look gorgeous.
For a small game, the box is quite hefty and this is partly due to the durable thick cardboard used for the box itself and the player boards.
Opening up the box you are greeted with the four-player boards, each adorned with their own aptly named little dinosaur. There is Cry Ceratops, Nervous Rex, Bad Luck Bronto and Stego.
Each board is made of very thick and durable cardboard that folds open to reveal a score tracker and space to place your hand of cards. Along with the player boards, there is one main deck of cards, a second disaster deck of cards, a rule guide and, lastly, my personal favourite, little dino wooden meeples.
The Happy Little Dinosaurs cards each have the same colourful and cute art style that Unstable Games have become known for. And I have to be honest here, I am quite biased when it comes to the art as I absolutely love the bright and cartoony nature of it. Each card is nice and durable and has a linen finish, which helps when shuffling.
Lastly, there are the four wooden meeples each in the shape of their respective Dinosaur. Although Unstable Games could've used any type of token for each player, little details like these make their board games feel special.
The same strange humour that permeates most of the games in the Unstable Games stable is also present here.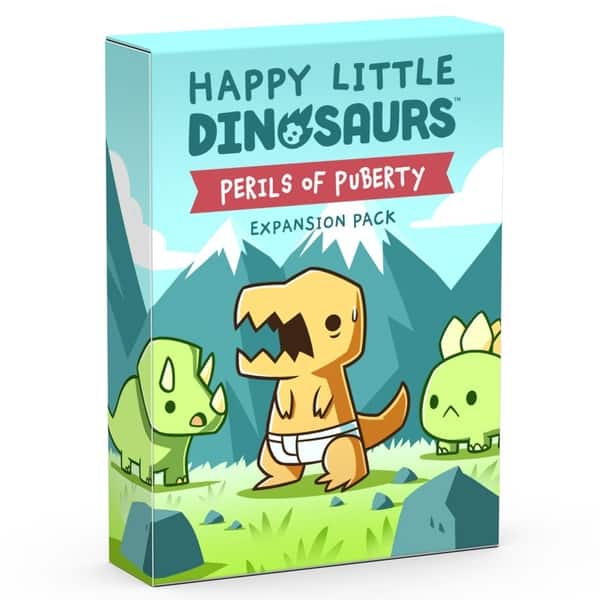 How do you play it?
As mentioned, Happy Little Dinosaurs is all about keeping your little dino fella alive long enough to be the last one standing. Alternatively, you could get 50 points before your opponents, which is far more difficult than it might seem at first.
At the beginning of a game, each player gets a player board, their corresponding dino meeple, and 5 light backed cards. That's all. The disaster card deck is placed in the middle of the play area along with the main deck and you are ready to rumble.
During each round, players will play cards from their hands to score points and negate some of the disasters that life throws their way. To start, one card from the disaster deck will be flipped over for all players to see.
Disaster cards come in three types: Natural Disasters, Predatory Disasters and Emotional Disasters.
After reading out loud what disaster could befall their little dinosaurs, each player will then choose one Point card to place face down in front of them. Should a player not have any Point cards in their hand, they must discard their hand of five cards and draw new ones. This continues until they have at least one Point card in their hand.
Once everyone has placed a card face down, all the cards are revealed simultaneously. The player with the highest score wins the round and moves their little meeple on the score track accordingly.
The poor little dino that ends up last then takes the face-up disaster card for themselves. As a consolation prize, they can also then decide to discard a card from their hand and draw another from the main deck. Plus, for each disaster card a player has on their side, they get to move forward one space on the score track.
See it's not all bad.
Players who collect three of the same type of disaster cards, or three different ones, have succumbed to the dangers of life and are immediately eliminated from the game.
Although a player's point score equates to the cards directly in front of them, the score can be affected by the specific dinosaur's traits (displayed on the player board), as well as point card effects and instant card effects.
The last player standing, or the first to score 50 points in total, is the winner.
What did we think of Happy Little Dinosaurs?
Happy Little Dinosaurs initially drew me in with its high-quality components and colourful visuals. However, once we played a few rounds, we fell in love with how easy the game was to pick up and play (also it has tiny little meeple dinos). We found that the game worked best as a filler game — similarly to how a starter gets you primed and ready for the main course.
What helps elevate Happy Little Dinosaurs from a good game to a great one is the quality of its components. Unstable Games have to be commended for putting so much effort into the quality of their board games.
If you have younger kids, this is a must-have for your collection. Not only did my two daughters immediately fall in love with the cute little dinosaurs, but the game was also easy enough for them to get to grips with.
Sure, as with many filler games, Happy Little Dinosaurs isn't very deep or complicated. However, we found this part of its charm as we could easily fit in a round or two in between all the daily activities.
For more information on Happy Little Dinosaurs, visit solarpop.co.za. The games retails for around R400 – R500 locally.
The Review
Happy Little Dinosaurs
Happy Little Dinosaurs is a fun and beautiful looking game that is easy to pick up and play in-between bigger board games.
PROS
Gorgeous components
Easy to learn
Sense of humour
CONS
Might be to lite for some
Review Breakdown
Gameplay

0%

Components

0%

Complexity vs. Depth

0%

Theme

0%