Are you ready to join the Gartic Phone game craze? Find out what one of the best party games is all about and learn how to play with our comprehensive guide!
RELATED: The 8 Most Bizarre Video Game Boss Battles
Social games are a great way to kill time and have perfect fun in the company of your friends. With the rise of remote experiences, it's great to have a social gaming activity to keep you occupied, even without the physical presence of people around you. People have been using applications like TeamSpeak and Discord Voice Chats to add voice capabilities to games that don't have them. Onrizon Social Games' Gartic Phone, popularised by Kameto on Twitch, is a phenomenal social gaming experience that has all the bells and whistles necessary to create an enjoyable experience for everyone playing.
The rules and mechanics of Gartic Phone are simple. In fact, the rules are pretty much a combination of two party games: Pictionary (the drawing game) and Broken Telephone (that telephone game where the first player whispers something into the next person's ear, and the next person has to pass on the original phrase or original sentence until the whisper reaches the turn of the original speaker) — also known as Chinese Whispers. However, there's a level of visual guidance that is available to help everyone follow the rules of the game.
In Gartic Phone, players will have to sketch a word/words and guess what those strange drawings represent. The game works by having the first player propose a sentence, and the second player draws (or at least tries their best to) and creates a drawing of the first sentence. The next player, the third player, will then need to guess what the sentence was. Following this, the subsequent player, if there is a fourth player, will follow the loop until the end of the game, where the players will have to compare the final sentence to the original starting sentence.
It is an exciting concept because it mainly relies on the illustrative skills of players and their interpretations of these drawings to create an experience. Gartic Phone simply provides rules, and the players are entirely left in charge of controlling how fun the experience is. The best thing about it? It is a free game.
RELATED: Pacman 30th Anniversary: Play The Best Google Easter Egg Game
How to play Gartic Phone
Head over to Gartic's official website on your desktop or mobile device and select Gartic Phone. You will see that there are a bunch of incredibly fun game options on the web browser, including Gartic.io, Gartic Phone, Gartic Bot and more. This article will focus specifically on Gartic Phone, but let us know if you want a guide on any of the other game modes.
Play as an anonymous player or log in using Twitch or Discord.
Select the number of players you want to add to the game.
Choose one of the game modes (maybe start with normal mode) or create a custom mode.
Click on the invite option and copy your game's id and send it to your friends.
Once they've joined, click on Start to begin.
Interesting modes to keep players engaged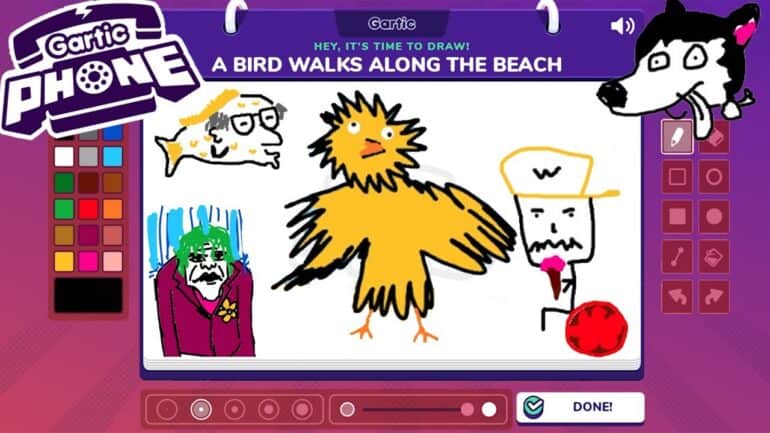 Gartic Phone features eleven game modes with varying levels of interest and participation required. So, if you and your friends are looking to up the ante of this mysterious word, you can play the 'Secret' mode (arguably the best game mode). There are also 'No Rush' and 'Speedrun' modes for players looking to take their time with drawings (without a time limit)and create a masterpiece or looking to create the most illustrative images within a short span of time in fewer turns. The different variations are all equally fun and offer a great time.
RELATED: Google Snake Game Easter Egg: How To Play & Rules Explained
The preset game mode consists of 12 Presets you can choose from:
Normal: The basis of Gartic Phone, where you write and draw alternately until you reach the end of the round.
Knock-Off: Replicate drawings while the clock gets faster.
Secret: Your creations are hidden during the game.
Animation: Create animations in collaboration with others.
Icebreaker: As the name suggests, you can ask questions and have fun with drawings.
Complement: You start with basic lines and see the other players' interpretation.
Masterpiece: There's no time limit on this one! The idea is to try your best to make a masterpiece of art.
Story: Using the first phrase, work together to weave a narrative.
Missing Piece: Instead of starting with a phrase, players start with an incomplete image, and each player's turn is spent adding a new part to the image that has gone missing.
Co-Op: Starting from a sentence, work and create together, adding a touch to the drawings each time.
Score: Attempt to gain the highest score.
Sandwich: Here, you start writing and drawing until the end.
Crowd: Played with 15 or more players.
Background: Create a fixed background for your animations.
Solo: Make animations in just five frames.
If you want something completely unique for your group of friends, Gartic Phone also has the option to create a custom mode. The custom mode is something that allows you to change certain settings such as the time requirement, task flows, turns, secrecy and a few other things. The final result is a game more suited to your playing style.
RELATED: Atari Breakout – The Secret Google Search Easter Egg
Gartic Phone is available on PC, tablets and smartphones in different languages (including Hebrew, Persian, Korean, and Vietnamese). As a browser-based online game, there are no limits regarding where the experience can be found. The only real requirement is an internet connection.
TL;DR
Gartic Phone is one of the best party games available at the moment.
The game is super easy to access and play, but we have instructions to make it even easier.
There are twelve different game modes for you and your friends or random players to enjoy.
Tell us, have you tried the Gartic Phone game?