There's no getting around it, battle royale games are here to stay. And that's not a bad thing at all. The more it grows, the more competitive the market becomes to create new and exciting games and enhanced features for existing entries. One such battle royale game for mobile is Garena Free Fire. Known by fans simply as Free Fire, the game is extremely popular on both Android and iOS platforms.
A View from the Top
To say that Garena Free Fire is quite popular is an understatement. It is easily among the top five battle royale games available today across platforms, with a not too shabby 100m daily active players. The game was originally released in 2017 and has grown massively since. Over the years, there have been quite a number of additional content released, bringing with it a fresh take on the game, most of which are based on time-limited collaborations.
The latest of these was the crossover event with Capcom for the Street Fighter V collaboration. The event includes the likes of Chun-Li and Ryu, arguable the two most popular Street Fighter characters over the years. It includes special skins to customise your existing players and culminated in a special event to end the collaboration in style.
The Developer Team
Free Fire was developed by Garena. Singaporean online game developer is well-respective in the mobile space, having quite a number of significant titles under its belt to date. This includes the likes of FIFA Online 4, Ring of Elysium, Blade & Soul and even the likes of Call of Duty: Mobile.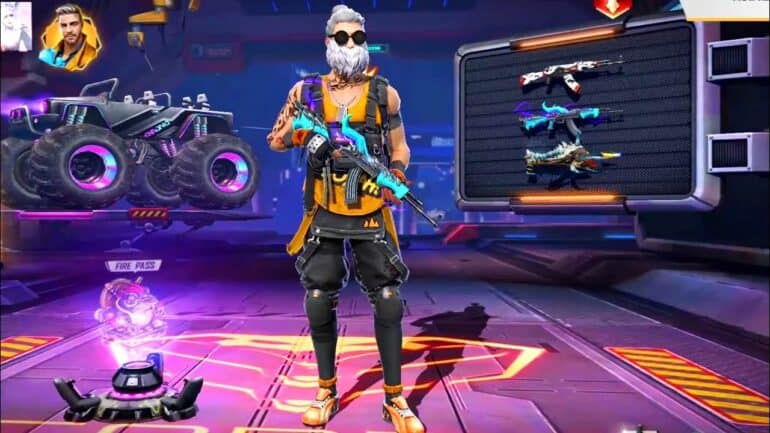 Free Fire – A Free-For-All
As with many other battle royale games, Free Fire is free-to-play. It is classified as an "action-shooter", where playing join a lobby and get dropped into the arena (or map) to fight their way to the top. For the most part, it's a fight-to-the-death dynamic, where the aim is to kill your opponents to take the number one spot at the end of the day.
Players are selected in batches of 50 from the lobby at random and thrown into the fold to come out on top. Upon starting, you're airlifted across an island where you can then choose where to jump off to start your search for resources, including guns, armour, health and more.
As time progresses, players are expected to stay with a bubble, known as the safe area, which is constantly shrinking, making the playing area smaller as the number of players left in-game reduces. The game ends once all other players have been killed where only one remains as the victor.
What Parents Need to Know About Garena Free Fire
Free Fire is a semi-realistic action game. This means that there is quite a bit of action and violence presented in the game, which includes showing some blood when shot and players then dropping dead thereafter. For most of us, this seems trivial and wouldn't affect us. Having said that, being a mobile game, there's always the chance that young kids may download or play Free Fire. The game has a 13+ age restriction, so it's worth noting as a parent.
Once you've given permission to your kid the go-ahead when acknowledging the violence, there are a few additional elements to consider as well. The first of these is the in-game purchases. There's a big push on many free-to-play titles to include this element within the game, and Free Fire is no different. Content such as skins, guns, pets and more all have a payment model. They don't contribute to better or advantageous gameplay but does add to the game's aesthetic.
And speaking of custom skins, it is also worth parents noting that there are some outfits that may not be for everyone's eyes. Outfits for female characters can be provocative, such as the "sexy nurse" or "sexy schoolgirl" and the various collabs every so often. The custom elements such as guns may also not always be welcome for some parents to share with their kids.
And finally, there's the open-mic framework, which allows players on teams to communicate with each other. While the majority of the game talk is friendly and safe, it does open up the potential to online bullying and the likes.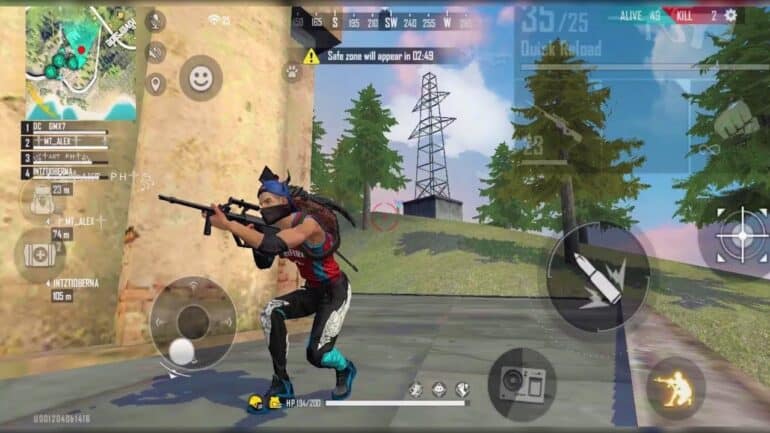 A Great Time-Killer
Although I was familiar with the game for quite some time now, it was never on my radar. Often times my mobile game time is primarily for the quick time-killers where I have a five to 10-minute gap. Saying that, I was surprised upon my first jump into Garena Free Fire as to how easy it is to negotiate and just get straight into it. Not only was it easy to learn, but it's also just as easy to play. This makes it all the more enjoyable from my perspective.
There aren't as many of the pitfalls I have with a few other battle royale games, those that require hours of practice and screentime before you can make any reasonable progression in the game to compete at all. Instead, the playing field is far more equal, stripping out a lot of the over-the-top requirements and leaving as much of the basic game dynamics for you to enjoy. As a result of this, you won't be spending long periods of time between games, as it was specifically designed for mobile. This makes it a perfect time-killer game, even if you have just 10 minutes available.
While the gameplay dynamic is fairly simple, there's a lot of peripherals to the game. Many of these are cosmetic in nature. You can customise the appearance to multiple levels, even including your guns, pets and more. Options and features in line with this can keep you busy for hours if you so choose where players can go into great detail with their customisations.
Conclusion
There's a lot to love about Garena Free Fire, from its simplistic gaming style to the in-depth customisation of your characters. Whether you wish to spend money on in-app purchases is entirely up to you, where you can enjoy the game irrespective of which you choose. It's a great time-killer game, and won't take up too much of your time if you're looking for a quick time-filler between meetings and the likes.
The Review
Garena Free Fire
Garena Free Fire is a quick and easy game to play on your mobile. It doesn't take too much time to learn, nor so when you're in-game competing to be the final survivor. It's great fun overall.
PROS
Extremely easy to pick-up-and-play
Easy controls
Good graphics
CONS
A lot of in-game purchases
Lobbies are slow to connect depending on time of day
Review Breakdown
Gameplay

0%

Graphics

0%

Replay Value

0%

Sound and Music

0%