The Acer ConceptD 7 Pro is a great laptop.
In Q4 of 2020, Acer announced its ConceptD range at the next@acer virtual event. Fortress has already featured two previous reviews from the range, including the ConceptD 7 Ezel, as well as the ConceptD 500.
While the two devices were featured in completely different categories, there were quite a few similarities in the design approach – and not just the white colour scheme. Today, I review the Acer ConceptD 7 Pro, which breaks the trend in design from the first two units. However, it's what's under the hood that matters most here.
The entire ConceptD range has been geared towards professionals, creatives, content creators and more. In that sense, the Acer ConceptD 7 Pro fits perfectly into this mould. But while the first two units reviewed achieved those goals, as well as doubling as an everyday device for the everyday user, the Pro not only jumps off the fence, it runs completely towards the other end.
Let's unpack that further to understand.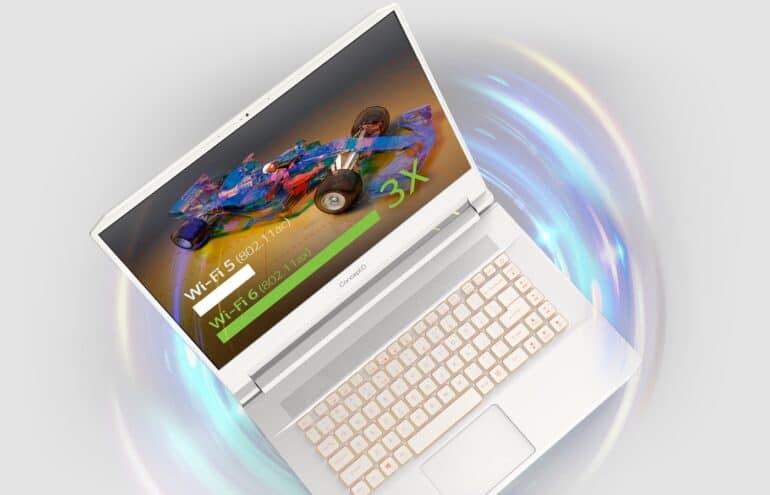 Acer ConceptD 7 Pro Build and Design
The first thing to note about the Acer ConceptD 7 Pro, as mentioned, is that it doesn't follow the same brand of aesthetic that made the first two units distinct. Instead, it offers a more subtle design and ditches the white colour scheme as well. That said, there is a white variant of the unit, however, we received a matte black version, which drives home the message a little clearer.
The minimalist and restrained approach of the design is great. At least, that's my opinion. The unit wouldn't be out of place in the studio, creative spaces, the office, in a coffee shop or at home. That's not to say that the other units in the ConceptD range aren't good-looking units, but each has their own selling points. Switching to the black variant means that you won't pick up dirt as easily either – or, at least, not as visible.
On the more technical details, it has dimensions of 17.9×358.5x255mm. This is larger than your average 15.6" display units, but not overwhelmingly so. It also weighs just above 2.1KG. It's not a lightweight unit as with the Ultrabook range, but it's not bulky either. Somewhere in the middle.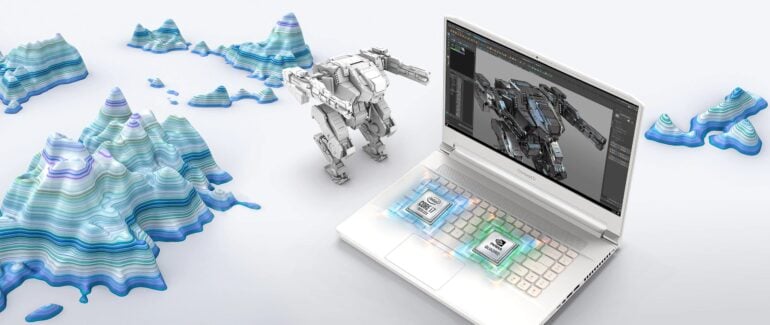 Connectivity and Ports
When it comes to ports, the Acer ConceptD 7 Pro has the entire bag. This includes x3 USB 3.1 ports, full HDMI 2.0 port, mini-DisplayPort 1.4, an Ethernet port as well as a ThunderBolt 3 USB Type-C to round it off. In addition, it also includes the 3.5mm audio jack and the DC-in connector.
This makes it ideal for connecting multiple monitors, and various peripherals as and when needed. It's also ideal since you don't really need an adapter or hub for any additional devices.
However, being a laptop for content creators, it would have been ideal to fit an SD card slot. This would make it perfect for photographers, videographers and the likes.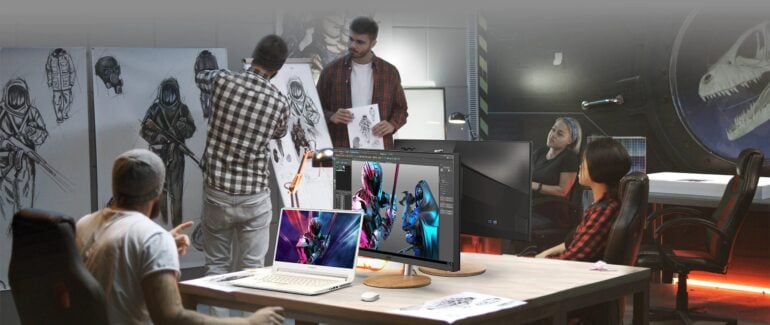 Screen and Display
Acer has bolted on a 17" panel to the lid. It's a non-touch display but is 4K with a 3840x2160px resolution. While the 4K screen is a bold decision, with many other OEMs offering 1080p resolutions even at this size, it works well, especially with Microsoft Windows' zoom function, which doesn't feel out of place.
The IPS panel does the job. It covers 100% of the Adobe RGB colour gamut. Additionally, it has been tested and calibrated to achieve a very low Delta E average. This means that the Acer ConceptD 7 Pro has a very accurate colour reproduction. This, again, is great for the editors and creators out there.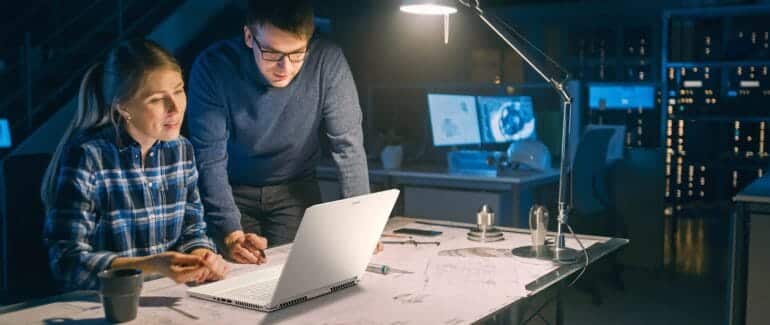 Acer ConceptD 7 Pro Specifications
The Acer ConceptD 7 Pro was built for performance in mind. This aligns with its target market for content creators, editors, artists and the likes. It features Intel's 10th-generation Core™ i7-10750H CPU to get the ball rolling. It's not the latest generation Intel CPU, but it still packs a solid punch. In addition to the powerful CPU, it features 32GB DDR4 2666Mhz RAM. For higher-end editing, I would recommend the 64GB option, but this is plenty to start off with. If you do require additional memory, there is room to expand.
When it comes to the GPU, Acer has opted for computational performance over gaming requirements. As a result, the brand has fitted the Nvidia Quadro RTX 3000 GPU under the hood. Although the underlying architecture framework may be the same across the latest generation of GPUs, it has boosted memory amongst other increases in capacity. That said, it still doubles neatly as a gaming GPU when required.
When it comes to storage, most modern performance laptops won't be taken seriously without an NVMe card. The unit features Western Digital's PC SN720 NVMe™ SSD with a 1TB storage capacity. The module may be some two years old now, but it's still solidly within the top 15 SSDs in the market, with its successors in the top three.
To round off the specifications, it sports a 59Wh Li-Ion battery and comes standard with Windows 10 Pro operating system.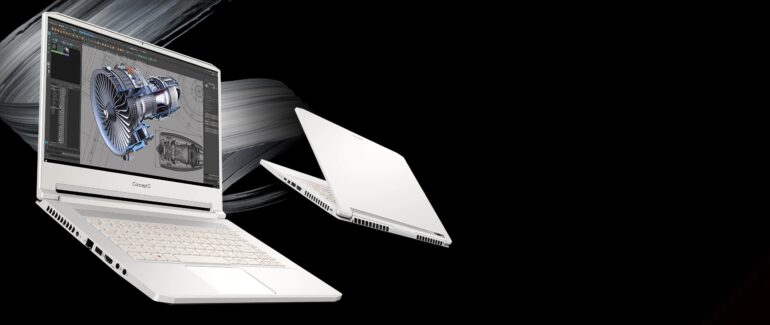 Performance
When it comes to the performance of the Acer ConceptD 7 Pro, it delivers in all areas. It doesn't just look good on paper, but does the job in real-world tests as well as benchmark scores.
For everyday multitasking, we ran all the usual tests. This includes multiple browser tab viewing, playing videos in 4K over WiFi, and pretty much everything we could throw at it at once. It kept going without any stutters or lag. Load times are also great.
Across the various tests, the device always performed above the average scores from similar units in its category. That said, when it came to GPU benchmarks, it outscored most of these same laptops. That's largely in part thanks to the Nvidia Quadro RTX 3000 card.
What's great about this GPU is that after you're done with your work, you can switch things up and enjoy a game or two without any issues. Users can still expect high-end graphics, running in 4K on full graphics for most AAA titles. It's impressive.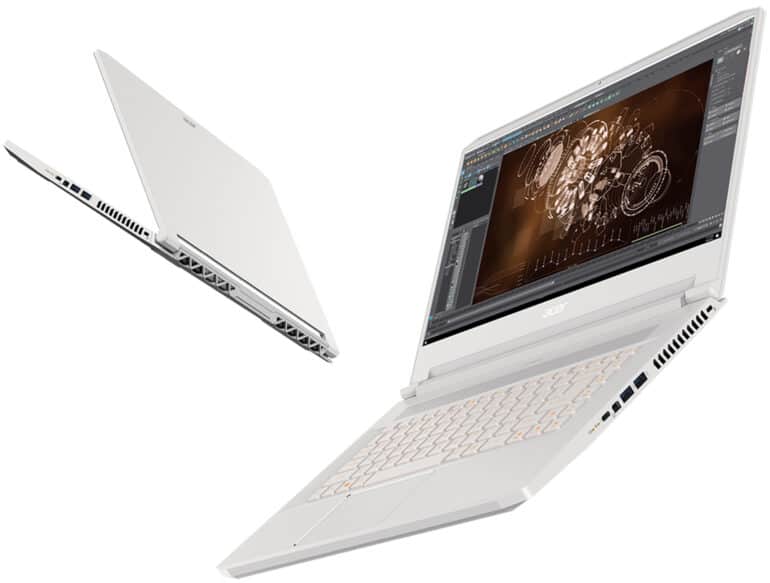 Acer ConceptD 7 Pro Battery Life
When it comes to battery life, it delivers a decent operational period between charges. However, it's not as great as some of the other performance areas.
Using benchmark tests on maximum performance, the battery drained just short of 100 hours. Under video watching and similar benchmarks, the battery was more impressive six-plus hours. Using typical office applications and general usage, the average dropped to about 3.5 hours. Doing a few renders and other content creator tasks, the battery life average between four and five hours, which isn't bad. That said, when doing video rendering, which requires more computational power, the battery lasted just shy of three hours at a time.
At the end of the day, it's reasonable, but not great. It gets the job done without you needing to worry whether you're going to make it between work sessions when you've forgotten your charger.
Final thoughts on the Acer ConceptD 7 Pro
Whether you're creating content or relaxing with a few gaming sessions, the Acer ConceptD 7 Pro has you covered across the board. The GPU performances along with the superfast read and write speeds make it extremely snappy, even under high workloads.
The pricing of the unit is steep, but not the priciest we've seen. The base model starts at R46,999 – a similar variant to what was reviewed here – all the way up to R68,9999. A 4K screen, Quadro GPU and NVMe drive make sure that you're able to extract all the performance you need with that price tag.
The Review
Acer ConceptD 7 Pro
The Acer ConceptD 7 Pro provides great performances across the board. It has an exceptional GPU, which delivers great performance when it comes to getting through your rendering and editing work in a breeze. It does carry a high starting price, but it's more than justified by the overall results.
PROS
Excellent all-round performance
Even better GPU performance
Great read/write speeds
Covers most ports
CONS
A tad bit steep on pricing
Tad bit heavy
Battery life could be better
Review Breakdown
Ease of Learning

0%

Ease of Use

0%

Design

0%

Performance

0%

Enjoyment

0%

Value for Money

0%