As the number of gaming grow both across the globe and South Africa, brands continue to push for more products to meet the demand. More often than not, these brands cater to the entry and mid-level gamers with a limited number of options in the premium range. With the weak Rand against the Dollar, it's understandable why there isn't much more available in-country. That said, there are options for users with deeper pockets than the average gamer. Acer has a range of gaming laptops across various categories. The Acer Predator Triton 900 is a gaming laptop with a few unique aspects thrown in for wider appeal. It may not be the brand's most high-end gaming laptop, but it's very premium.
Acer Predator Triton 900 Build and Design
Even before unboxing has been completed, you'll no doubt notice quite a lot about the Triton 900. It's quite a beast of a laptop, even by gaming laptop standards. When it's resting flat on the table, there are a few things to notice.
First, there's quite a large Predator logo in the centre. The icon is highlighted in neon blue when powered on and while many other light elements can be configured, the icon cannot – or at least I wasn't able to. The second notable aspect of the laptop you'll notice is its wings. The Acer Predator Triton 900 doesn't have the conventional hinger between the lid and keyboard, instead having two separate hinges on either side of the screen. But it's not all just for show. In fact, it's very handy. The screen can clip out from the hinge and be moved forward, resting close to the front than usual.
There's quite a large gap between on top of the keyboard, which allows for plenty of room for adjustment. Further to this, the screen can be tilted 180° if required and then, even you needed more, it can be rested flat, turning the unit into a giant tablet. The hinge is extremely well-made, allowing it to be positioned with the screen in "mid-air" without falling back down. This very useful when you're switching from your desk to your lap or from typing to gaming.
Going back to the point on the space between the keyboard and the rear, I'm not sure what the plan was in terms of the design. I can see why there's a gap, but no explanation as to the see-through plastic, which means you can see the cooling pipes and the right-hand side fan. The fan itself has its own colour configuration, which means you can change its colour different to anything else on the laptop.
There's quite a lot of ventilation on the Acer Predator Triton 900, which runs from the left-hand side to the rear and then on the right-hand side as well. The left-hand side vents are almost twice as long, at least in appearance than on the right. The rear itself is split into two sections for the vents, both of which have a triangular theme. All of the vents are coloured similar to that of the neon blue logo.
When it comes to ports, the Triton 900 has you covered. On the left, you'll find a standard USB 3.1 Type-A port, two 3.5mm audio ports and then a push-to-open USB 2.0 port. This port is hidden away by means of a swinging arm. There are several uses for this I can provide, based on experience.
Firstly, when using any device, such as a controller that's plugged in, you can easily move around while the port also does, meaning less wear and tear on the cables. The other use I picked up is that it allows you to keep a small-enough flash drive plugged in while on the go, as it simply folds out of harm's way.
Moving to actual specifications, the Triton 900 isn't a small or light gaming laptop. While we've reviewed many of those recently, there's a lot more to this unit, which means that it needs the extra weight for robustness. It measures in at 429.3×302.3×23.6mm while weighing 4.13KG. That's quite a lot of weight and not something you'll be moving around with at ease over long periods of time. That said, it's still thinner and lighter than other units in the same category, including the ROG Mothership7 GZ700, Alienware Area 51m and even the much less powerful, Acer Predator Helios 500.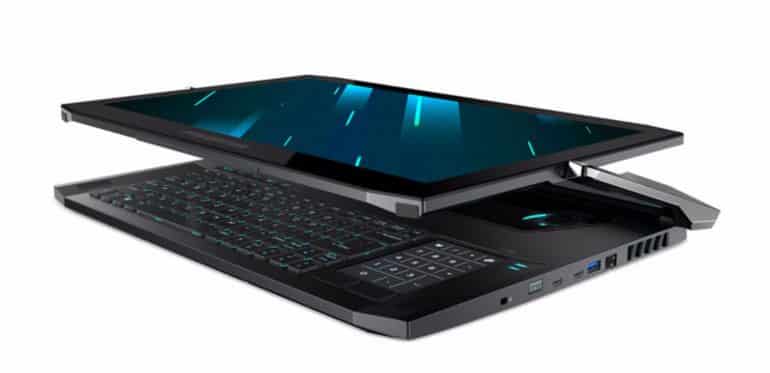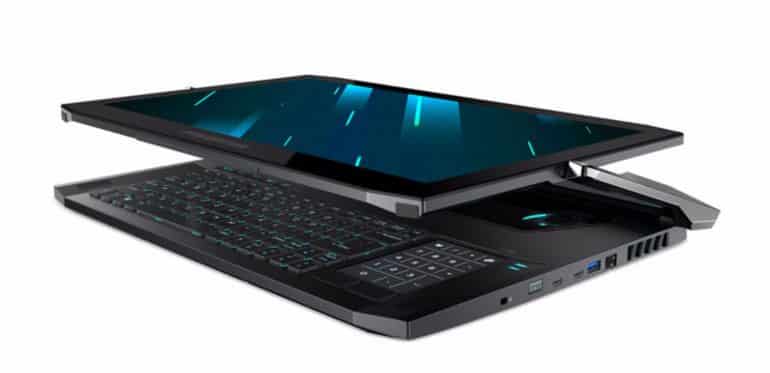 Acer Predator Triton 900 Touchpad and Keyboard
For most laptops I review, I generally just add a small paragraph under the Build and Design section for the touchpad and keyboard, since there's not usually much to write about. But things are different for the Triton 900 – both good and bad.
Starting with the keyboard. The keys have individual backlighting, which means you can give each one a unique RGB colour by means of Acer's PredatorSense software (more detail in the Software section). Users can also choose from static or dynamic lighting, which has several preloaded effects to choose from. Most are pretty cool to look at or show off with but don't really add value when typing, especially at night.
As already mentioned, the keyboard is positioned quite far forward compared to standard laptops, as a result of the hinged screen. As a result, the touchpad is moved over to the right-hand side, narrowing the keyboard layout. For the most part, the layout is fine but becomes more compact and trickier to use the further right you move. The standard Home, End, etc. keys are shrunk down to the size of standard keys, while also being awkwardly positioned, some of which even require the Function key combo.
There are very limited shortcuts on the keyboard as well, limited to just three of four buttons, all positioned on the top left side. The first "P" key (assuming it stands for Profile) allows users to choose from three different profile. Each of these profiles then allows you to customise the three buttons to the right, with the fourth button being the Turbo mode shortcut. The cool thing about those three buttons is that they can be almost anything you can think of – in the realms of what Windows is capable of.
There are some presets to choose from, like fan speed, gaming mode, audio mode, etc. You can then also create a set of macros to be saved, which can then also be activated. Essentially, users can have up to nine different shortcuts. This is quite useful, especially for certain games with a set keyboard combination for spells, fight styles, etc. Overall, however, it's a mixed bag of goods on the keyboard.
As a result of being moved over to the far right, the touchpad now has a portrait layout, which is quite a lot narrower. The matte finish fits in with the overall theme. It's quite easy to use and I had no real negative feelings towards it. The two buttons below, however, are quite awkward to use, even while they're quite large. Where the touchpad really comes into its own is by switching to the numeric keyboard with a double-tap of the capacitive button on the top right. I've always been a fan of a keyboard layout that included the Numpad, so it's nice to see it's available if I do need it. The only notable addition to the Numpad is the PredatorSense icon, which is a shortcut to open the software.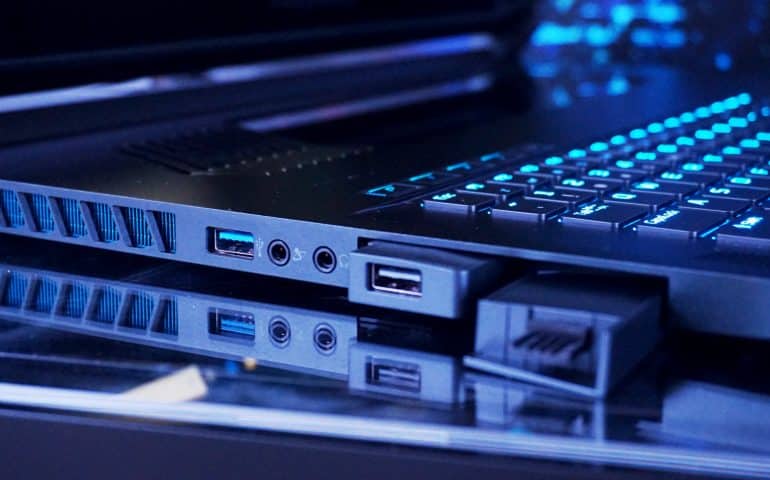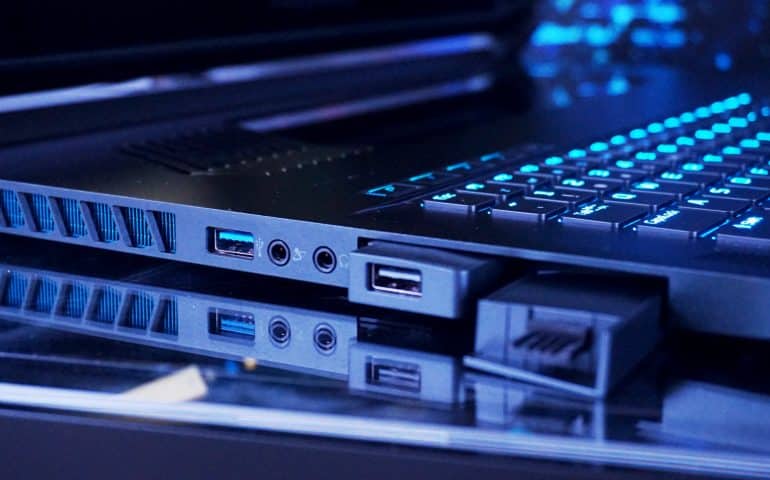 Triton 900 Screen and Display
The laptop has a 17.3" screen with an IPS panel and a 3,840×2,160px (4K) touchscreen display. It covers 100% Adobe RGB, which looks good visually. At its highest setting, it's not the brightest of screens measuring around 340 nits, although I never had any issues with during the daytime. It has a glossy finish, which means that there is a bit of a reflection, especially used in bright light. The 4K resolution is also impressive, allowing you to do more onscreen when working with multiple files.
Unfortunately for gamers, the refresh rate is limited to just 60Hz, which means you won't be making the most of the GPU and 4K resolution screen. The device does support Nvidia G-Sync, which means you're able to add a second screen for best results. However, given the price of the Acer Predator Triton 900, it's not an absurd request for it to have been included either 144Hz or 240Hz from the start.
As mentioned previously, the special hinges allow users to turn the Triton 900 into a giant tablet. It may not be easy to carry around as such, but it works great when lying flat on any surface. For designers, artists, etc. this is quite nice to have.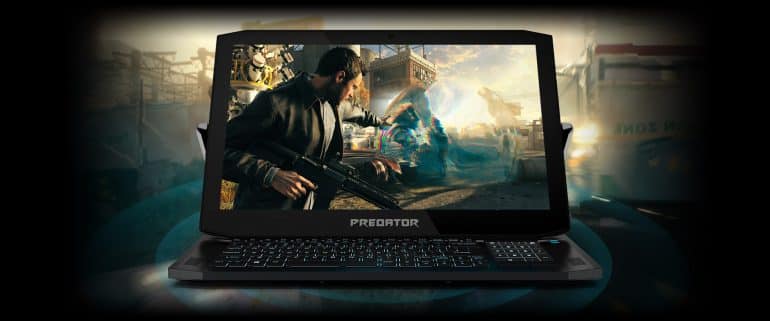 Triton 900 Performance and Battery
In terms of the hardware specifications, the Triton 900 has an Intel Core i7-8750H 2.2Ghz CPU, an overclockable Nvidia GeForce RTX 2080 GPU, coupled with 32GB DDR4 and 1TB NVMe SSD. Having received the 2019 version of the laptop, it still sports the 8th-generation Intel CPU, which has been upgraded to 9th-generation CPUs in the later models. In addition to this, there are also higher specked models with i9 processors, including the beastly eight-core Core i9-9980HK CPU, which can be overclocked to 5GHz.
In terms of outright performance, the Acer Predator Triton 900 has all the power you may need under the hood. For general office use, under as much load as I could put it there were no lag issues to speak of. In terms of gaming performance, the unit fairs just as good. Playing through most modern games at 4K using default settings is easily capable of frame rates above 100fps. Moving towards the Ultra settings for applicable games, things do drop quite a bit, but still capable of hitting well above the 60fps mark.
Switching to Turbo mode, which boosts the GPU performances by overclocking, the performances were much better, reaching closer to 100fps. Comparing its benchmark performances (such as 3DMark), it scores quite high, but falls below the heights reached by the ROG Mothership7 GZ700 and Alienware Area 51m units, although not by much. Switching to 1080p resolution the Triton 900 is capable of reaching well over 150fps for most games I tested (GTA V, Shadow of the Tomb Raider, Borderlans 3, etc.), which would make a compelling case against the limiting 60Hz screen refresh rate.
When it comes to battery life, however, the results aren't as noteworthy. For the basic browser and video playback stress tests, the unit managed just over 90 minutes on average. This without it entering Turbo mode. Switching it up while gaming, battery life is even less impressive under 60 minutes of game time. Needless to say, you won't often find yourself too far from a power outlet with the Triton 900.
Triton 900 Software
The Acer PredatorSense software is a good pre-installed software on the Triton 900. There are a few other pre-installed applications, but not really worth spending time on. There's quite a bit more to the PredatorSense app than just adjusting the keyboard lighting, as it allows users to configure quite a number of settings. These include the power modes, the fan speeds, hotkeys, hardware monitoring and the likes. For casual users, many of these won't be of any real significance, but if you're a proud owner of the Triton 900, I can imagine you would know your way around some technical elements to get the most out of the laptop, especially while gaming.
There's also a nifty smartphone app for Android and iOS users, which gives you visibility of the current stats while you're gaming, while also allowing you to turn on Turbo mode, etc. as and when needed. Setting up is a breeze, simply download the app, then scan the QR code to pair and you're good to go.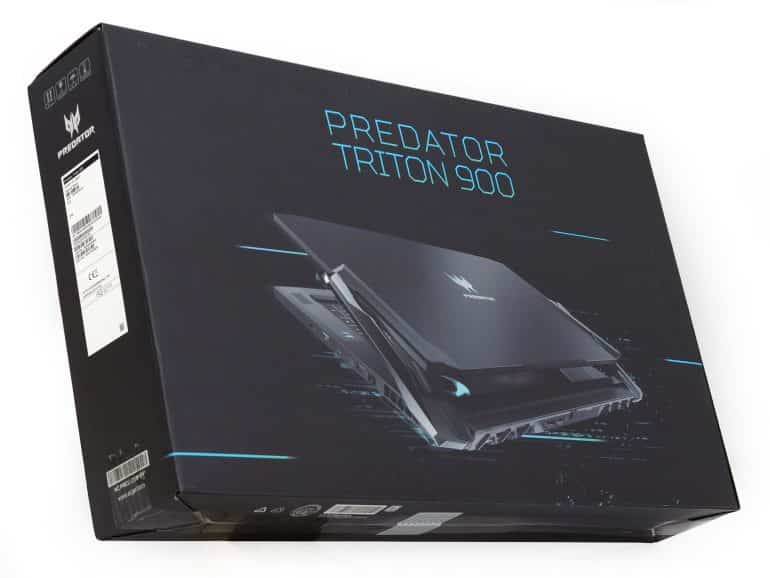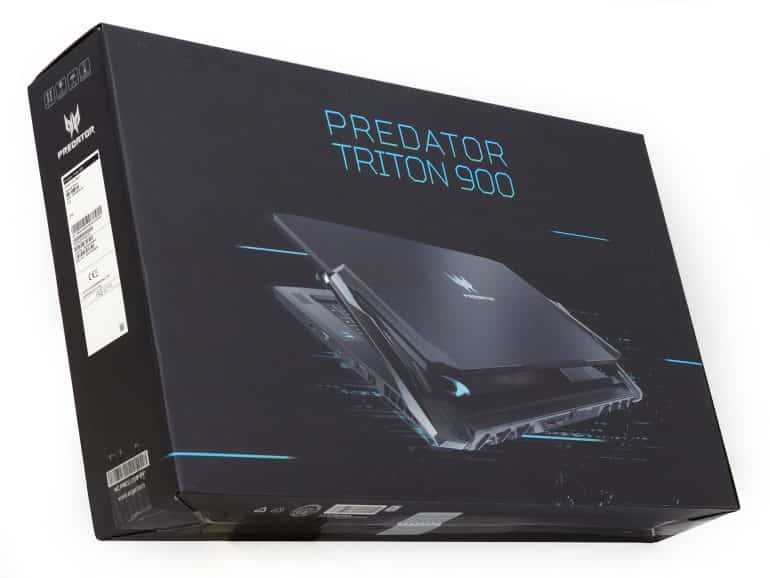 Conclusion
The Acer Predator Triton 900 is definitely a powerful gaming laptop, which was more than capable of holding its own. Its uniquely-hinged screen adds flexibility to how the device is used while working, watching videos and gaming. It's 4K touchscreen also adds an element of creativity for designers, but lacks the full colour and brightness for those who design for a living. The standout performances is from gaming, easily averaging around 100fps on high settings. The laptop, however, is priced quite high at around R70,000. That said, it delivers where it counts to justify its price.
The Review
Acer Predator Triton 900
The Acer Predator Triton 900 is a great gaming laptop with additional and unique features. It may be a bit on the pricey side, but well worth it if you can afford it.
PROS
Powerful
Unique flip screen
4K Touchscreen
CONS
Poor battery life
Limited to 60Hz refresh rate
Review Breakdown
Ease of Learning

0%

Ease of Use

0%

Design

0%

Performance

0%

Enjoyment

0%

Value for Money

0%