Towards the end of 2021, I reviewed my first Chrome OS laptop in the form of the Acer Chromebook 713. The brand had launched its first Chromebook range at the end of 2020, which has seen some favourable reviews. This time around, we take a closer look at the Acer Chromebook 311.
While the 713 was one of the higher-end models in the range, the Acer Chromebook 311 is on the opposite end of the scale. Although not comparable with the former, this entry-level device is still easily capable of running the latest Chrome OS.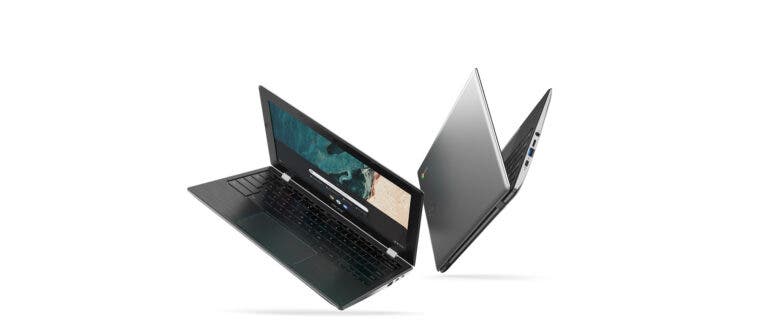 Acer Chromebook 311 Build and Design
Being an entry-level laptop, there wasn't any great expectation when it comes to the way of frills on the Acer Chromebook 311. The unit isn't necessarily a looker but isn't badly designed either.
The unit is very compact with a lightweight build to go with it. It can fit into your bag quite easily, even some handbags for that matter, and won't be an issue to lug around. It has a mostly plastic polymer build, which feels pretty solid.
The plastic bezel around the screen is quite large by modern standards. Unlike the Spin variation of the unit, which flips around into tablet mode, the Acer Chromebook 311's hinges only extend to 180°. The Spin also has a more premium-looking glass panel, even though it also still has the same large bezel around the screen.
Being a compact laptop, you're not going to be having much in the way of real estate for your keys. It does take a bit of getting used to when switching from other laptops. That doesn't mean it's an issue, however, as you'll quickly adjust. Where there is a bit of an issue is that the keys don't have any backlighting at all. This makes it a bit trickier to learn, especially when using the non-QWERTY keys.
Overall, the design is fairly decent, delivering decent results while still keeping the costs down. It doesn't feel cheap at all. However, if you're not used to the compact frame, there is a small learning curve.
Ports and More
The unit offers a decent amount of ports for its size. On the left-hand side, you'll find a Type-C USB port, a Type-A USB port and the 3.5mm jack. The right-hand side includes a Kensington lock, as well as a second Type-C and Type-A port.
What's nice about the inclusion of the Type-C ports, is that they both double as charging points for the unit. The contents of the unit come standard with its own Type-C charge. While you're still able to use your mobile charger to power the unit, it's a bit slower to charge. That said, when there's a power outage, you're still able to keep going using a portable charger, which is really useful.
In terms of wireless connectivity, it offers WiFi (802.11ac) and Bluetooth 5.0 support.
I've never been one who enjoys using the laptop's trackpad. However, the one in use on the Acer Chromebook 311 is definitely not the greatest. It doesn't help that the default scrolling isn't the modern standard. You'll need to change that in the settings to "reverse scrolling" which, thankfully, is available. It also doesn't offer the same gesture approach as many other trackpads. Instead, to use some of the gestures that are available, you'll need to first press and hold the Ctrl button.
Screen and Display
Being a compact unit, it's expected that the screen will also be on the smaller side. It measures 11.6" with an IPS panel. This is a throwback to earlier laptops from the 90s and early 2000s.
Additionally, the Acer Chromebook 311 also has a 1,366x768px resolution display. This was the standard a decade ago. One would have expected that in 2022, even for an entry-level unit, the display would be at least full HD at 1080p.
For smartphones, the 720p resolution wouldn't be an issue due to the size of the device. However, on an 11.6" panel, you're going to notice some of the graininess that follows. And if you get really close up, you'll see even more of presenting itself. It still gets the job done and, perhaps, at its price point, will be something many users will overlook.
It's also not the brightest screen around. Even on full brightness, it's no match for an environment that picks up a lot of sun, especially when it gets low and shines indirectly through the windows.
Colour reproduction is still great, however. Watching HD videos still look good, despite it being down on resolution. The contrast is also quite good. That said, the blacks aren't very black when compared to other screens side-by-side. There's also some light bleeding on two points on the right-hand side of the screen.
There's a notable difference in watching 720p and 1080p videos, with the latter being quite a lot better. However, that's not the same when watching 4K videos versus 1080p. There's a limit to how much descaling work on higher resolution videos will make the image appear better than the limitations of its 720p screen.
Configuration
In terms of the configuration of the Acer Chromebook 311, it's quite decent on paper.
It runs on an Intel Celeron N4000 CPU, which has a built-in Intel UHD Graphics GPU. Running on Chrome OS, you get access to the Google Play Store. This means that you're able to download quite a bit of games from the app store, which all run fairly smoothly.
Additional specs include 4GB of RAM as well as 32GB of eMMC storage. 12GB of the internal storage is taken by the operating system already. But, given that most of the requirements for running Chrome OS are largely server-based, you'll be fine with the Play Store apps without additional storage.
That said, if you're going to be using this device for projects and work, then an external drive is definitely a requirement.
The laptop also comes with its own HD Camera and Microphone. These are decent, relatively speaking. It gets the job done when in Duo, Zoom or Teams meetings.
Performance and Battery
With Chrome OS being quite lightweight, the performance results are still good. Even with the lower-tiered CPU and GPU, you're still able to run all required apps, while also being able to play some of the latest games on the Play Store.
What's really great about the performance of the laptop, even with its specifications, is that it can run 4K video, supported on a 4K monitor. Watching 4K content on YouTube and other streaming services looks great, while there weren't any glitches to speak of in this regard.
While I'm still not a Chrome OS power user, the unit can pretty much tackle anything it can install and run. You won't have many (if any) issues when using this for everyday use, even at the office.
Where the unit will slow down quite drastically is if you were to attempt to render HD videos after editing. It will take quite some time to produce.
When it comes to the battery life, with its small screen, it can easily pass the 8-hour mark. The rating is around 10 hours in factory conditions under normal load. I was able to eke out just shy of this mark a few times during the day, which was impressive.
And, as stated previously, with the Type-C charging options, you're all set for extending the usage by using a portable charger.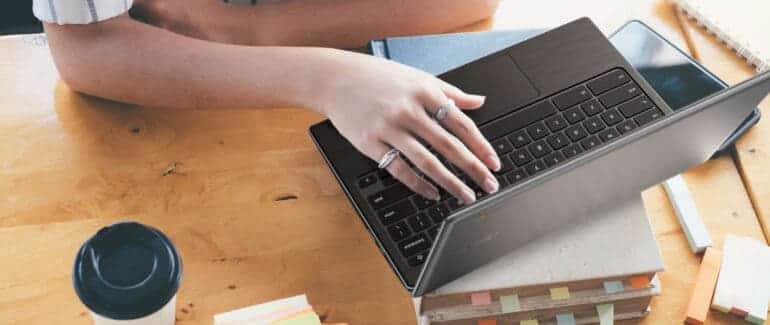 Conclusion
For its price point, the Acer Chromebook 311 delivers quite a decent set of results. The unit was released a few months ago, and pricing has dropped to around R4,999, which makes it quite a bargain buy by today's standards.
You're not getting the touchscreen interface, but it's still a very solid laptop with decent performance. This unit would suit any student, both in terms of its low cost, as well as its portability.
The Review
Acer Chromebook 311
The Acer Chromebook 311 is a very well-rounded compact laptop. Minus a few shortcomings due to cost savings, it still performs well, and even with the lower resolution display, it has good colour reproduction. Best of all, it is extremely affordable.
PROS
Affordable
Portable
Great battery life
Good colour reproduction
CONS
Low-resolution display
Basic design
Lack of internal storage
Review Breakdown
Ease of Learning

0%

Ease of Use

0%

Design

0%

Performance

0%

Enjoyment

0%

Value for Money

0%