Scooby-Doo and the Mystery Inc. gang are heading back to theatres on May 15, 2020, with an all-new animated movie, Scoob!
Scoob! follows the story of lifelong friends Scooby and Shaggy – from their first meeting, to how they teamed up with young detectives Fred, Velma and Daphne to form Mystery Inc. With hundreds of adventures shared and cases solved, Scooby and the gang face their most challenging mystery ever: A plot to unleash the ghost dog Cerberus on the world. As the gang race to stop this global "dogpocalypse," they discover that Scooby has a secret legacy and an epic destiny greater than anyone ever imagined.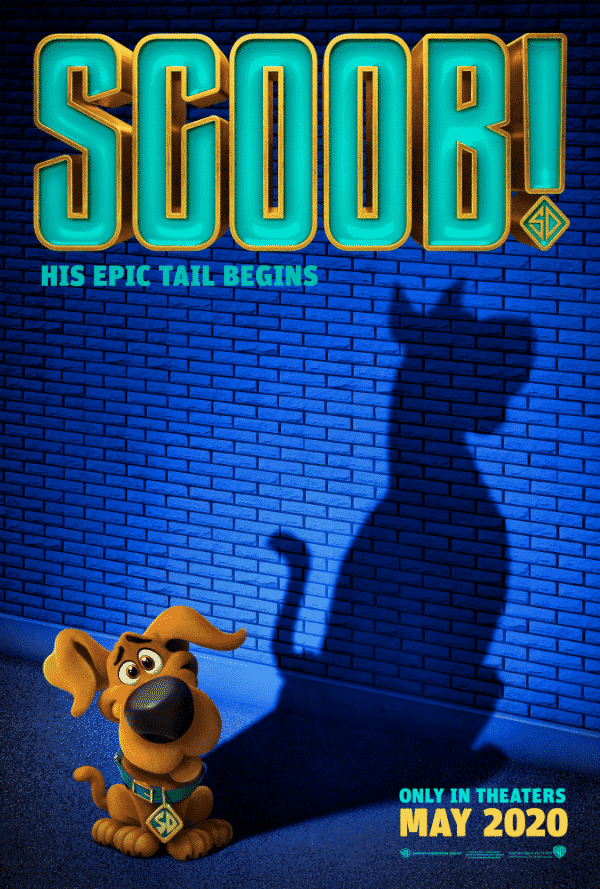 The trailer opens with Shaggy and Scooby-Doo discussing their new film inside a movie theatre.
Scooby: "Maybe it's time we make a new movie."
Shaggy: "Good idea, Scoob. But first, we need a trailer. Can you do the trailer guy voice?"
Scooby gives it his best shot: "In a world destroyed by evil, discover the epic origin story of the greatest team of heroes in the history of mystery."
The trailer simultaneously reveals a mysterious spacecraft hovering in the sky before cutting to montage of the gang solving crimes. We're then treated to a flashback of how Shaggy and Scooby's first met. We also get to see how the entire gang got together as kids on Halloween.
Back in the present, Scooby and Shaggy are seen running away from robot-insect like creatures, until a beam of light suddenly whisks them away. The trailer ends with Fred, Velma and Daphne searching for clues to find their friends.
Frank Welker returns as the voice of Scooby-Doo. The rest of the iconic characters have been recast and include Zac Efron as Fred, Gina Rodriguez as Velma, Amanda Seyfried as Daphne, and Will Forte as Shaggy.
Scoob! is directed by Tony Cervone (Scooby-Doo! and KISS: Rock and Roll Mystery), with a screenplay written by Kelly Fremon Craig. The movie also features Tracy Morgan as Captain Caveman, Ken Jeong as Dynomutt, Mark Wahlberg as Blue Falcon, and Jason Isaacs as Dick Dastardly.
The Scooby-Doo franchise was first launched in 1969 with the original animated series Scooby-Doo, Where Are You! Each episode followed Mystery Inc, a group of teenagers who solved mysteries, which at first appear to be paranormal, but were usually the result of trickery by criminal masterminds.
Since then the Scooby-Doo franchise has expanded to include a variety of spin-offs, reboots and feature films featuring the Mystery Inc. gang. The characters also starred in 2002's live-action movie Scooby-Doo, with the sequel Scooby-Doo 2: Monsters Unleashed arriving in 2004.