A picture of a newspaper clipping revealing the release date of  Zack Snyder's new movie, Army of the Dead, has been doing the rounds on social media. If this unlikely source is correct, the zombie heist film is set to hit Netflix sometime this May.
Whilst the streaming service has yet to release any official date for Army of the Dead, the newspaper clipping seems rather certain that the movie will be released in May 2021. How the tabloid was able to come by this information is uncertain, but an early summer release date would certainly make sense.
'Army of The Dead' May 2021! pic.twitter.com/wyITnAVq5L

— Rex Overdrive (@RexOverdrive) January 31, 2021
Army of the Dead is the acclaimed filmmaker's first movie venture since taking a sabbatical after the loss of his daughter in 2017. Snyder revealed his excitement to return to filmmaking in an interview with THR saying:
There are no handcuffs on me at all with this one…I thought this was a good palate cleanser to really dig in with both hands and make something fun and epic and crazy and bonkers in the best possible way…I love to honour canon and the works of art, but this is the opportunity to find a purely joyful way to express myself through a genre. It will be the most kick-ass, self-aware but not in a wink-to-the-camera way balls-to-the-wall zombie freakshow that anyone has ever seen. No one's ever let me completely loose.
In an interview with Entertainment Weekly, Snyder further described the upcoming Netflix film as a "balls-to-the-wall" zombie movie.
"It is a full-blown, balls-to-the-wall zombie heist movie, so it's genre-on-genre in a great way. So you expect pure zombie mayhem, and you get that, 100 percent. But also you get these really amazing characters on a fantastic journey. It's going to surprise people that there's a lot of warmth and real emotion with these great characters."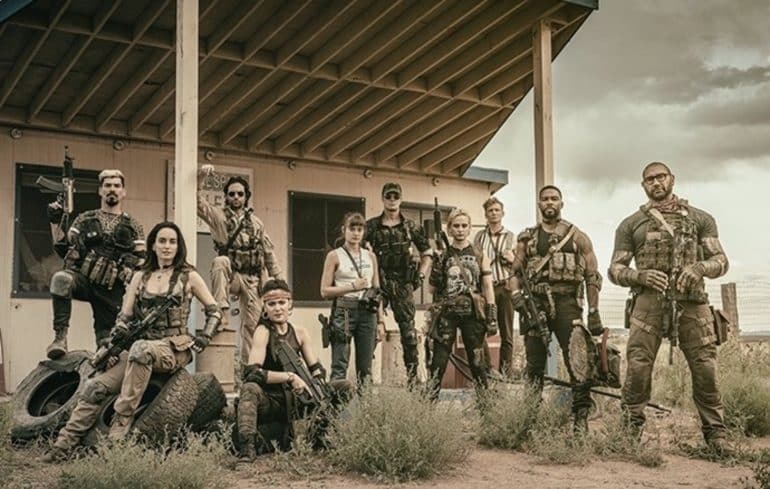 Army of the Dead will follow a group of mercenaries, led by Guardians of the Galaxy's Dave Bautista, who attempt to carry out a casino heist in Las Vegas at the height of a zombie outbreak. The zombie action movie is also set to star Ella Purnell (Kick-Ass 2), Omari Hardwick (Kick-Ass), Theo Rossi (Luke Cage), Ana De La Reguera (Narcos), Huma Qureshi (Gangs of Wasseypur), Hiroyuki Sanada (Avengers: Endgame), Garret Dillahunt (Fear the Walking Dead), Raúl Castillo (Looking), Nora Arnezeder (Mozart in the Jungle), Matthias Schweighöfer (The Most Beautiful Day), Samantha Win (Wonder Woman) and Rich Cetrone (Batman v Superman: Dawn of Justice).
Netflix has already indicated their confidence in the director by greenlighting two Army of the Dead projects before the movie has even premiered. The streaming service has revealed its plan to release a prequel film and anime series based off of the Snyder film.
Army of the Dead will not be the filmmaker's only high-profile project of the year. Snyder is also set to release his much-anticipated cut of Justice League in 2021.
Are you excited to know the release date for Army of The Dead? What other Snyder projects are you hoping to see now that he has returned to filmmaking?