Wait! Is Warner Bros. giving in and allowing Zack Snyder to make another DCEU film?
It's become abundantly clear that the DCEU and the MCU have chosen wildly different approaches to build a cinematic universe. While the MCU has chosen a more streamlined path, with movies being announced years before they're released, the DCEU still manages to surprise us with some daring eleventh-hour releases.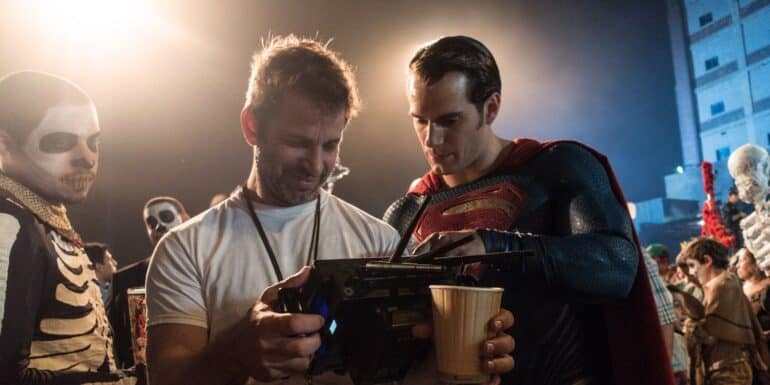 But is there a DCEU without Zack Snyder?
In a world where the Snyder Cut is a reality, it's safe to say that all bets are off when it comes to what to expect next from the so-called 'SnyderVerse.' Since the introduction of various continuities to the DCEU, we are now dealing with a cinematic universe where multiple versions of the same character exist at the same time.
However, Zack Snyder has a very particular style that's easy to discern from the rest of the DCEU films. His movies are much darker in tone, always putting a great deal of attention on the film's presentation.
So far, Snyder has adapted some of the darkest stories in the DC comics universe into his films, even going so far as to include Darkseid, which is DC's version of Thanos. Speaking of Darkseid, staunch fans have noticed something a bit… curious about Snyder's latest social media posts.
It seems like the SnyderVerse might not be over yet, as some fans believe that Zack Snyder might be gearing up to bring DC's Final Crisis into the DCEU. Why do fans believe this? Well, it has to do with Instagram, Thanksgiving, and some very suspicious turkey dinner.
For the ones who has no clue let me help you out 😊😏😋🙂 and maybe something is brewing behind the scenes or Zack is just reading great material 🎙👍🏾✌🏾#RestoreTheSnyderVerse pic.twitter.com/UdRvKgY7nf

— Prime (@Prime_76) November 26, 2021
Signs Everywhere
There's something about DC and the word 'Crisis' that just sends die-hard fans of the franchise into a frenzy. Be it Crisis on Infinite Earths or Final Crisis, seeing this word in any DC crossover event is a clear indicator that things are about to change drastically for the world of the Justice League.
Zack Snyder is not a clear-cut filmmaker – if anything, his fans love him for the way he usually hides cryptic messages all over his movies, and that also applies to his social media teases.
The last round of theories come from a seemingly harmless picture Snyder shared on Thanksgiving. In the photo, the filmmaker shows a stuffed turkey and the word "Thankful" is the pic's only caption. Nothing to see here, right? Well, these are Snyder fans we're talking about here: of course, they'd find a secret hidden in such an inconspicuous photo.
First of all, no, the turkey has nothing to do with the world of the DCEU, but rather what's behind it. Lying out of focus just behind the turkey is a particular book, and it's one book that DC fans should know well. We're talking about no other book than DC's Final Crisis Omnibus edition.
This isn't the only piece of cryptic evidence fans are noticing, either. The first bit of info came from a mosaic made for this year's DC FanDome. The 12 snippets come together to tease something related to Crisis on Infinite Earths.
It might not be much to go on, but two announcements related to two distinct, crisis-related crossover events are just a bit too hard to ignore, especially coming from DC.
Additionally, Snyder has been having fun with fans recently, sharing odd pictures that fans are quick to dissect in the hopes of discovering the filmmaker's next big project.
Earlier this month, Snyder shared a photo of a Justice League clapperboard with a seemingly random sequence of letters and numbers written on it. The board reads "W5|279|1". Almost immediately, fans on Reddit and Twitter began looking for some meaning behind the clapperboard, proposing some quite interesting theories in the process.
Some users theorized that the '279' on the clapperboard refers to page 279 on the Final Crisis omnibus. However, what happens on that page varies depending on the edition of the book, which makes means that different fans came up with different conclusions.
The positive fan feedback the "turkey post" has received is nothing short of impressive. Some fans jokingly pointed out how a simple social media post made by Snyder seems to be generating more hype than the FanDome event ever could.
Despite the clear support for the restoration of Zack Snyder's original vision for the DCEU, things are a bit more complicated than it seems with Warner Bros. Whether the Snyder Cut was the norm or a one-time event is something that most fans still wonder about, even when the producers have been abundantly clear about their posture on the matter.
Restoring the SnyderVerse
Zack Snyder is evidently a fan of DC Comics and its franchises, that much is clear. What is not clear is what will happen in the future of the DC Extended Universe. For some reason, it seems like WB wants to erase Snyder movies from the cinematic universe going forward – a decision that hasn't necessarily sat well with fans.
More importantly, the timing seems odd for Zack Snyder to be teasing a new major film project set in the DCEU. After all, let's not forget that the filmmaker has just begun working with Netflix on his new cinematic universe with Army of the Dead.
Considering the fact that Snyder will be involved with both a prequel film, a sequel, and a show, it's a bit hard to think that he would have the time to work on a DC project right now.
Moreover, WB has scrubbed the Zack Snyder continuity from its current lineup. No matter how unpopular it was, Joss Whedon's Justice League remains the 'canon' version of the film, leaving the Snyder Cut as more of a curiosity than anything else.
However, the mere existence of the Snyder Cut leaves an important precedent when it comes to the DCEU, and that is that it shows that WB listens to DC fans and their demands for more Zack Snyder films. This could prove to be the deciding factor when it comes to continuing the SnyderVerse in the future, and it just so happens that Final Crisis might be the perfect way to do so.
The End of Times
The story of Final Crisis is, at first glance, a convoluted plot that most filmmakers wouldn't want to mess with. Fortunately for fans, Zack Snyder isn't like most filmmakers. The complicated plot of this crossover event begins with Darkseid and the Justice League – two elements that Snyder is already familiar with.
The inclusion of Darkseid in Zack Snyder's Justice League opened a whole new can of worms for the DCEU. It seems like, for a time, the cinematic universe was headed towards a Final Crisis event, especially if we consider the briefly-considered New Gods project.
Final Crisis is a massive crossover that features all kinds of heroes and villains from the DC Comics universe. Some of the characters that play a pivotal role in that comic haven't been formally introduced in the DCEU, but that's something that Snyder could very well do with the appropriate runtime.
One of the most shocking moments in Final Crisis happens between Batman and Darkseid. For a good chunk of the story, it seems like Darkseid kills the Caped Crusader, with Superman even carrying Batman's corpse in a now-iconic comic book moment.
However, even more surprising is the revelation that Darkseid didn't manage to kill Batman at all but rather sent him back in time. At the same time, Superman summons an army of Supermen from different realities to fend off against Darkseid's true form, culminating in an epic clash and a happy ending for one of the DC universe's darkest chapters.
Indeed, it seems like Snyder planned to include this event in his Justice League trilogy all along. An all-powerful Darkseid and a time-travelling Batman sound just like the sort of thing that someone like Snyder would be interested in visiting in his movies, not to mention that it would add a great nexus point for a new phase in the DCEU – a phase that might be about to make its debut with or without Zack Snyder anyways.
Seeing the way WB aims to bridge the gaps between different timelines with its shared multiverse, it wouldn't be too far-fetched to think that we might see the SnyderVerse continuing in some way or another.
Maybe Zack Snyder isn't working on a new feature film right now, but that doesn't mean that all hope is lost for his vision of what the DCEU should become. On the contrary, it seems like his dark vision might coexist with some of the other "brighter" movies in the cinematic universe, and that Darkseid might make a comeback when we least expect it.
It took the MCU almost a decade to build up to what it is today; if anything, it seems like WB has learned to bide its time and properly develop its characters before taking on some of the more ambitious crossover events.
Whether Zack Snyder returns to the DCEU remains to be seen, but one thing is for sure: DC fans will always be there to dissect every piece of info they can, hoping to make sense of Snyder's cryptic sense of humour.
Tell us, do you want Zack Snyder to do more DCEU films?