Warner Bros. and DC Entertainment recently released more Justice League concept art on their WB Movies All Access app. One particular piece of artwork has fans intrigued. Many believe that it shows a young Darkseid, which was ultimately deleted from the final film. Now, director Zack Snyder has commented on the concept work via Vero.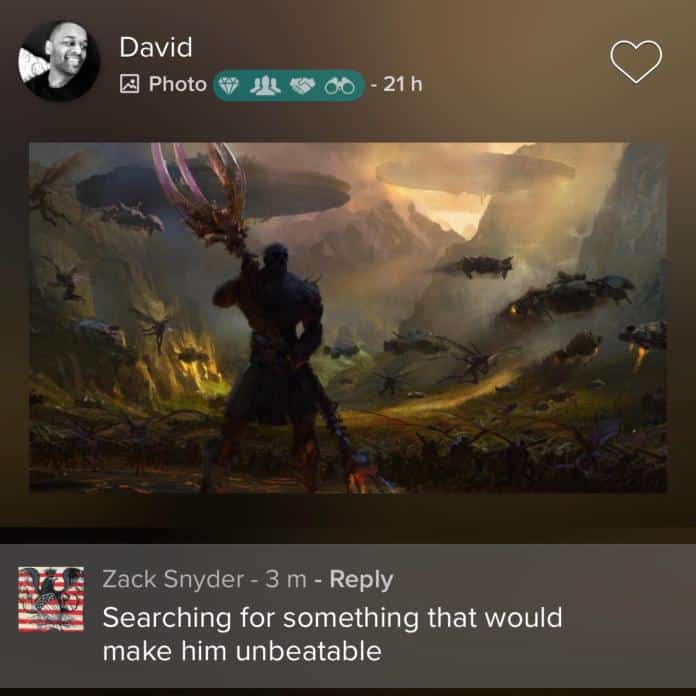 "Searching for something that would make him unbeatable," Snyder commented on the image.
Fans have suggested that the art shows a possible origins story for Darkseid, who would most likely have been the villain of the second film. Of course, the reshoots and change of director ensured that it will no longer happen.
Snyder has been actively commenting on questions, theories and artwork related to Justice League for the past year. It seems he's had a hard time letting go of the project. Many have even suggested that he is secretly working on his own cut of the film.
Ray Fisher, who played Victor Stone/Cyborg in the film, revealed that there was enough footage of his character to make two films.
"We're not finished just yet, so I don't know how specific the 'end result' is," Fisher explained. "But what I will say is Zack had very specific plans for Cyborg, and for his trajectory. And Zack probably shot enough footage in the first film to make like two movies out of. He definitely had a whole, I believe, a trilogy in mind, with respect to Justice League. And if his vision had sort of come to fruition, Cyborg would have probably been one of, if not the most powerful, metahuman in the entire canon, in the film universe. And that's just one of the crazy things about Zack, is that he can take someone who's such a newcomer and evolve their powers to the point where, you know, Cyborg is like 'S tier.'"
Originally, Justice League was meant to span two films, but that idea fizzled even before Joss Whedon took over. Regardless, we're still sad that we couldn't see Snyder's true vision for the film.