Six years ago, Young Justice was cancelled. Now, it's back. And about damn time too.
In the years since their defeat of The Reach, the Justice League has found their hands increasingly tied by the bureaucracy of the U.N. – now being run by Secretary-General Lex Luthor. Facing ever-increasing restrictions, their investigation into metahuman child trafficking constantly comes up short, forcing Batman and several other rogue superheroes to quit the Justice League. Operating independently, Nightwing picks up on a lead to the traffickers in Markovia, a country currently under martial law.
When Nightwing and his makeshift team of heroes infiltrate Markovia, they uncover clues regarding the criminal organization the Light while rescuing several children who have become the subjects of metahuman experimentation. Meanwhile, other teams of heroes across the globe struggle to put the pieces together in the hopes of revealing the big picture. With new heroes appearing but struggling to learn their powers, older heroes facing the challenges of the real world and an intergalactic conspiracy in play that's beyond the imagination of Earth's champions, is it already too late for The Team to save the world? And who exactly are the real Outsiders, and what role do they have to play?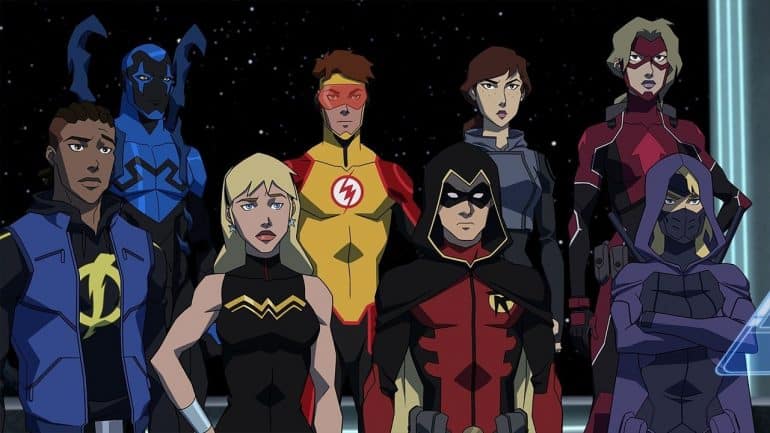 Young Justice was always an intelligent show; while it could be enjoyed by kids who were simply looking for superhero theatrics and action, it had brilliant writing, explored personal character dynamics, presented massive story arcs and offered plenty of twists that were targeted at more sophisticated viewers. It was a show that rewarded patience and the full attention of the viewers – even more so if they had some knowledge of the depths of the DCU already. There's nothing on screen, in live action or animation, that DC has produced since that's matched up to the high standard it set.
For the show's unlikely return, the expectation was naturally high. Astonishingly, it's exceeded that and raised the bar to a whole new level. While only two of the first thirteen episodes are what could be considered genuine standouts, the others are still riveting at best and entertaining at worst as they allow the plot to continuously build. The show looks the same as it used to and sounds the same as it used to (barring several voice actors, who sadly could not return), managing to balance a character-heavy roster with enough storytelling and seemingly scattershot plotting (until it all slowly ties together).
It barely puts a foot wrong…
It barely puts a foot wrong, even if the first half of the season spends most of the time setting the stage for what's to come. It's the steady build-up style of storytelling seen in Agents of SHIELD – and that isn't a bad thing at all.
This season continues to explore the relationship between Superboy and Miss Martian, while Nightwing excels in all roles and steps out of Batman's shadow with ease. Long-time comic book readers will pick up on newcomers Halo and Geo-Force, as well as the recurring presence of Black Lightning and the inclusion of Katana and Metamorpho, as the potential "Outsiders" of the title… or are they? Young Justice has always had a history of inverting expectations, and what you see isn't necessarily how it is. Meanwhile, the origin of Cyborg is covered, along with crucial elements from the Wolfman/Perez run on New Teen Titans. As for the oncoming threat of Darkseid, something teased at years ago, it continues to simmer but there's still plenty of Kirby's Fourth World at play.
While there are still many action set-pieces to keep many viewers happy, there's plenty of genuine drama and occasional scathing satire mixed with maturity that once again rewards those who are paying attention. The episode Evolution is a beautiful, touching tale of Vandal Savage, dedicated to the late Miguel Ferrer, and hits every emotional beat like a sledgehammer. Nightmare Monkeys, an episode focusing on Beast Boy, sharply contrasts his tragic and traumatic history in the most stinging ways possible – including parodying Teen Titans Go! with the grim reality of his Doom Patrol past.
For fans of the original run of Young Justice, this is a rare treat.
Throw in Fringe-like clues for armchair detectives (the episode titles forming an acronym relevant to the plot is just the start of it) and the David Lynch-style end credits sequences that resemble the return of Twin Peaks and it's a puzzle that's as much a joy to watch as it is to solve.
For fans of the original run of Young Justice, this is a rare treat. For those unfamiliar with the show up until now, it may seem like a confusing mess with too many characters and too much happening to keep track of, so be warned. But it's smart superhero storytelling without the obvious cliché of always deconstructing superheroes, and a class act all around.
The Review
Young Justice: Outsiders
DC's kids – and the show – bring animated maturity to the screen.