Suppose you have been wanting a Steam Deck or a Nintendo Switch but are a lover of the extensive range of games available for Xbox players. In that case, there is a solution for you. This is also an excellent option for all those who want a handheld gaming device but can't justify the significant upfront cost of getting a Steam Deck or Nintendo Switch. You can now take the old smartphone in your drawer and turn it into a handheld Xbox!
RELATED: Microsoft Claims It Lost The Xbox VS PlayStation War, Which Is Finally Over
How To Do It
To get this right, you will need an iPhone or an Android smartphone with a USB-C connection and a dedicated controller to use for gaming. One that would work well for this is the Razer Kishi V2, which conveniently has options for both iPhone and Android users. Also, to get this right, you will need a Microsoft Game Pass Ultimate edition subscription, as this is the one that allows you to stream games.
If you are using a separate smartphone to create your handheld Xbox device, it would be best to factory reset your phone and make a fresh start. This ensures that no apps or data are left on your phone to interfere with your gaming fun.
Once you have done this, you need to install the Xbox Game Pass app on your device, which is available on both the iPhone App Store and Google Play Store. From there, you can stream any Xbox titles (and exclusives) with the option of cloud gaming, such as Dishonoured 2, Disney Dreamlight Valley, Fortnite, Forza Horizon 5, and even Halo Infinite. Be reassured if the first game you try isn't the perfect experience. Some games work better with a small screen than others.
RELATED: ASUS ROG Phone 06 Review – The Peak of Smartphone Gaming
How It Works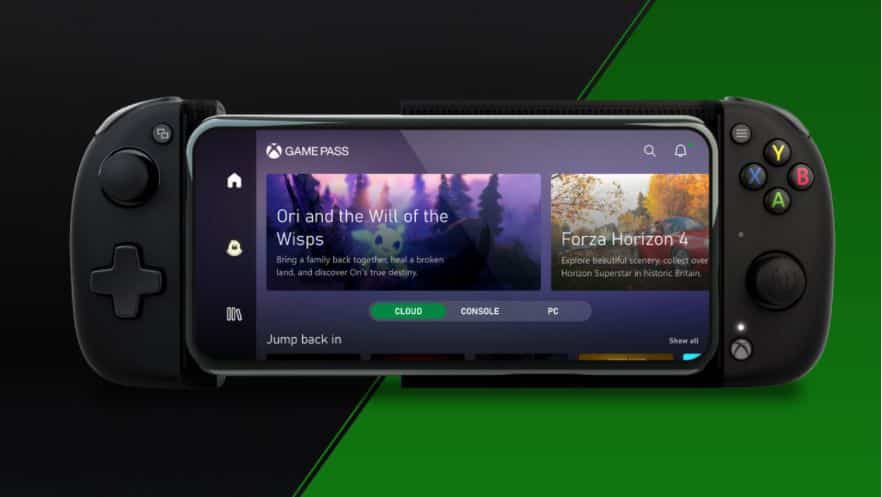 Suppose you are using the Razer Kishi V2. In that case, you can slide your phone between the two sides of the controller, which has many buttons you would find on any standard Xbox controller. It has buttons, joysticks, triggers, and even shoulder buttons.
It also doesn't have to be a dedicated phone to make this device, but using a different phone does come with some perks. For example, you can slide your phone in and out of the case between gaming, which could become annoying. Also, you are using a dedicated phone. In that case, you don't need to deal with getting phone calls or notifications that might interrupt your gaming. Also, you don't kill your battery by gaming, leaving you to live your life and stay connected to the world.
For the best experience, it's recommended that you stream the games using a Wi-Fi connection rather than a cellular data connection. The connection is more stable that way.
RELATED: Why The PS5 & Xbox Series X Will Probably Be The Last Consoles
Drawbacks
There are minimal drawbacks that come with this handheld gaming device, and some are very superficial. For example, there won't be haptic feedback, mainly if you use the Razer Kishi V2.
Of course, you will have to deal with your smartphone's battery life. Some smartphones aren't built to sustain a lot of gaming, so their life might only last for a while, but that's the benefit of using a dedicated device. While not in use, it can be charged and wouldn't deplete your regular phone's battery.
The last thing to note is that you don't get the offline gaming options that a Steam Deck or a Nintendo Switch would offer, as you need to be online to stream the games. Still, the selection of games offered on the Game Pass will make that well worth it.
You can now have your own handheld Xbox device using just a smartphone, a controller and a subscription at a fraction of what a handheld device would cost you. A good solution, if I do say so myself.
RELATED: Studios Push Xbox Regarding Its Mandatory Series S Support For New Games
Are you going to make your own handheld Xbox with your smartphone? Let us know what you think!