Nintendo has recently knocked the proverbial ball out of the park when it comes to the first party title releases for the Nintendo Switch. There have been some really strong offerings that both innovate and expand on familiar genres and formulas. While their latest game, starring one of their cutest mascots, Yoshi, might not do the same, it is still a fun experience.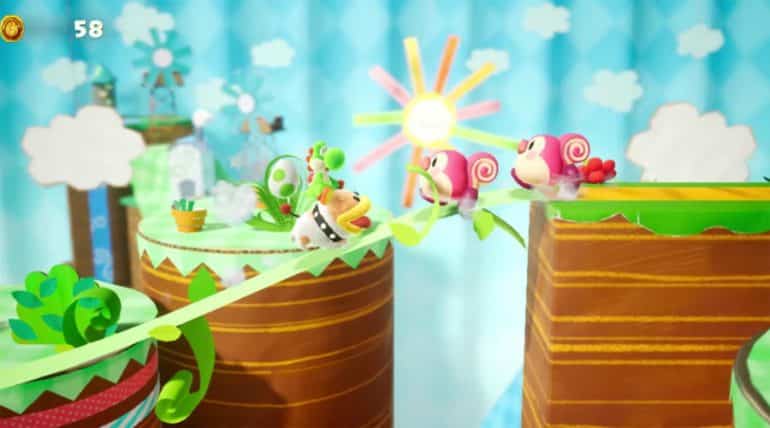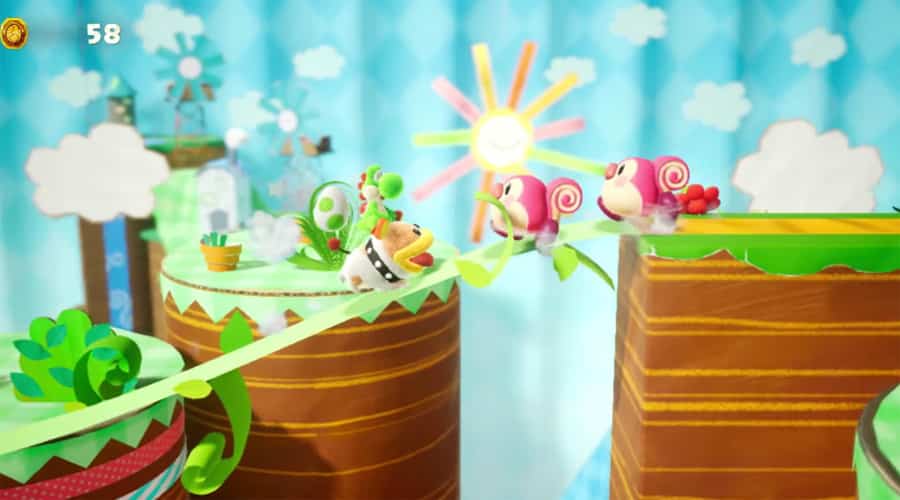 Yoshi's Crafter World stars Mario's colourful dinosaur friends as they are tasked with retrieving multiple dream gems that have been scattered across their world by Kamek and Baby Browser after a failed attempt to steal them. It's nothing groundbreaking but helps sets the tone for a game which is more concerned with appreciating its colourful world than a deeply engaging narrative. Although the game's mechanics and narrative might be on the simplistic side, it's when it comes to the game's visuals that Yoshi's Crafted World truly shines.
The games visual styles remind one a lot of the Media Molecule-developed game Tearaway. However, instead of everything being maliciously made out of scraps of paper, each level players will navigate seems like it has been carefully recreated using all kinds of colourful cardboard. This gives the game a hand-crafted aesthetic. Not only are these worlds a feast for the eyes but it's also surprising how much detail is packed into each level. There is also loads of variety to be found in the various levels, from haunted mansions to outer space. It seems there is no limit to where Yoshi finds himself on his adventure.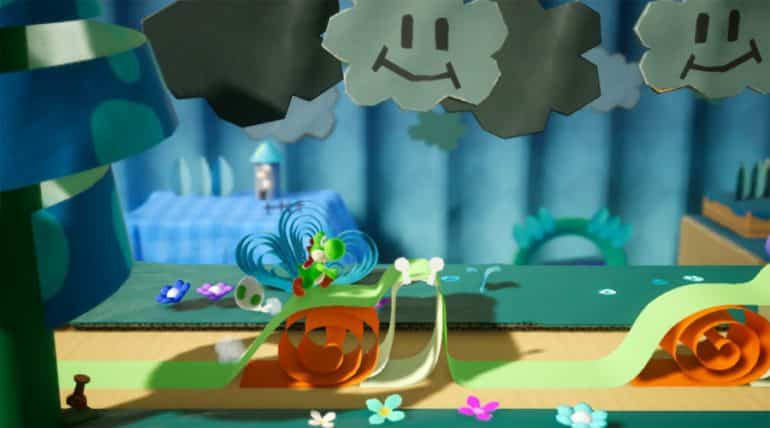 Yoshi's Crafted World follows the same 2.5D formula as many other Nintendo games, like Donkey Kong Country: Tropical Freeze. Players will still have to run, jump and avoid obstacles but making the game 2.5D instead of the usual 2D opens up the levels a bit more for exploration. This allows the developers to pack even more hidden collectables in each level.
Of course, a big part of the game's draw is in finding all those sweet collectables strew across each level. Sadly, most of these are mainly cosmetic with unlockable costumes all serving as a way for Yoshi to take a few more hits before dying. It's a wholly more accessible experience than some of the other Nintendo platformers. However, don't let this put you off as it is still just as much fun as you would expect a Nintendo game to be.
During his adventure, Yoshi will be facing off against various enemies and, by jumping on, chucking one of his eggs at or just swallowing them, he can make short work of most these enemies. Where the game does mix it up a bit is by making it possible for Yoshi to throw eggs into the back or foreground. This mechanic is mostly used when having to get hold of hidden coins or collectables or when solving some of the game's environmental puzzles.
Each of the levels also introduces a new mechanic, enemy or obstacle for Yoshi to face off against. These new elements tend to only form part of a few levels before new ones are introduced. However, continual change helps keep the experience fresh.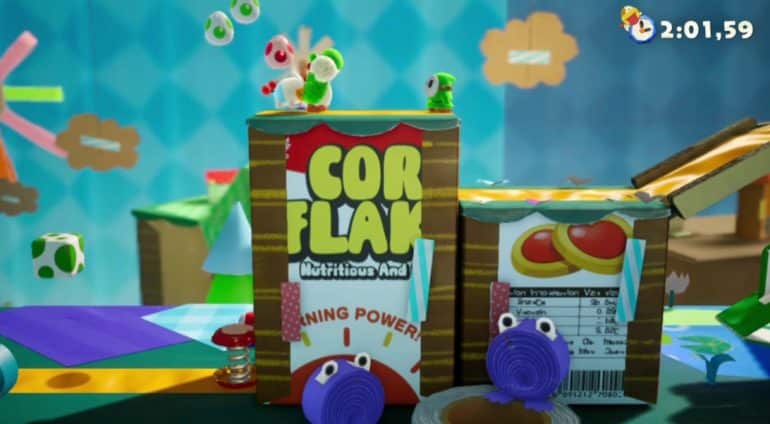 Of course, there are the obligatory boss fights. Each boss is quite unique in the way they look and even in the way you need to approach the battle. From dodging and throwing eggs to figuring out a room shifting puzzle, each boss battle felt distinct and quickly became one of the highlights of the game. These fights are more about introducing new and interesting ways of beating the various bosses than being about the level of difficulty or being challenging.
Yoshi's Crafted World also includes co-op mode which, as is the case with most Nintendo platformers, can be both a blessing or a curse depending on how well you and your co-op partner play together. It can be surprisingly fun having another Yoshi covering your back when things get hectic and it doesn't hurt to have someone helping you look for those elusive collectables and coins.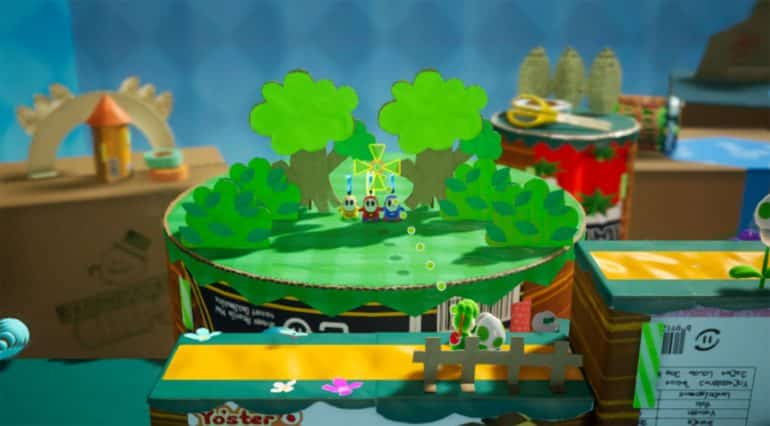 Yoshi's Crafted World might not be ground-breaking or even challenging but it's colourful and unique visuals paired with fun gameplay makes the experience worthwhile. It's a game that isn't as much about the difficulty as it is about the enjoyment and just having fun exploring unique cardboard-filled worlds.
The Review
Yoshi's Crafted World
Yoshi's Crafted World is less about the challenge and more about sitting back and enjoying the experience.
PROS
Beautiful visuals
Fun boss battles
So many collectibles
CONS
Costumes are redundant
Can be too easy for some
Review Breakdown
Storyline

0%

Gameplay

0%

Graphics

0%

Replay Value

0%

Sound and Music

0%