Xiaomi's Mi portfolio, or Mijia as it's branded in China, features a wide variety of consumer products. This includes laptops, set-top boxes, audio devices, and what they're most popular known for, smartphones and smartwatches. Less known in South Africa, the brand also features many other household and lifestyle products. This ranges from washing machines, vacuum cleaners, air purifiers and even security cameras. And it's the latter which I explore today, in the form of the Xiaomi Mi 360° Home Security Camera 2K.
With the ever-growing number of security cameras available on the market today, it's easy to get confused or overwhelmed by the features and specifications. Sometimes, a simple camera may do the trick, but with the added benefits of smart tech in today's market, affordable cameras are easily accessible. Xiaomi's range of security cameras adds quite a number of easy-to-use smart features from your smartphone, while keeping the costs down on a security system to a minimum.
So, let's check out what the Xiaomi Mi 360° Home Security Camera has to offer.
Xiaomi Mi 360° Home Security Camera Build and Design
Upon unboxing the Mi 360° Home Security Camera, it doesn't look like your conventional security camera. Instead, it looks more like a modern smart gadget. In essence, that is what it is.
It has a dual-dome design approach, with the top being almost a complete spherical. This allows the camera's head to move all the way around without interference. The spherical is also the shell for the actual camera unit, which is exposed by means of a pill-shaped cut-out in the front.
Moving the camera up, reveals the microSD card slot and reset button underneath. It's a nifty hiding spot, so it doesn't protrude or reveal itself to be easily removed. The rear end of the head has a recognisable grill finish. This is because the speaker is housed on the rear.
With the head being able to rotate a full 360°, we know that there are motors on the inside to allow for this. That said, when you do rotate it, there's barely any audible sound produced. Even when moving the camera up and down on the inside, there's barely a peep from the device.
In terms of the specifications, the unit measures 78x78x118mm, while also weighing roughly 239g. It's fairly compact and lightweight, making it easy to place around the room to survey.
The build is quite solid. It has an all-white, plastic outer casing, which is also said to be shock-absorbent. With no protruding elements, and an overall clean build, the design of the Mi 360° Home Security Camera is pretty impressive. It looks both unassuming and aesthetically pleasing, so won't draw unwanted attention in the room.
Xiaomi Mi 360° Home Security Camera Setup and Installation
Installation of the Mi 360° Home Security Camera is moderately simple. After unboxing and connecting to a power source, you'll need to download the Xiaomi Home app from Play Store or App Store. Running the app will provide a few prompts after detecting the unit. I would recommend that while you're still downloading the app and setting it up, leave the Mi 360° Home Security Camera off. Once it's on, there is a voice that reminds you it needs to be connected every 30 seconds or so. It becomes annoying after a short while.
Once you've added your details to the app, you can now turn the camera back on and pair the unit. It'll perform a few checks and additional prompts. The only two major tasks are to scan the QR code on the camera itself using the app, which then pairs the two devices, as well as connecting to your home Wi-Fi.
Users can now connect to the app and tinker with the default settings to customise the experience and performance. Overall, the entire setup can be completed in about five minutes.
If you're placing the unit on a surface, then you're pretty much done at this point. However, the device does provide additional options to install it on your ceiling, wall, etc. The contents of the box include some parts that will allow it to be mounted accordingly. Additionally, if you're hanging it from the ceiling, you can make the changes within the app to invert the feed 180° so it's not upside down.
Features
The most important feature, or specification, is the camera. The Mi 360° Home Security Camera has a 2MP lens with an f/2.1 aperture. It also records video in 2K, to provide great quality capturing. The unit also has a wide-angle option, known as Wide Dynamic Range (WDR).
Next up is the low-light recording feature. As would be normal for most households, the lights are turned off when we go to sleep. Despite not looking like a conventional security camera, it still performs as such. As a result, it has the ability to record video in the dark of night. The unit sports eight 940nm infrared LEDs, which allows it to record in the dark. It switches from colour in the day to a more monochrome colour palette.
There are two levels of low-light footage. The above-mentioned, when using the infrared option, is when it is quite dark. However, as far as possible, the Mi 360° Home Security Camera will continue to record in colour with a feature known as "Full-colour with low-light". Until it's no longer able to, all videos will be available in colour.
One of the nifty features makes use of AI. The AI-assisted motion detection has been added to pick up motion and start recording when it has been set. You wouldn't set this up as you would to record when you're at home. That said, you can activate it like an alarm to start monitoring when you've left or gone to sleep.
If you do detect motion, users can use the app to send live voice back to the device. Being able to communicate via voice back to the device is quite useful. It's the best quality but is loud and clear enough for someone in the area to easily heed your warnings or receive instruction.
Moving to the Xiaomi Home app, there's a whole host of features and options to enjoy. Apart from the live camera feed and the two-way voice features mentioned above, there's also additional features and options to enable. This includes home surveillance, which allows you to customise how and when to be used, managing your storage and gallery, adjust the AI settings (such as baby cries) and a host of others. Overall, the app is very useful, the central dashboard for everything you need to operate for the camera.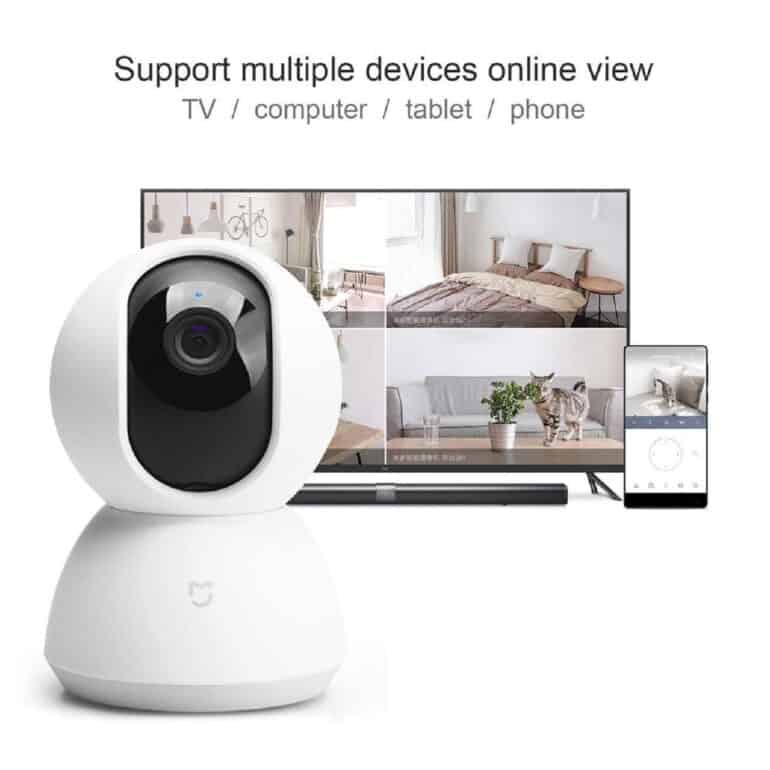 Performance
Having a host of features is nothing without the performances thereof. Overall, the performances of the Mi 360° Home Security Camera are great. The quality of the live video and recordings are very good.
Low-light imagery is also good, with a bit of loss in colour and little graining. Switching to the infrared in completely dark scenarios is also good. Items are easily viewable and recognisable, with little to no graining. If there is one point to note with the infrared recording is that the movements of objects and people have a bit of blur to it. The video is still perfectly usable, however.
Switching between the standard recording and infrared recording is also automatic. It does a good job of detecting these lighting changes to adjust accordingly.
One of the biggest gripes for me is the storage options for the recordings. While the device does offer connectivity to a NAS or cloud uploads, you'll still need to record to a local microSD card before it's uploaded further. In addition to this, you can only use the Xiaomi cloud services, for which you have to sign up. For a user like myself, who already has two or three cloud storage options, adding an additional licence isn't very appetising.
Finally, the camera does have a sleep option, which can be activated via the app. This means that in situations where you do not wish to record for whatever reason, you can turn it off remotely, without having to unplug the unit. You can then enable the camera again at a later stage, again without having to physically connect the device.
Conclusion
The Xiaomi Mi 360° Home Security Camera 2K is a great surveillance option for home use. It's easy to set up, easy to use and comes with a host of great features to adjust usage to your needs. At a price point around R700 per unit, it's fairly affordable. This means that you can get away with a complete home installation for less than R5,000 to have surveillance in and around the house.
Where the unit does disappoint is its lack of cloud storage options. Being able to connect to one of your chosen cloud platforms and store directly makes a huge difference. This is even more evident when expanding the number of cameras around the house, as you'll then need a microSD card for each.
The Review
Mi 360° Home Security Camera 2K
The Xiaomi Mi 360° Home Security Camera 2K is a nifty surveillance camera that's easy to set up and use. With a host of features at your disposal, it is a great option in the market swamped with devices. With a few additional cloud storage options, the device would be perfect for all homes.
PROS
Great all-round performance
Robust and unobtrusive design
Affordable
CONS
No direct cloud storage option
Some blur on low-light videos
Review Breakdown
Ease of Learning

0%

Ease of Use

0%

Design

0%

Performance

0%

Enjoyment

0%

Value for Money

0%