Being someone that eats quite a healthy diet, while running and playing sports throughout the week, using any performance enhancements or supplements aren't a consideration for me at all. While my lifestyle does mean that I have a limited amount of sleep, my predominantly vegetarian-based diet and deep sleep patterns allow me to recover adequately enough to tackle the next day, only requiring one or two days per week of sleep catch-up, so to speak. So, when the opportunity presented itself to review a few energy formulae in the form of X-Gamer, which is specifically geared towards the eSports market, claiming to improve concentration and the likes while gaming, I was sufficiently curious to try to it out. But, does it live up to the hype?
The X-Gamer formula comes in a variety of different flavours, which include Bluenitro, Nukefusion, Powacrush and Zomberry, to name a few. I received six sachets as part of the test sample, along with a branded X-Gamer plastic bottle. The instructions are pretty simple to follow, emptying the sachet's contents into a bottle with 400-500ml of water, or to taste. I found that more often than not, the mix of water was roughly 600ml per serving. This gave the best taste, as well as the best effects while drinking, which I'll elaborate on a bit further down. For a larger bottle mouth, the sachets are easy enough to open and pour out, but for narrower bottles, it was a bit tricky, with it opening down the back of the sachet, which isn't very accurate. I would have preferred a horizontal slit to create a more accurate pouring of the contents.
From the six different flavours, five were enjoyable with the one being fairly bitter. Of the remaining five, two were good enough for me to consider buying again at some point. This is quite a subjective opinion, as I'm sure many would prefer some other tastes and experiences. From the six, I could easily rate which were my favourite, narrowing them down by process of elimination – one being bitter, another having a powdery texture and another leaving me with a dry-mouth sensation. At the end of the day, my two favourites were Bluenitro and Nukefusion, with the least favourite being Zomberry.
On the first use, I went with the conservative approach of 500ml water per sachet, which tasted good, but a little too sweet for my taste. I upped the water ratio to 600ml, which then provided the best taste. Not being satisfied with the tests, however, I reduced the amount of water to 400m and 300ml, respectively, to test its effects on me over an intake period of about 30 minutes per dose. It's safe to say that adding less water to the bottle per sachet gives you a quicker buzz. This didn't necessarily translate to better concentration and energy levels during games, as I was more jittery than anything. At 600ml over 30 minutes, I felt it worked best, as I didn't feel any adverse effects from the caffeine intake. My concentration levels were good, while also being able to game for longer.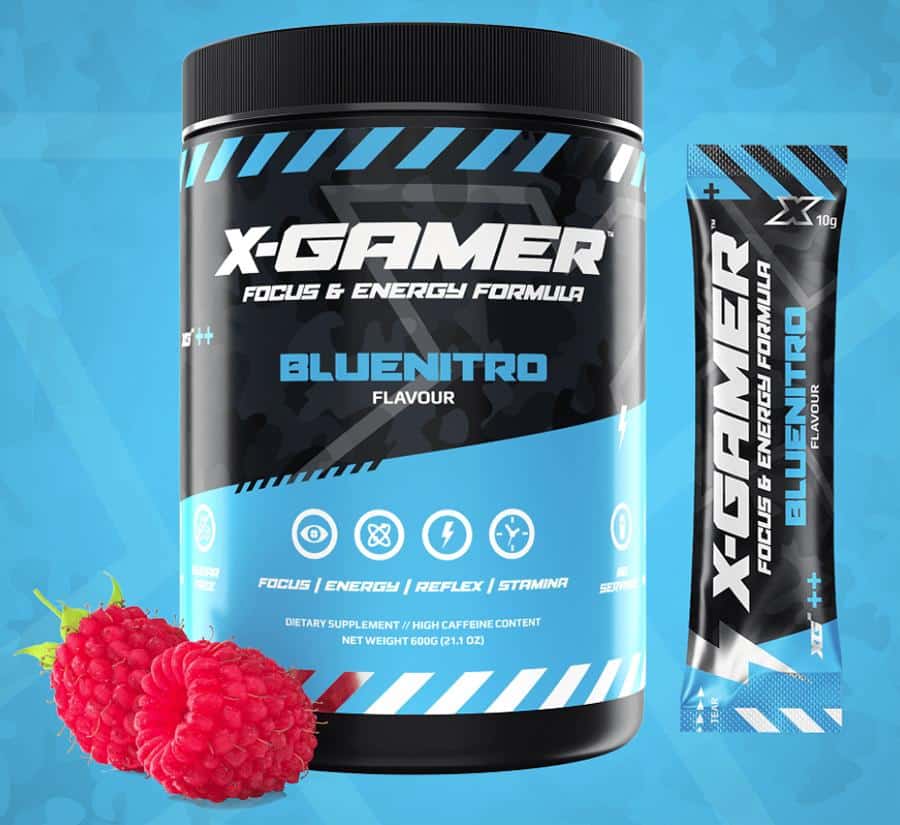 As with any energy supplement, X-Gamer isn't without its negative aspects, due to continued consumption over a period of time. After four consecutive days drinking the energy drink, I started developing a headache, something I don't ever experience unless something has gone wrong. This effectively equated to only my second headache of the year. In addition to this, having taken the drinks after 6 pm readying myself for some gaming, I was up past 1 am every single night without planning to, going as far as to close to 3 am once. The effects of the energy are prolonged, allowing you to focus better over a period of four to five hours while having the energy to keep going much longer as well.  The other great thing about the formula is that it contains less sugar than the supermarket counterparts as well and is a much more suitable replacement for these store-bought energy drinks.
I can easily draw the conclusion that the X-Gamer formula does indeed work well and can improve your gaming and eSports participation as you'll have more focus and energy of a period of time. It is worth noting, however, that you should use this with caution – dilute the contents of the sachets sufficiently as a more concentrated mix could have negative effects. It's also worth noting that it isn't ideal for most persons to consume throughout a series of consecutive days.
The X-Gamer formula is well-suited to those competitive gaming sessions when you need the extra push for victory.
The Review
X-Gamer: Powered Energy Drink
X-Gamer: Powered Energy Drink is worth a try if you are looking for a way to improve your focus and energy levels when participating in those long gaming sessions.