Over the course of the past two pay-per-view specials (WrestleMania 36 and Money In The Bank), WWE has allowed three of its top stars to be murdered: AJ Styles, Rey Mysterio and Aleister Black. Meanwhile, superstar John Cena was literally erased from existence while battling on another plane of reality. And as for WWE's closest business rival, AEW, the arrival of new talent on the show has resulted in possessed wrestlers magically teleporting across an arena and the brutal assassination (and subsequent reincarnation) of a T-shirt stealing drone.
It's a crazy time, and it's a crazy time to be a wrestling fan, because the state of the world has resulted in the necessity for an increasing number of cinematic movie-style, pre-recorded matches. Wrestling has long blurred the lines of competitive reality and scripted fantasy, and the coronavirus pandemic has forced the business to creatively go into overdrive. For WWE in particular, whose film division WWE Studios has produced action movies like the 12 Rounds and The Marine series (along with the critically acclaimed drama Fighting With My Family), it's become an opportunity to branch out.
Oh, and of course those three murdered wrestlers are fine and have since reappeared, showing none of the usual side-effects of death. Likewise, John Cena still exists.
The world of pro wrestling, or "sports entertainment" for some, is definitely not something that you'd imagine promotes social distancing: performers and competitors usually grapple in front of tightly-packed audiences of thousands. Yet wrestling shows across the board were quick to adapt, their wrestlers working in empty, silent arenas and gyms; they've encouraged fans with messages of hope and have run repeats of classic matches, reminding fans of the glory days; and at times they've aired special pre-filmed bouts from undisclosed locations.
It's been a private battle for them, full of behind-the-scenes complications and struggles, but they've pulled it off even though ratings have naturally dropped. In terms of the weekly live shows, AEW has mastered the new formula better than anybody, thanks to their less restrictive format and a surplus of creativity. Meanwhile, industry giant WWE has highlighted two of their biggest shows of the year with movie-style matches that showed the best (and worst) levels of cinematic shenanigans.
WrestleMania, wrestling's biggest show of the year and the "showcase of the immortals", is the culmination of each year's storytelling in WWE. As many as 100 000 fans travel from across the globe each year just to witness it, revelling in the joys of the entire WrestleMania weekend experience. But this year there was no stadium to fill, and no fans to cheer on the heroes and villains. At several points leading up to it, it looked like there wasn't going to be any sort of show in 2020 at all. But there was, and against all odds WWE pulled off a two-night event which was better than anybody imagined. Amongst the regular matches were two unique movie-style matches which mostly ignored the regular concepts of referees and pinfalls, and even rings and arenas. These matches took place out in the real world… and in a psychological Twilight Zone of id, ego and super-ego, too.
The first of these, the Boneyard Match, has been described as being like the final boss fight out of a Steven Seagal movie… and was presented as such. Outdoors, far from any arena, hero-turned-villain AJ Styles gathered with his henchmen at The Undertaker's graveyard battleground, hoping to kill the Phenom's legacy once and for all. Of late, Styles had been vocal about The Undertaker having lost his supernatural mystique by being more public about his real-life identity, Mark Calaway. When The Undertaker arrived for battle, it was as his less-popular persona: the American Bad Ass, still tough as nails but now also vulnerable. He was a symbol for the times. Slowly, the veteran methodically began to dismantle Styles's army, while Styles himself would run in and land cheap shots and verbal insults at the man behind the myth.
Through it all the ageing American Bad Ass persevered, constantly moving forward in pursuit of justice and vengeance. Ultimately, The Undertaker would win through… but only after he tapped into his true power: that of the original undead Phenom, the unstoppable and unkillable legend who has dominated the business for over thirty years and who dwells within him. The final result saw AJ Styles being buried alive by a man who has learned to accept all aspects of himself. The Undertaker finally rode off into the distance on his bike like a battle-weary outlaw, looking for his next fight not because he can but because he must.
Was it wrestling? Strictly speaking, no… and at the same time absolutely yes. It told a dramatic emotional story through action, and the cinematic quality of it embodied all the elements of The Undertaker's career – even the sometimes hokey supernatural ones which make no sense to the logical mind. The match won over fans and critics alike and was an outstanding performance all around.
The second of these presentations, the Firefly Funhouse Match, was something quite different. It was a mind-bending journey akin to David Lynch's surreal Mulholland Drive. In recent times, the character of Bray Wyatt has evolved from a backwater cult leader to a quirky, disturbing children's TV host complete with hand-puppet representations of himself and those symbolically connected to him. Wyatt also has an alter-ego, The Fiend, a demonic monster possessing mystical powers who exists only to hurt others, while Bray heals them. Both sides of this split personality have won over the fans, making him the most fascinating face of the company in years.
Wyatt's confrontation against John Cena was unlike any match in recent memory, and as distant from a regular match as you could get.
Stepping through Bray's Funhouse door, Cena entered a minimalist, nightmarish plane of existence where he was forced to re-live his career lows and experience surreal parallel timelines. Wyatt, the omnipotent ringmaster to the proceedings, had them skip through time, space and personalities in rapid, chaotic fashion. Cena, long viewed as the permanent good guy, was exposed as a "Johnny Largemeat" musclebound puppet of the business itself – one who legitimately had, at times, bullied his in-ring opponents with homophobic slurs and possibly had risen to the top at the expense of others. Facing his history of personal failures and a barrage of criticism given physical form, the hero who always vowed to never give up… simply disappeared, blinking out of existence.
It was a bizarre examination of the nature of the business itself, as well as some of its top stars. Some loved the symbolism and the experimental willingness to break the fourth wall, while others criticised it for going too far. The performances of Wyatt and Cena were heartbreakingly genuine, and the chance to see Cena exposed as a human being and not a superhero amongst wrestlers was unique, but its artistic surrealism wasn't for everybody. Given the blurred reality of the squared circle, it resulted in understandably divided opinions from viewers but was still compelling viewing.
Not all of WWE's movie-style matches have met with acclaim though. Their most recent pay-per-view, Money In The Bank, saw the company's wrestlers engaged in a buffoonish scramble through WWE's corporate headquarters as they raced to reach a briefcase suspended above the rooftop. While the final results pleased fans, the match itself was heavily criticised for its concept, lack of logic and imagination, and its juvenile, cartoonish comedy segments.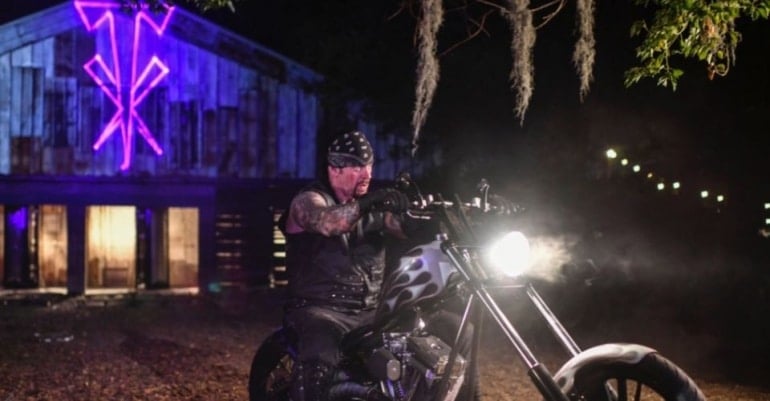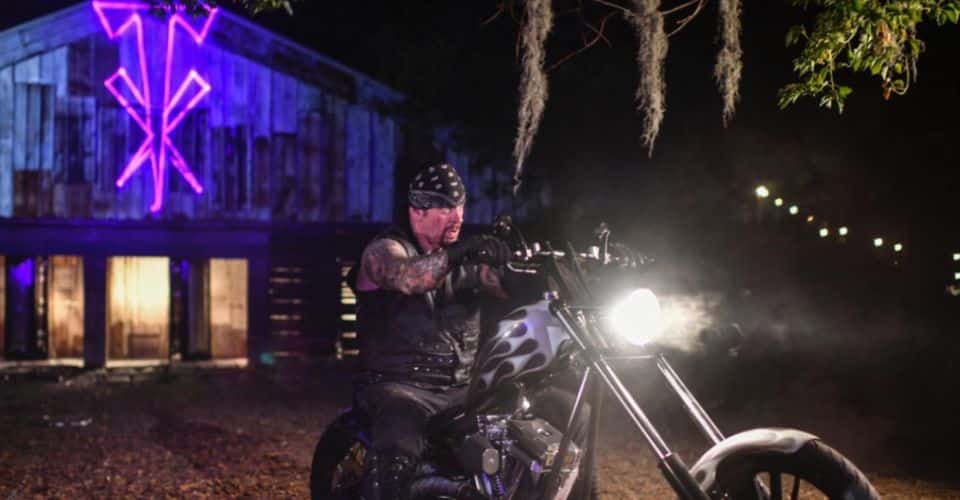 At MITB a staged food fight broke out, a new version of clown-wrestler Doink emerged briefly from behind a chair, the (not dead) AJ Styles was almost defeated by a poster on a wall, the match kept pausing for awkwardly inserted short skits and cameos, and what should have been a minute-long (at most) elevator ride for eventual winner Asuka took over fifteen minutes. Meanwhile, her competitors – instead of using one of the other elevators in the building to catch her – gave chase following a route that was the longest possible way to go. Oh, and Baron Corbin threw two of his opponents off the top of the building to their apparent death (which seemed to bother nobody, including the commentators).
Viewers were left largely unimpressed by the level of staged idiocy. There's plenty of room for comedy in wrestling, but little respect from the fans for stupidity. The supernatural abilities of the Undertaker, or Bray Wyatt controlling his own demented dimension, are acceptable for fans because it fits in with their characters' established narratives; the incompetence of those in the MITB match, however, did not.
Money In The Bank's main event showed far less imagination than WrestleMania's action-filled Boneyard Match or the surreal art of the Firefly Funhouse match – easily the most innovative WWE presentation since Wyatt battled Matt Hardy in an Ultimate Deletion Match in 2018.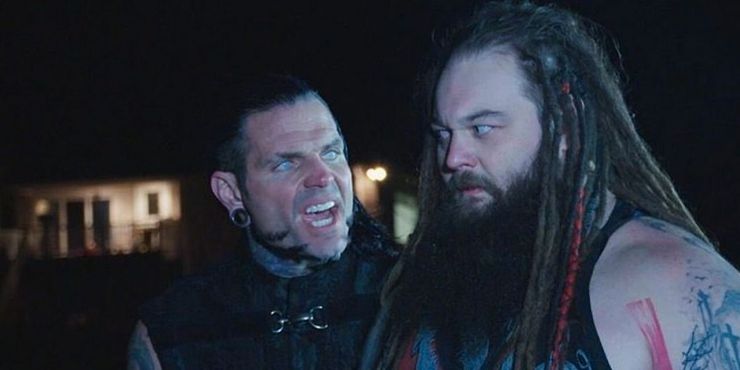 Hardy, a pioneer of movie-style matches and an innovator in using social media to help expand his wrestling persona, has been an inspiration in the business. He's been ahead of the curve on the increase of the cinematic format for years. A legend in the business with years of cruiserweight, singles and tag team success, his reinvention within TNA as "Broken" Matt Hardy in 2016 allowed him to explore the boundaries of the usually limited wrestling format on TV. Perfecting and expanding his Broken Universe, he won over critics and fans alike and elevated TNA's storytelling before rejoining WWE.
However, WWE seemed almost embarrassed at the time by the creativity on display in Hardy and Wyatt's Ultimate Deletion match, openly apologising for how different it was. Fast forward two years to the present, and WWE has been forced to not only accept matches like that but actually endorse them as an acceptable alternative to standard matches… even if they're still struggling to get the balance right. As for Matt Hardy himself, his Broken Universe has moved to a place that seems more willing to let him explore and create: AEW.
Since coming into existence just over a year ago, AEW has tried to promote the more competitive aspects of the wrestling business and drawn on some of the top talent from around the world. However, it's also become a home of inclusion, allowing for plenty of creativity, showmanship and artistic license. Serious athletic performers like PAC, the Young Bucks and Kenny Omega exist equally alongside the comedic king of sloth-style Orange Cassidy, Jurassic Express's Luchasaurus (who wants everyone to know he has a masters degree in medieval history, by the way), and the galaxy's greatest alien Kris Statlander. Heavy hitters like former WWE champ Jon Moxley can battle on equal footing with the rock star of re-invention, Chris Jericho.
It's on this platform that Matt Hardy now flexes his creativity with like-minded wrestlers, a new path that began with him teleporting through an arena before feuding against Jericho's Inner Circle. The Mower of Lawns has been rejuvenated by the waters of the lake of Reincarnation, it seems, becoming "broken" once again and serving as the physical vessel for the spirit of Damascus. Regularly switching between multiple versions of himself during matches, he nearly deleted his rival Sammy Guevara with a "cart of golf" in his quest for justice.
If that sound more than a little bonkers, it is. It's also made for some of the most creative content currently in wrestling and on YouTube. It may not always make sense, especially to the uninitiated, and isn't likely to win over wrestling purists. But it's still fascinating at worst, and downright entertaining at best.
AEW's answer to Money in The Bank's poorly-timed slapstick farce was a Stadium Stampede match, in which Hardy and the Elite battled the Inner Circle in the Jacksonville Jaguars' football stadium. The match saw everything from classic cowboy bar fights and face mask-wearing cheerleaders to dives from goalposts and Matt Hardy reincarnating several times in rapid-fire succession in a swimming pool. Chris Jericho wore a safety cone as a witch's hat and knocked out a team mascot, then got a marker line drawn down the middle of his unconscious body; Guevara continued his track record of hit-and-runs by being chased by a real horse; and a penalty was issued for an illegal dancing celebration. It was silly, it was funny, it was a spectacle…
It was wrestling. Just not like how it always used to be.
It's a prime example of how the business – and those involved with it – have had to tap into their more creative sides recently. If MITB's finale was a cinematic match akin to comedy "chase" movies like Rat Race and It's A Mad Mad Mad Mad World (only far less funny), the Stadium Stampede was beautiful, controlled chaos that worked on multiple levels like a Marx Brothers film or the ending of Bugsy Malone.
The world of entertainment continues to evolve in unforeseen ways in this era of lockdowns and social distancing, and pro wrestling is a part of that. As more matches become increasingly cinematic, they're proving to be as creative, dramatic, action-packed and comedic as needed. Just like so many of its performers, the wrestling business is versatile and can re-invent itself, adapting to the world around it. It's impossible to say what's coming next, but whatever it is it's going to be a fascinating journey…