In the WWE, anything is truly possible. When you think of playsets, however, your mind instantly gravitates towards the larger-than-life action figures and the antics in the squared circle. Well, the WWE Wrekkin' Slambulance Vehicle takes the fun backstage and allows you to relive some of pro wrestling's wilder moments.
Despite most feuds being resolved in the centre of the ring, ambulances have played a pivotal part in several WWE angles. Whether it's "Stone Cold" Steve Austin beating Bret "The Hitman" Hart before he can get to the hospital or the infamous ambulance match between Roman Reigns and Braun Strowman, you know these four wheels aren't just being used to get people to a place of healing but also as a makeshift battleground.
In this way, the WWE Wrekkin' Slambulance Vehicle is like one giant weapon where every piece of it can be used to inflict damage on your unsuspecting opponent. This isn't just a cosy vehicle for you to cruise around and carry passengers, that's for sure, as there are numerous accessories and parts to uncover.
Exploring the WWE Wrekkin' Slambulance Vehicle, the front bonnet splits into two, giving you two shields or battering rams, dependent on your mood. The windshield can also be kicked out and used for mayhem or just to get some fresh air for the driver. Moving along the sides of the ambulance, there are two doors that can be ripped off for action, while the opposite side holds a "fake" wall that'll allow you to slam your opponents through it.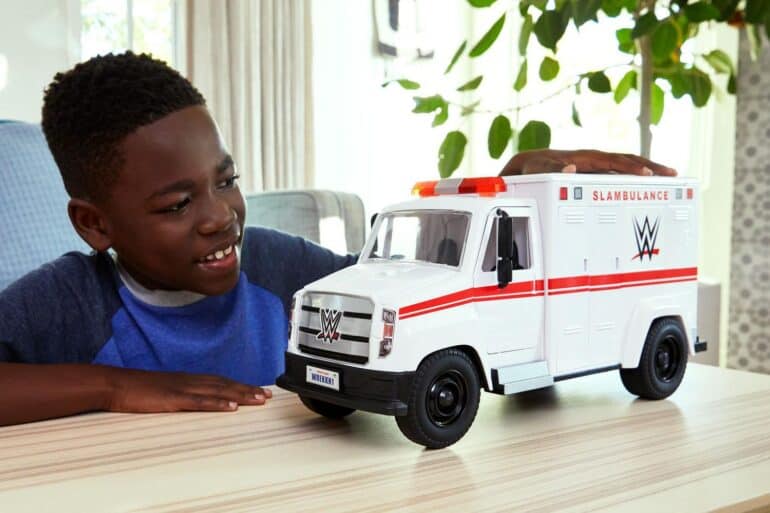 The top of the WWE Wrekkin' Slambulance Vehicle is just as intriguing as the sides. The ambulance lights aren't there to start a party in the streets, being completely removable and as useful as a chair in a Hell in a Cell match. Additionally, the roof of the vehicle is another area to explore because you can have a superstar break free from inside or you can chokeslam your opponent into the inside of the ambulance—which features an impressive design.
However, the true highlight of this playset is the stretcher and its hidden action. Place your opponent on the stretcher, put them inside the ambulance and lock it in place. Then hit the license plate and watch them fly out of the back doors of the ambulance. It's easy to see how this could be used as either a finishing move or even a way to knock out multiple opponents.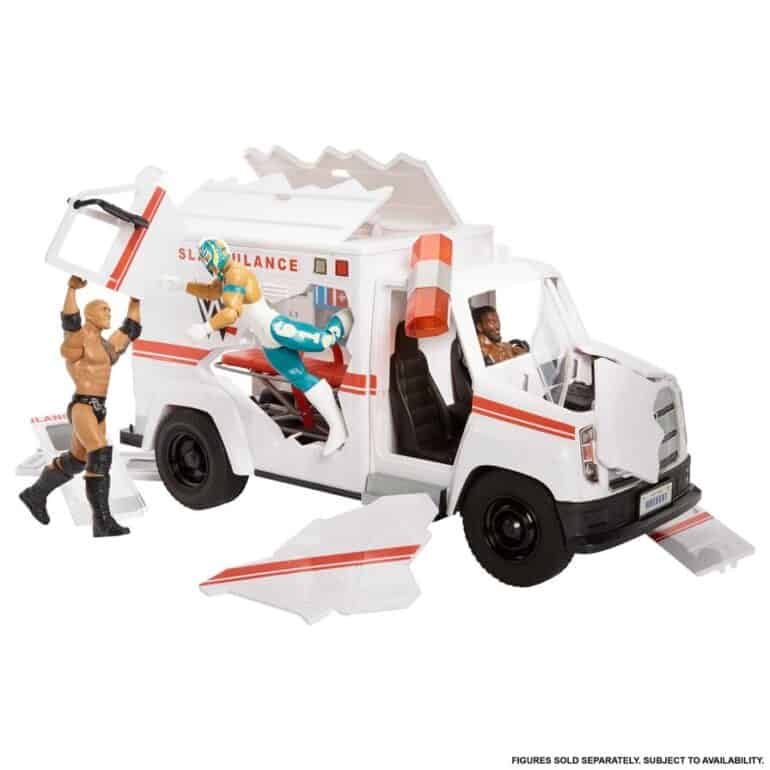 If you're a big WWE fan, you'll want to have a playground that's as massive as what you see on TV. There's no point in limiting the action purely to the ring because there's so much more to explore. Get your hands on the WWE Wrekkin' Slambulance Vehicle and send a message to your opponents before sending them to the emergency room!
The WWE Wrekkin' Slambulance Vehicle is available at Toys R Us for R999.90.