The WWE should stand for wild, wild entertainment. There's Hell in the Cell, Elimination Chamber, cage, and even ladder matches. The Mattel toy line wants to bring all the match types and action home—plus, some more out there concepts. We've already covered the Slambulance in a previous review, so now it's time to check out the WWE Wrekkin' Slam 'n Spin ATV.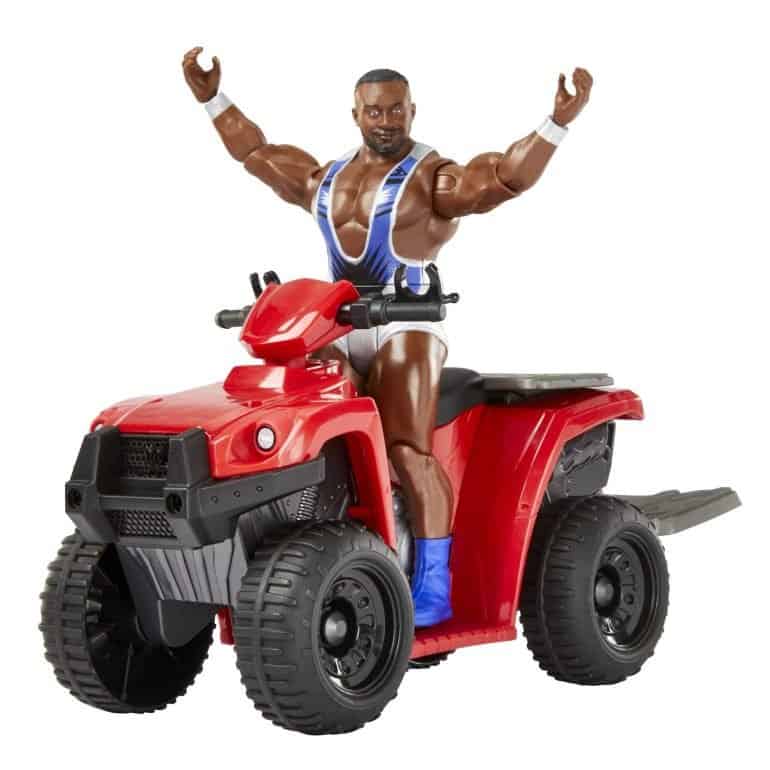 Big E rocks
One of the biggest drawbacks of the Slambulance is that it doesn't come with any action figures; however, the WWE Wrekkin' Slam 'n Spin ATV remedies this by including Big E as part of the package. Like the rest of the six-inch Mattel WWE figurines, the articulation, design, and paintwork are of the highest quality, as it looks exactly like the respective superstar does in real life—even down to the hairstyle and beard trimmings. Now that's what you call authenticity!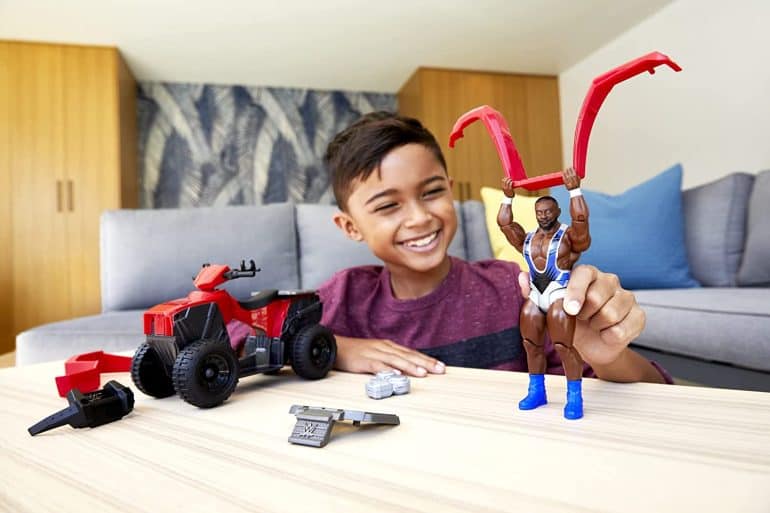 The WWE Wrekkin' Slam 'n Spin ATV's features
The ATV isn't a regular toy vehicle that only moves the wheels back and forwards. Six of its parts can be unclipped and used as weapons by the superstars, while it also has some additional hidden features that turn it into an all-action playset.
By hooking Big E's hands onto the ATV's movable handlebars and pulling him back, it's possible to execute a spin attack on an unsuspecting opponent through the spring action. If that isn't enough, you can also place your WWE superstar on the back on the ATV and slam down on the level to launch them up into the air for some real hang time.
Built for damage
Unlike a WWE ring that looks like chaos after a gimmick match, the WWE Wrekkin' Slam 'n Spin is built to be wrecked then put together again. Rip off the parts, cause some carnage, and spin your superstar to your heart's content. Once you're done, everything else fits back into place neatly and easily, so that you can put it away until the next bout.
Look, the whole concept of the WWE Wrekkin' Slam 'n Spin is peculiar in nature. While the Slambulance makes sense in the context of ambulance matches, an ATV feels like an out-of-place accessory in the WWE, especially for a character like Big E. Everyone knows that "Stone Cold" Steve Austin used to ride one down to the ring every so often, but Big E isn't renowned for using his ATV as a weapon. Nor did Austin ever use his ATV as a weapon. That said, this is the promotion that did release racing games called Crush Hour and Racing Showdown, so let's just go with it and enjoy the madness since anything can happen in the WWE.
The WWEWrekkin Slam 'N Spin Atv Vehicle With Big E Action Figure is currently available on Takealot for R559.