Everyone knows the action takes place in a ring. Feuding over who's the biggest dog in the yard? Get in the ring. Fighting over the services of a manager? Get in the ring. And the WWE Wrekkin' Kickout Ring Playset sets the stage for some unpredictable action and finishes!
So, you know how the squared circle looks, right? Platform, mat, ropes, corner pillars, and scaffolding… Well, the WWE Wrekkin' Kickout Ring Playset features all this and more. Part of the fun is you having to build the ring—kind of like you are part of the WWE crew who do this on an almost nightly basis.
However, this is no ordinary ring, as it's designed for the unexpected nature of the WWE action. There are two main modes available here. The first is called Ref Mode. When your superstars (action figures sold separately) are ready for the pin, hit the bell and it'll randomly decide if the platform under the WWE logo stays as is or rises up for the kickout. So, you never quite know if the three count is coming or not—no matter how many F5s you hit on your opponent.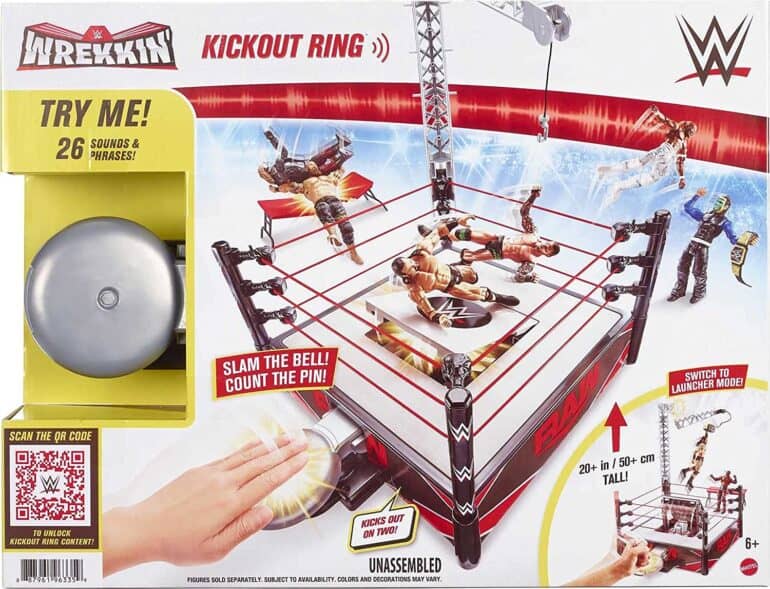 Then, there's the Launcher Mode—and this is where the real fun is at. The scaffolding allows for a belt to be held up high above the ring, like you'd expect for a regular ladder match. Though, you don't need a ladder here since the superstars use the bell as a launcher. It catapults them through the air towards the belt to see who becomes the new champ—or it can send them smashing through a table at ringside. You never know where they'll land and that makes it the prospect of the finish even more exciting.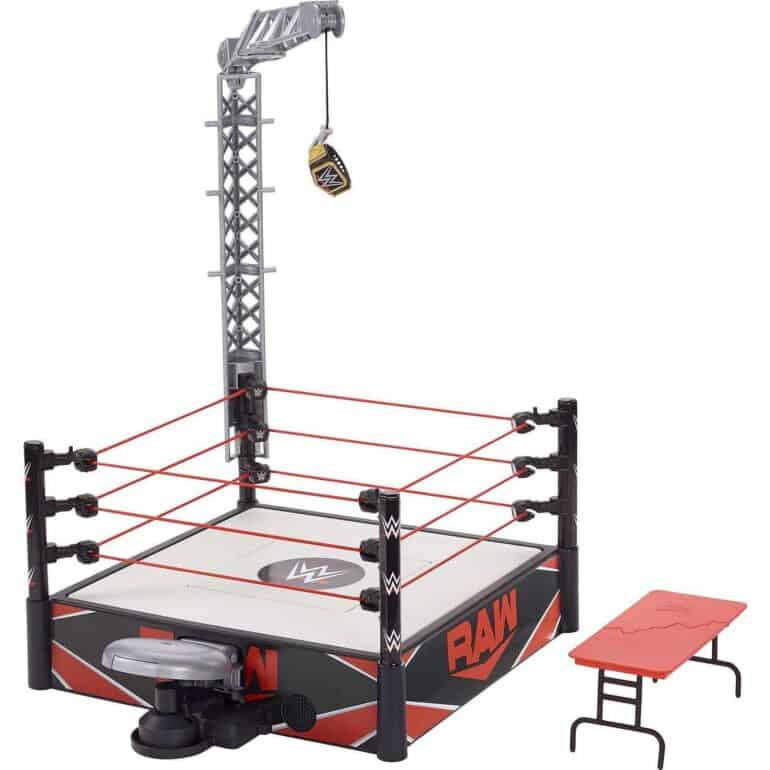 Plus, every time you hit the bell, there are sound effects to accompany the madcap action—making you believe you're performing on Raw! And don't be shy of using the table during regular matches as well. You'd be surprised how fun it is to spear an opponent through a table that breaks apart.
If you're looking for a ring that adds a little bit more to the wrestling mayhem on display, the WWE Wrekkin' Kickout Ring Playset captures the unpredictable nature of the action you see on TV. Maybe you'll be lucky enough to see your favourite grab the title. If not, that's what rematches are for.
The WWE Wrekkin' Kickout Ring Playset is available on Takealot for R809.