When it comes to WWE video games, fans aren't exactly hopeful nowadays. WWE 2K20 left a sour taste and it was only made worse by how the developer and publisher doubled down, refusing to accept the unmitigated disaster they played a part in. Yet, WWE 2K Battlegrounds promises a different experience altogether, but is it?
Well, it depends on if you liked WWE All Stars and WWF WrestleMania: The Arcade Game or not. This is an over-the-top, cartoonish wrestling game, leaning into the lunacy of the characters and the whacky business. If you want realism and pure technical wrestling, you might find this a bit too much.
Smash!
Remember the days when you'd pick up a game and randomly smash buttons, hoping something would happen? Welcome to WWE 2K Battlegrounds – a button-smasher extraordinaire. Finesse is for the weak, as you pray you're able to hit that button combination before your opponent does.
Much like the characters' design, the moves are crazy and exaggerated. Every suplex sees the wrestlers shooting up into the air, swirling around and crashing down to Earth. Plus, there's something pleasing about seeing The Rock's punches fire up as he lays the smackdown on his opponent.
It's an arcade brawler, through and through, that relies more on intensity and power-ups than any skill. This is particularly evident in its blocking system that operates more as an ad hoc command than something vital to your survival. At times, it doesn't even work. Basically, you need to smash everything in your path and hope you've done enough for the pinfall or submission.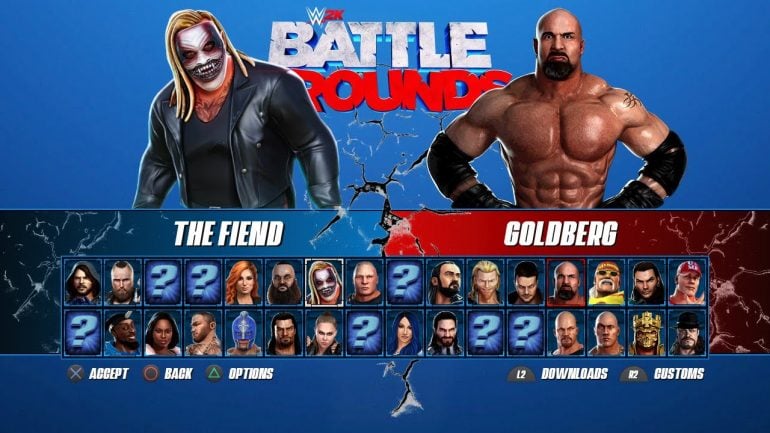 Campaigning Is for Presidents
To be fair, WWE 2K Battlegrounds is all about the arcade experience. It's meant to be something you can pick up and play in between your Zoom calls (or while on them, depending on how boring the people are).
While the Campaign tries to do something different by featuring seven new characters for you to take on a journey, it feels more like a last-minute addition than a drawcard. Yes, it's cool to see new faces and the comic book format used in the storyline, but I'd rather have the option to play as current WWE Superstars instead of a bunch of newbies like Bolo Reynolds and Jessica Johnson.
Where the Campaign falls short, though, the other modes shine brighter than The New Day's ring gear—especially the multiplayer section. The Royal Rumble-esque King of the Battleground is all about endurance as you try to eliminate as many opponents as possible. The longer you stay in the game, the higher your score. Tournament is pretty self-explanatory, but it's quite the challenge as you attempt to win under specific conditions and opponents of varying skill level.
https://youtu.be/eh5BZR-Y6cA
Create Your Own Mayhem
Obviously, it isn't rasslin' unless you have creation modes. In WWE 2K Battlegrounds, you can create your own wrestler and arena.
While the options aren't quite as developed or advanced as other WWE 2K games, it often feels like you're playing with LEGO or building your own action figure or playset. There's just something about the UI and UX here that makes it fun and childlike.
Naturally, you'll also be able to create wrestlers, such as CM Punk and Kenny Omega, who have about a zero percent chance of appearing in this title. So, stick it to the suits and create the matches between the wrestlers you want to see!
On the Grind
Unfortunately, it wouldn't be a 2K game without—you guessed it—microtransactions. When the promo says you have 130 wrestlers to choose from, it's not exactly telling you the truth.
You can unlock additional characters and items by picking up points and coins by completing tasks in the game—or by buying more (sigh). This means you'll need to spend some serious in-game time grinding it out if you want to play as Shawn Michaels, Seth Rollins, Hulk Hogan and Triple H.
Considering the price of the game and limited options at your disposal, it'd make more sense to make most of these characters available at launch. Sure, leave a few "legends" and additional characters to entice people to play the game, but this microtransaction rubbish to unlock the bulk of the game doesn't sit well. Are we reaching a point where you'll need microtransactions to play the different modes of the full-price game you paid for?
Overall
While WWE 2K Battlegrounds isn't quite the saviour that 2K might've wanted, it's a step in the right direction after last year's fiasco. It's incredibly fun and addictive—especially the online modes—with easy-to-learn mechanics and gameplay. Now, if only someone could do something about that unreasonably high price and annoying microtransaction system…
Have you played WWE 2K Battlegrounds yet? Let us know in the comments section.
Fortress of Solitude was provided with a PlayStation 4 code for the purposes of this review.